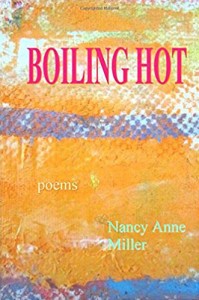 Bermudian poet Nancy Anne Miller has released a new book entitled Boiling Hot, which the book's description says is "inspired by her birthplace, Bermuda,"
The book's description says, "Inspired by her birthplace, Bermuda, Miller successfully blurs the line between exploiting and normalizing the exotic: a seahorse is both the f hole of a cello and a horseshoe pick; the Sand Dollar, an oddity found regularly on the island's beaches, is compared to an antique star map; a clock in an old supply store is 'a porthole with the sea lapping its blue rim'.
"But if they reference and conjure the exotic, Miller's poems are grounded by the realities of everyday life and by the sometimes troubled cultural dynamics of both her adopted United States and her island home, where 'everything seen tribal' and, in the title poem, where someone 'claiming a geography of persons the empire sent across the world' dons white gloves to serve sandwiches to 'fair English' church-goers.
"These are poems that are like 'the ocean's ripples when an anchor strikes deep."
"Paul Sean Maddern, poet, author of The Beachcomber's Report."
"The poems of Nancy Miller are deliciously rich in imagery and metaphor. There is a subtle complexity of meaning embedded in them, enhanced by her intuitive ability to make music with words."
"John Lyons. Painter, poet, author of No Apples in Eden: New and Selected poems."
"Nancy Anne Miller pushes each poem of her newest collection, Boiling Hot into a performance of music and meaning. Equipped with an anthropologist's eye and a polymath's mind, her poems play with ordinary materials, reveal how the 'repeated shedding' of a snake's skin 'leaves the tape measure of what it was.' Through Miller's examination of history and identity, old Empire relics collide with New World knickknacks, poems tackle the thorny legacies of England, Bermuda and New England.
"In one poem, an antique star map, 'round as a crystal ball,' harkens the child's circle of marbles, where 'large planets knock out smaller ones: taws hit pewees.' Typing on her Olivetti in another poem Miller declares: 'If I could make [writing] precise…[and] ceremonial I would.' In the deft and dazzling Boiling Hot: she does."
"Julia Shipley, poet, author of The Academy of Hay, Winner of the 2011 Melissa Lanitis Gregory Poetry Prize."

Read More About
Category: All, Entertainment