Bermudian poet Nancy Anne Miller has been invited to publish two of her poems in the July edition of the Acalabash.com Caribbean poetry portfolio.
A spokesperson said, " The portfolio is curated monthly by the Saint Lucian poet John Robert Lee and is by invitation only.
"John Robert Lee's most recent publication is Pierrot [Peepal Tree Press, 2020]. His Collected Poems 1975-2015 was published by Peepal Tree Press, 2017. His Saint Lucian Writers and Writing: An Author Index was published by Papillote Press, 2019.
Ms Miller's old school style typewriter in Bermuda's signature colour pink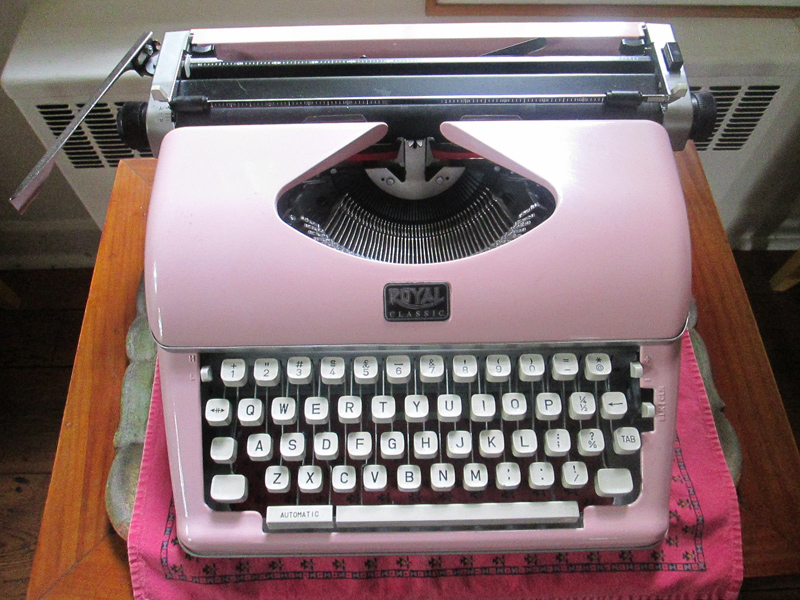 "Previous poets who have been invited to publish poems in Acalabash.com are Nicolas Laughlin of Trinidad and Tobago. Laughlin is the former editor of The Caribbean Review of Books and coeditor of So Many islands: Stories from the Caribbean, Mediterranean, Indian and Pacific Oceans [Peekash Press 2018]. Edward Baugh of Jamaica whose Black Sands: New and Selected Poems was published by Peepal Tree Press in 2013. Richard Georges, British Virgin Islands Poet Laureate and author of Epiphaneia, published by Outspoken Press 2020, and won the OCM Bocas prize for Caribbean Literature.
"Ms. Miller has published extensively throughout the Caribbean including in Wasafiri [UK], The Caribbean Writer [VI], tongues of the ocean [BS], Womanspeak: A Journal of Writing and Art by Caribbean Women [CAR] Commentaries [MF], Sargasso: Journal of Caribbean Literature [PR], Bim [BB], Poui [BB], Moko: Caribbean Arts and Letters [TT], The Arts Journal [GY], PREE [JA], sx salon:a small axe literary platform [CAR],The Pacuare Anthology [CR], Journal of Caribbean Literatures [USA], Anthurium: A Caribbean Studies Journal [USA], Interviewing the Caribbean [USA] She has also published internationally.
"Currently five of her poems are represented in the Bermuda National Gallery Biennial 2022 which was juried by Richard Georges, British Virgin Islands Poet Laureate. Nancy Anne Miller has published nine poetry collections. Latitude, Longitude is her latest [Kelsay Books 2021]. She is currently working on her next manuscript Pink Typewriter, which she will submit to publishers this autumn. The title poem 'Pink Typewriter' has been accepted in The Caribbean Writer #36."
Read More About
Category: All, Entertainment