The Around The Island Powerboat Race is scheduled to take place tomorrow [Aug 12] starting at 2.00pm and in advance of the race, the Bermuda Maritime Operations Centre [BMOC] have issued a local navigation warning in reference to the closure of sea passages.
A BMOC spokesperson said, "The Around The Island Powerboat Race will be held on Sunday 12th August between 1400hrs and 1530hrs local time.
"The course will run from Ferry Reach along North Shore to Hog Fish Beacon; to Two Rock Passage and into Hamilton Harbour; around White's Island and through Salt Kettle Bay into Granaway Deep; around Five Star Island and through Port Royal Bay into the Great Sound to Commissioner's Point; around Daniel's Head along South Shore to St David's Head; around St Catherine's Point past the Oil Docks back to Ferry Reach.
"The following sea passages will be closed to normal marine traffic:
The passage between Ferry Point and Coney Island at the Ferry Reach pylons between 1345hrs and 1530hrs;
The passage between Hinson's Island and the Paget mainland between 1400hrs and 1445hrs;
The passage between Five Star Island and the Southampton mainland between 1400hrs and 1445hrs.
"Mariners should keep sharp lookout, keeping well clear of race boats."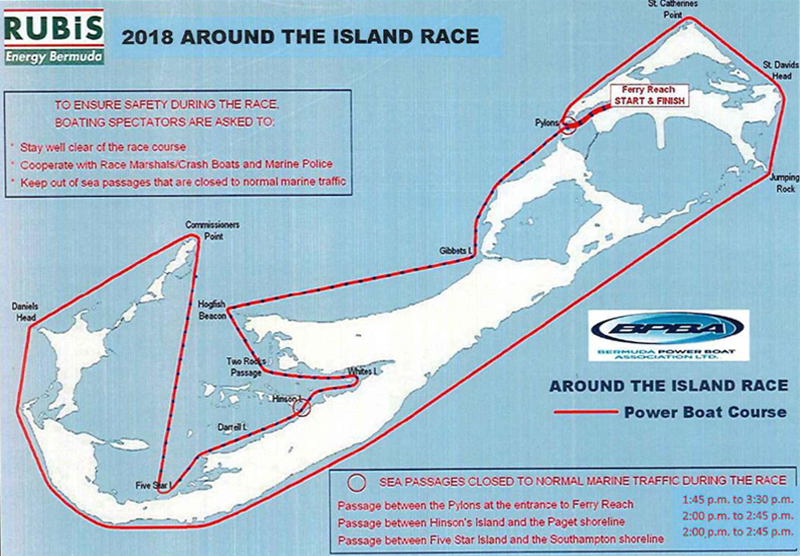 Read More About
Category: All