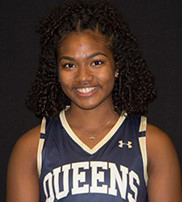 Bermuda's Maha Clarke — who plays for the Queens University of Charlotte women's field hockey team — has been honored as a 2018 Arthur Ashe Jr. Sports Scholar as announced by Diverse: Issues in Higher Education.
The school's announcement said, "Queens University of Charlotte's Maha Clarke of the women's field hockey team has been honored as a 2018 Arthur Ashe Jr. Sports Scholar as announced by Diverse: Issues in Higher Education.
"Diverse: Issues In Higher Education sponsors the Arthur Ashe Jr. Sports Scholar Awards to honor undergraduate students who have excelled in the classroom as well as on the athletic field."
"I am very proud of what Maha has accomplished in the classroom and on the field, Queens head coach Brandi Kist stated.
"She exemplifies our team values and has persevered through much this year while still excelling as a student-athlete. This recognition speaks to her work ethic and drive to excel."
"Inspired by tennis legend Arthur Ashe, Jr.'s commitment to education as well as his love for the game of tennis, U.S. colleges and universities are invited to participate in this annual awards program by nominating their outstanding sports scholars. In addition to their athletic ability and academic performance, Arthur Ashe Jr. Sports Scholars demonstrate a commitment to community service and student leadership.
Clarke started in all 13 of the Royals' games in which she competed this season. She totaled one goal and one assist for three points after putting five shots on goal.
Additionally, the sophomore forward was named to the Zag Field Hockey / NFHCA Division II National Academic Squad after recording a cumulative GPA of 3.3 or higher through the fall semester. Clarke was also inducted into Beta Gamma Sigma, an honor society that has recognized business excellence since 1913, during the spring semester.
In the community, Clarke spearheaded a community service project last year with the Relatives Organization for her and her teammates to make their own. The Relatives Organization is a safe place for children to seek the support and help they need while working to keep families together through rehabilitation.
Clarke and her teammates created a schedule where they would spend time with the children there, often playing basketball, teaching them field hockey, and simply enjoying time outside together to forget about the difficulties life can present.

Read More About