A recent Berkeley Institute graduate has founded a small photography business, 'A Piece of Paradise', in hopes of helping tourists and residents alike to capture an unforgettable experience with friends, family, and loved ones here on Island.
Tyler Trott, 17, received his Canon Rebel T6 camera as a gift several years ago and always loved going out to take pictures, seizing every opportunity possible to get a snapshot of Bermuda's beauty. He later realized that such a remarkable Island should never be taken for granted and forgotten.
Noticing a lack of photography stands for tourists arriving via cruise ship in Dockyard, Tyler immediately took the opportunity presented by Bermuda Economic Development Corporation [BEDC]'s Summer Student Entrepreneur Programme [SSEP], which was launched on Monday, July 9, to take professional quality pictures of anyone interested in 'taking home a piece of paradise.'
For now, Tyler wishes to stay in Dockyard and participate in Harbour Nights events. However, he is eventually looking to expand Island-wide to tourist destinations such as; Crystal Caves, popular beaches like Horseshoe Bay, St. Georges, and the Aquarium.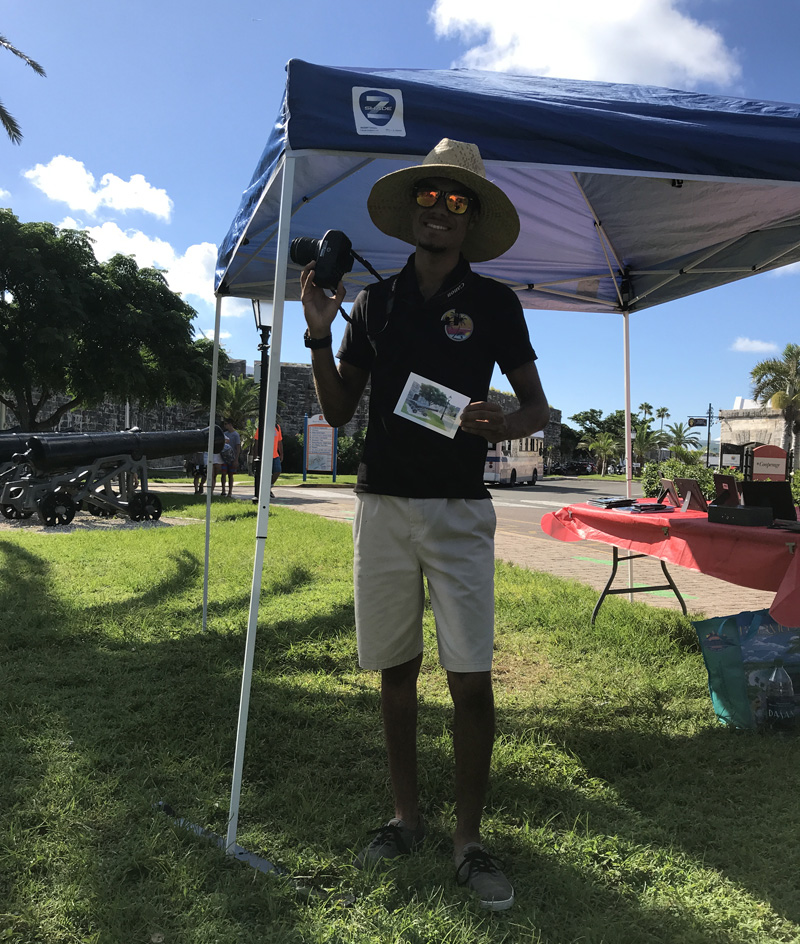 Tyler said, "Since this is a nice summer job to have, I wish to continue this and hopefully hire more Bermudian youth who have not had a chance to find a job. I hope this will provide them with a quick way to get cash during the summer and to explore their love for photography and Bermuda."
He also explained that with the money he earns from this business, he intends to use to go overseas to train for Alpine Skiing in hopes of representing Bermuda in the 2022 Winter Olympic Games in Beijing, China.
Tyler had his first chance to see snow earlier this year in February while travelling with his class at The Berkeley Institute on a ski trip to Colorado. "The moment I found myself wearing the skis and feeling the wind in my face and sliding on the snow, I just felt a burning inside me, a feeling that I've never felt for anything before," he said. "Since I had never seen snow before in my life, I expected to be absolutely horrible at it, but after day 4 of lessons, I was already edging down pro slopes with the best skiers on the mountain.
"My instructor told me that if I were to ski as often as possible and continue down this path that I would easily find myself in the Olympic Games one day, and so it stuck and that's my greatest passion in my life right now.
"Though the idea of putting all of my money and time into one thing that I've done once may seem ridiculous to others, it's just something I know is right for me. The mountains continue to call me back and I'm working as hard as possible to answer their calls."
The teenager's hope is that with enough patience and dedication, he will be able to prove to others that anything is possible – "no matter how ridiculous your dreams and ambitions may seem to be to the public," he said.
Tyler envisions developing his business beyond photography to be certain that tourists and other customers are more than happy with their experience in Bermuda. "Just selling photography and frames may be a good idea for a time, but people like variety and that is what I wish to provide to them," the teenager added.
You can find him in Dockyard near the entrance of the National Museum and at harbor nights. To contact him call; [441]-704-6598, or E-mail; apopbda@gmail.com
Read More About