[Written by Nadia Laws]
Acro Buddhas founders Miranda and Ryan have travelled the world sharing their unique blend of acrobatics, movement arts, dance and yoga with their fans, and recently spent time in Bermuda, with the flexible and fit duo saying they "left a piece of our hearts in Bermuda" and "absolutely fell in love with its stunning beaches and vibrant parishes."
Hailing from Toronto, Canada, the flexible duo have amassed a following of more than 77,000 on Instagram and taught their acro yoga classes throughout the Caribbean, as well as North and Central America.
They were recently on Island hosting a series of workshops from May 11-19. Miranda and Ryan tell us more about the experience, what made them fall in love with the Island and why they may come back soon to tie the knot in Bermuda.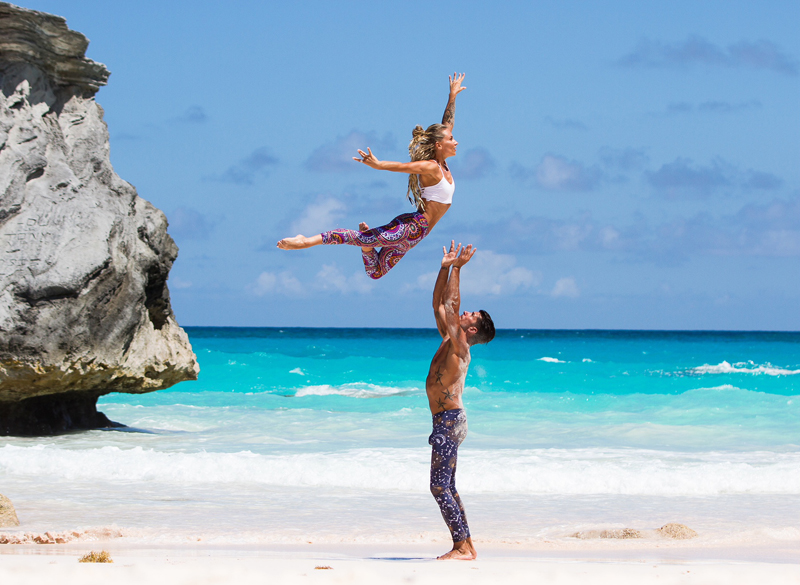 Q: What inspired your recent trip to Bermuda?
A: With a deeply rooted passion for movement, connection and community, our mission is to inspire a playful approach to life and facitate a deeper connection to ourselves and the human experience as a collective. Having reached a global audience via social media, we started traveling internationally to share our approach to life through the practice of acro yoga personally.
Our first international offerings were held in Costa Rica in February of 2017 and then in Jamaica just a few months later. Each of our international teaching experiences felt like magic, and we knew we had to keep the magic flowing, so we made a post over Instagram asking our followers where we should travel to next.
Among the responses was a very warm, enthusiastic and welcoming message from an incredible soul, who now feels like family, named Marcia Pringle, owner and founder of FusionWorks with Marcia. After a video call with Marcia and a little research to learn more about Bermuda, we knew right away that Bermuda was our next destination.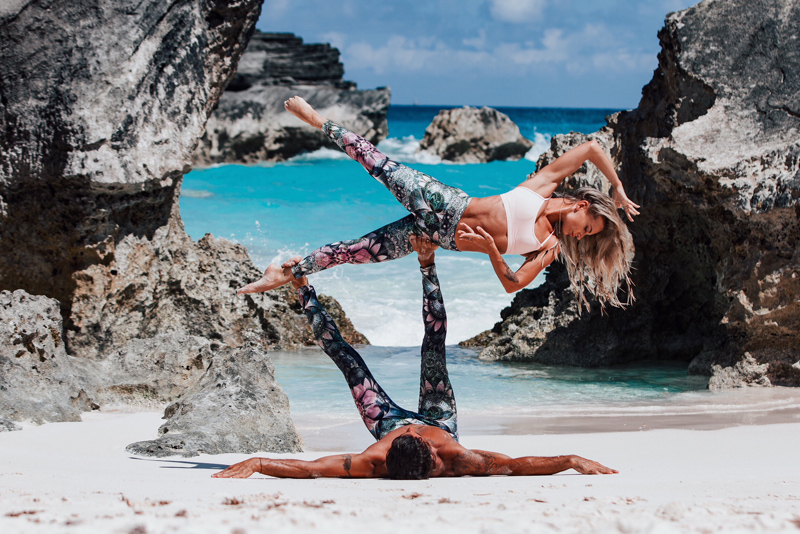 Q: You were here to teach a series of workshops, what was the experience like?
A: While in Bermuda, we taught a total of five workshops, and by the time we wrapped the last workshop, we were overwhelmed with emotion. The connections that were made in just two weeks' time were strong, genuine and moving.
Within our workshops, new connections were made amongst the participants and strangers embraced one another with trust and open hearts. Fears were conquered and what many thought was impossible was proven to be possible. Before we left, we were already planning to come back. A community of acro yogis in Bermuda was seeded, and we cannot wait to return and continue to share and grow together.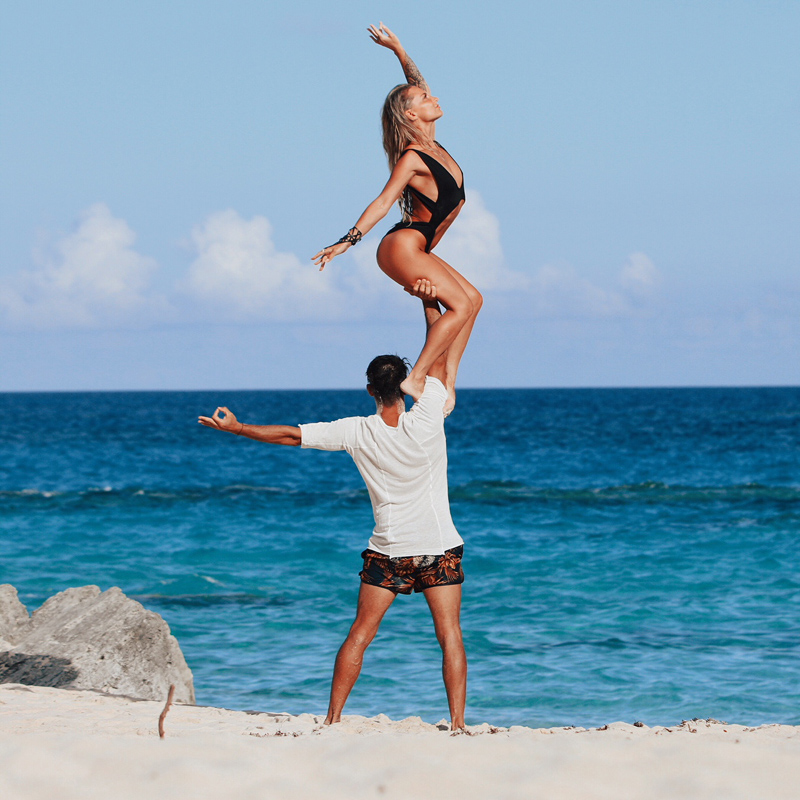 Q: In your off time, what were your impressions of the Island?
A: To put it simply, we left a piece of our hearts in Bermuda. We explored the island as much as we could during our stay and absolutely fell in love with its stunning beaches and vibrant parishes.
The warmth of Bermudians rippled its way throughout our entire experience, and we were captivated by how genuine each soul we connected with was. We were completely awe-struck by the vibrant water and coves at each beach we visited; it was a very magical and enchanting feeling to take in. To let you in on a little secret, we are thinking that Bermuda is where we will get married!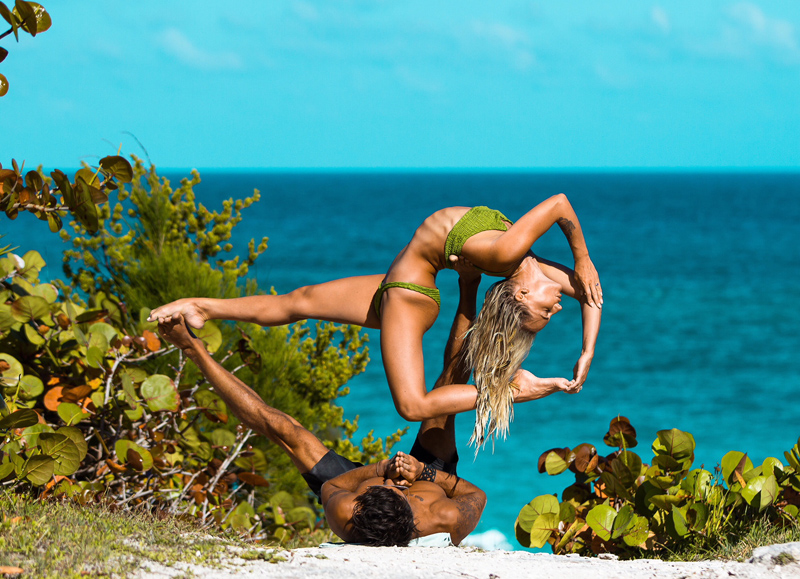 Q: What is the biggest reward that comes from teaching your brand of acro yoga to people not only in Bermuda, but around the world?
A: One of the greatest rewards of sharing acro yoga is the inspiration it infuses into each soul we connect with. At first, the practice of acro yoga can be intimidating, but with a supportive and safe space to practice in, fears fall away and we realize that anything is possible with the right mindset and approach.
There is so much beauty in connecting to our inner child that longs to play and be free. Witnessing people let go of fear and open their hearts up to play and a belief in their own ability to achieve something new is empowering. We find there is often a shift of perspective after the experiences we share, and our students venture back out into the world with a newfound sense of freedom and possibility.
It's incredible to witness acro yoga as a gateway that ripples out into an experience that moves off of the mat and out into our day to day life. If you believe you can, you're half way there to changing your reality. Self love and self empowerment are beautiful keys to changing the way we experience the world.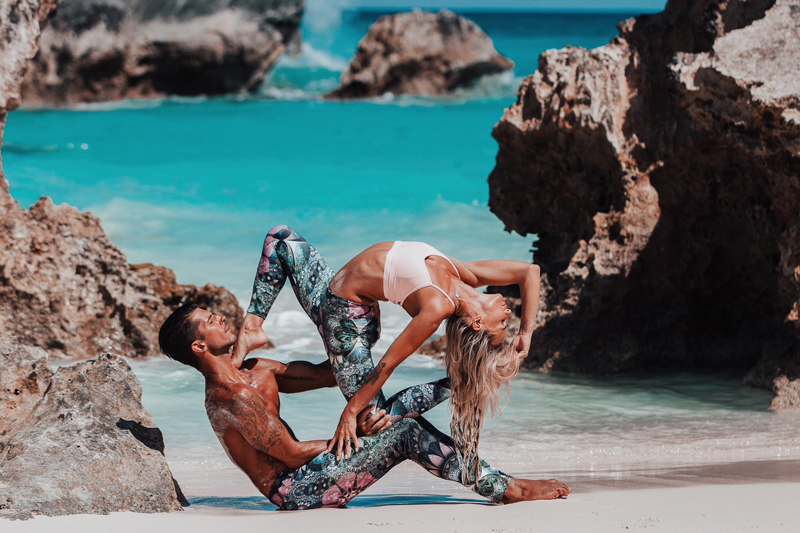 Q: You have built your careers around travelling the world and pursuing your passion for arco yoga. When you think of all that you've accomplished what are you most proud of? How does that make you feel?
A: Traveling the world and pursuing our passion for acro yoga and movement makes us feel a deep sense of gratitude and love. We feel blessed to be experiencing our lives together, while creating and sharing experiences that cultivate connection and community.
It takes a leap of faith to trust in the process, and we are most proud that we have been able to create offerings that inspire others to trust in themselves and see that we are all more similar than we think. The human experience is beautiful and to see trust and love grow so quickly between strangers that connect at our offerings is nothing short of magical.

Read More About