Bermudian entrepreneur Kallie Marcus, owner of Kinetix Yoga Studio, has launched a vacation yoga retreat marketed directly to visitors after winning the Bermuda Tourism Authority's Think Pink Rocket Pitch competition two years ago.
Later this month, she'll host her first yoga retreat at Grotto Bay Beach Resort, with the experience called "On & Off the Mat". There are five more retreats scheduled for 2017, open to both visitors and locals.
Kallie Marcus of Kinetix at John Smith's Bay: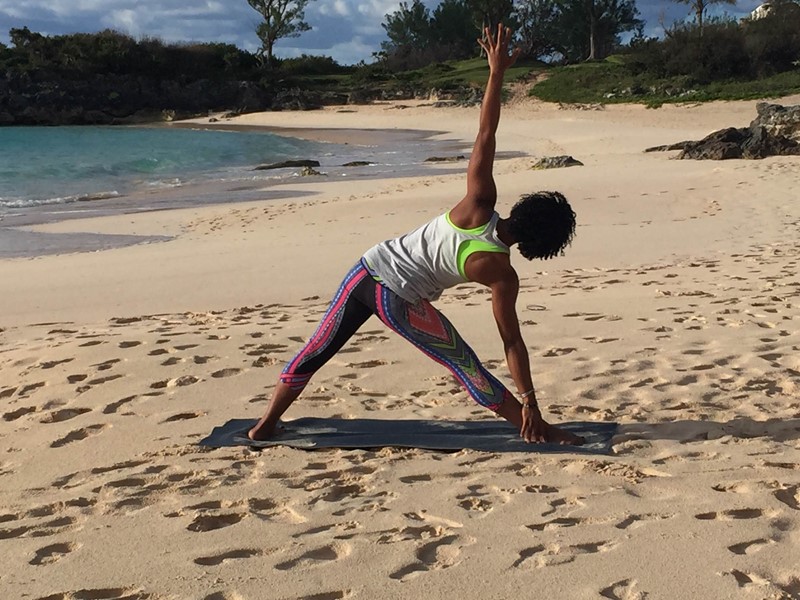 "It's a multi-sensory experience," said Ms Marcus. "It's a good way to connect with nature, connect with the earth, with the outdoors."
The BTA's Director of Public and Stakeholder Relations Glenn Jones said, "Kallie was able to bring her skills as an entrepreneur and match it with what our strategy is at the BTA, while utilising Bermuda's assets like the beach and the Railway Trail. It really matched up very well and it's why the BTA is so proud to support her."
The retreat will also harmonise with east end attractions like Tom Moore's Jungle, Unfinished Church and Grotto Bay's Natura Spa to help create a comprehensive holistic experience for visitors.
"We have a spa inside a cave," said Natura Spa Manager Sanali Senanayake. "Nothing like it anywhere else in the world. All services are organic and very therapeutic. Therapeutic goes along with yoga for a holistic lifestyle."
The BTA said, "Kallie Marcus, age 30, is part of a clear increase in the number of young, Bermudian entrepreneurs entering the local tourism economy.
"They are considered the next generation of tourism entrepreneurs, matching up simultaneously with a recent uptick in the number of younger, "next gen" visitors coming to Bermuda."
To capitalise on the trend, Miss Marcus is planning to target young families for her yoga retreat, saying, "I see an opportunity there because sometimes parents feel like they can't travel with their children or if they do they have to leave them with a hotel babysitting service.
"[At 'On and Off the Mat'] kids are getting their movement, the mind and body connection, they're getting the same thing as their parents."

Read More About
Category: All, Entertainment, News