[Written by Don Burgess]
Local officials are dismissing figures from an international agency which allege that there are some 3,000 legal and illegal guns in Bermuda.
The 'Civilian Firearms Holdings, 2017′ a paper produced by Aaron Karp, says there is an estimated 3,000 total number of licit and illicit guns held by civilians in Bermuda. Another article by Mr Karp states the estimate of the number of weapons carried by the police is 500.
Mr Karp told Bernews, "We do not have registration figures or public surveys for Bermuda. Instead, our Bermuda estimate is an analogous country comparison, based on the rate of firearms ownership [firearms per every 100 residents] in England and Wales. It includes registered and unregistered civilian-owned firearms."
Screenshot from the Small Arms Survey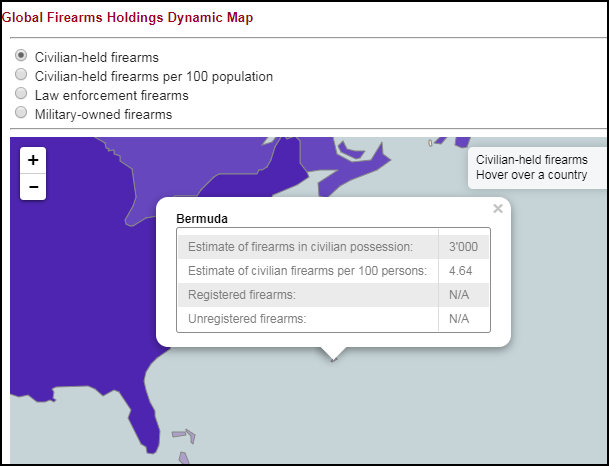 A spokesperson for the Ministry of National Security told Bernews that Ministry is "of the view that the 3,000 number is inaccurate."
A spokesperson for the Bermuda Police Service, said, "There are 103 registered firearms in Bermuda. The 103 registered firearms include those registered for use at licensed rifle clubs and those used in pest control."
While Police declined to provide any figures on the possible amount of illegal guns in the island, they urged anyone "with any information on the location of illegal firearms to contact the Serious Crime Unit in the strictest confidence on 247-1739.
"Alternatively, information can be provided anonymously by calling the independent and confidential Crime Stoppers hotline 800-8477, which is based in Miami Florida, U.S.A," the police said.
Shadow Minister of Security Michael Dunkley also told Bernews that he did not find the report to be credible.
Mr Dunkley said the report's method of calculating the number of guns in Bermuda was "very unreliable. You just can't use methods that you use in other jurisdictions. I don't put any credibility in the report as it pertains to Bermuda."
He said that while serving as the Minister of National Security, "it appeared there was a small number of guns on the island."
He added, "Any gun is just one too many gun if it's being used for the wrong purpose."
Read More About