[Written by Don Burgess]
A brazen daylight armed robbery at the Gold Standard in Washington Mall shocked employees at nearby shops.
At 9:30am yesterday, two men rode a motorcycle through the walkway of the second floor of the Washington Mall. The men — one brandishing what police termed a 'suspected firearm' — smashed the display cases, and took an unknown amount of jewelry from the store.
One worker said, "We heard a bike riding up on the ramp on the walkway path.  Once it came through the doors, it parked right in front of our door, so we saw when the bike arrived. When we looked, we saw two guys with full-face helmets on. They jumped off the bike and started running towards the store."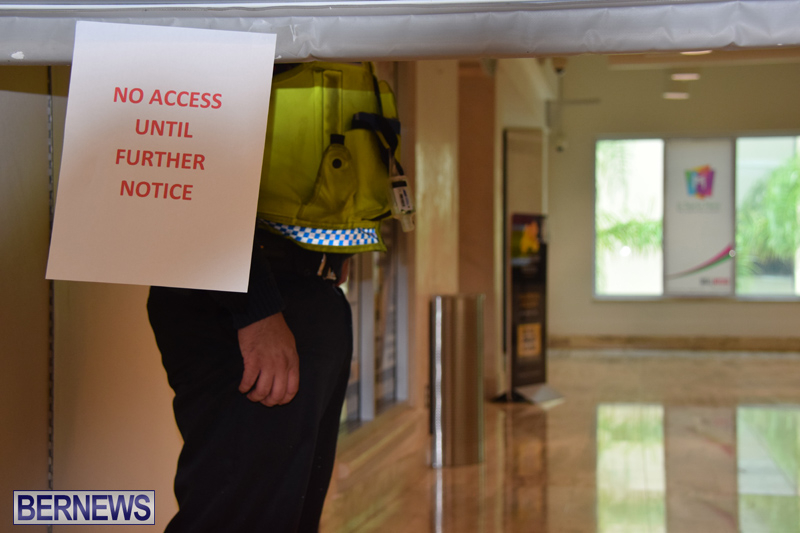 The worker said shortly afterward, "We heard all the glass shattering. What me and my coworker did was lock the shop down as they had to make their way back to get their bike.
"This happened within a matter of minutes. They were in; they were out, then they were gone."
The shop worker added, "It could have been a hammer breaking the glass, but we don't know, but that's what it sounded like to us."
She said it isn't the norm to see a bike riding down the walkway, saying: "I knew something was up because you don't normally see a bike come right up into the mall. It's not what happens."
An employee at another store said, "I was shocked to see a bike in the mall, but when I saw them running down the mall, I knew that wasn't right."
Video statement from Detective Superintendent Nicholas Pedro
A police statement about the robbery said, "Two men wearing dark coloured clothing and dark coloured helmets with tinted visors rode up to the eastern entrance of the Washington Mall in the City of Hamilton – parked their motorcycle at the entrance, made their way to the Gold Standard store and began smashing the display cases and removing items of jewellery.
"During the incident, there were two members of staff inside the business. One of the suspects pointed a suspected firearm at one of the workers.
"Both men then made their way out of Gold Standard, back to their motorcycle and escaped east on Church Street. There were no reported injuries.
"The suspects are described as two males – one 6 feet to 6 feet 1 inch tall wearing a black jacket and black trousers, while the other was 5 feet 10 inches to 5 feet 11 inches tall wearing a black and grey jacket and black trousers. Both also wore black sneakers.
"One of the suspects had a black tote bag and the other had a blue knapsack. There have since been sightings of the suspects in areas of Pembroke and Devonshire including Woodlands Road, Dock Hill and near Black Watch Pass on North Shore Road.
"Any witnesses or members of the public with relevant information are urged to contact Detective Inspector Kenten Trott on 717-2345 or e-mail ktrott1@bps.bm."
"Alternatively, anonymous tips can be sent via the independent and confidential Crime Stoppers hotline 800-8477 or www.crimestoppers.bm."
Read More About