[Generation Next Youth Movement Series]
Health is wealth! At least it is turning out to be for 19-year-old Kayuntae Ming, founder and owner of His N' Hers Hair & Beauty Boutique.
When asked to give a brief introduction about herself and her interests, Ms. Ming said, "I'm 19-years-old; going 20 in November. I'm a very proud winner of the BEDC summer student entrepreneurship program and a recent winner of the BEDC's Vend 2 Win competition. I'm interested in nature, reading, going on adventures/exploring, and learning about crystal healing. I'm also interested in yoga.
"I attended Francis Patton Primary School, where I was the head prefect and gold house captain. I then went to Clearwater Middle School, and later CedarBridge Academy, where I was also a prefect, and I was crowned "Miss CedarBridge Academy in 2015-2016″. I'm currently enrolled at Bermuda College, where I am taking the Nurses Assistant Program."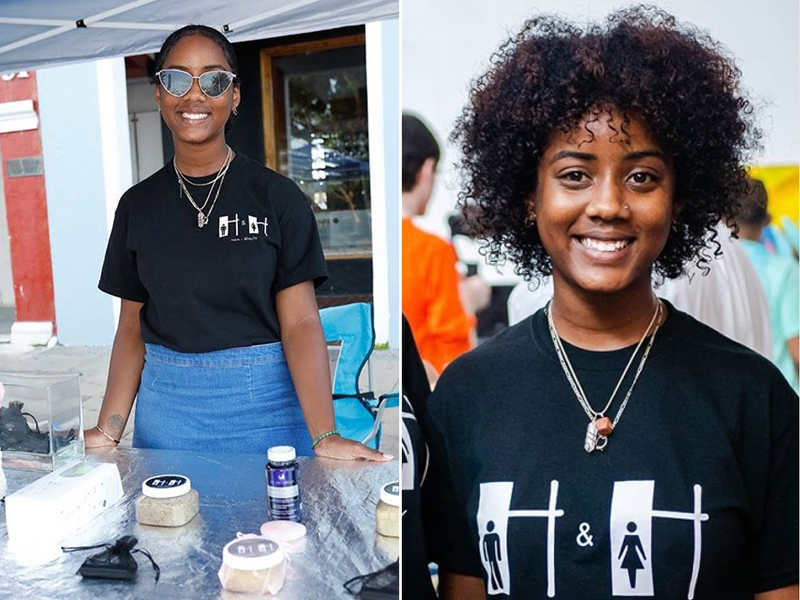 Her interest in the positive energies created and spread through the practice of yoga and use of crystals, influenced her business model approach and how we should monitor the toxins we put in our bodies with everyday products.
"His N' Hers Hair & Beauty is all about providing the best blends of natural, non-toxic products, along with spreading positive vibes and delivering excellent customer service. Toxins are too apparent in everything that we come into contact with nowadays, and so my business serves to give people a better alternative to everyday essentials. I infuse crystals in my products as a way to spread pure crystal energy in order to uplift myself and my customers.
"I've always worked in the hospitality industry, and so delivering a high standard of customer service now comes naturally for me. It's a very important component to my business operations, on which I've been complimented many times."
Due to her current enrollment in the Nurses Assistant Program and her business' emphasis on natural non-toxic hair and beauty care, we were curious about how she wishes to connect these two interests, and where she ultimately wished her career to take her.
"Ultimately, I aspire to be a pediatric nurse. I want to have my own practice, working with my mom and my sister as we are all taking up nursing. I love children and I love to help people so it'd be the perfect option for me. I hope to incorporate natural products/remedies into my practice, giving those in need a safer and healthier alternative to medicine.
"In five years time, I'd love to see my business being recognized and talked about on a worldwide scale. I definitely think that is possible. My peers often tell me that I can be the next L'Oreal, TreSemme, or any of the other popular name brands. I would also love to see my business with at least one storefront by then. I have the perfect vision, and I can't wait to execute it!"
Ms. Ming was inspired into entrepreneurship through financial necessity, and was able to manifest her dream through perseverance and family support. We asked her to give us a brief synopsis of what lead her to create His N' Hers Hair & Beauty what her sources of inspiration have been.
"I started my business venture in November of 2017. At the time, I was working at a hotel where I was informed that my contract was soon coming to an end. I knew it'd be challenging to find a new employer in the off season, and so I initially started my business as a back up plan to generate some sort of income. My ultimate inspiration for my business came from my late Aunt Kim.
"I know she'd be extremely proud of me so far. She was a very strong, and inspiring woman who unfortunately passed away due to a form of cancer. I had read online about how most commonly used products i.e hair gel, body lotion, deodorant, etc. all contained ingredients that triggered cancer. That alone was a wake up call. I knew I had to make smarter and more conscious decisions about what I was putting onto my body.
"I immediately began to research loads of information on alternative, all natural ingredients that I could actually pronounce and recognize. After making my first set of products for myself, I decided to expand and share my products with my family and others around me. I got loads of positive feedback and that's when I decided to go all in with my business venture.
"My parents are definitely a huge inspiration to me. They make the impossible, possible. I really admire that about them because it shows me that if there isn't a way, you need to make a way. I am also inspired by people like Lauryn Hill, Erykah Badu, and Kendrick Lamar.
"Music plays a huge part in my everyday life and I always feel very inspired when I listen to music from those artists specifically. They are all unique, conscious of the world, and fearless; three things I believe is very important when it comes to business."
Her final words of encouragement and inspiration to her young Bermudian peers were short and sweet.
"Invest in yourself, take care of yourself, you are all that you've got."
For more information, visit the website, Instagram page, Facebook page, or Twitter page.

Generation Next, in conjunction with Bernews, is producing a 'Youth Movement' series to spotlight our island's young people who are trailblazing paths not only here at home but across the globe with their respective talents, innovative ideas, fresh energy and vision. If you would like to recommend a young person to be featured, please contact generationnextbermuda@gmail.com. The Youth of Today, Leaders of Tomorrow, Generation Next!

Read More About