The 2018 CEA Dressage Challenge came to a successful conclusion for Bermuda with the Children's Team capturing 1st place and the Adult team placing 2nd to other competing Caribbean Countries.
In this annual event, riders compete for both individual and team placements.
Members of the Children's team were Kayla Bardgett riding Causing Chaos [72.04%], Jess Hosier riding Just Pete [62.95%] & Kelsey Amos riding Wiratoro [67.09%]. Adult team members were Abby Bardgett riding Up Up & Away [70.00%], Dawn Fox riding Lancelot [67.17%], and Angela Halloran Smith riding Finnomenal AV [66.054%].
Kelsey Amos, Judge Brenda Minor [Standing] Jess Hosier, Jeanne MacDonald [standing] and Kayla Bardgett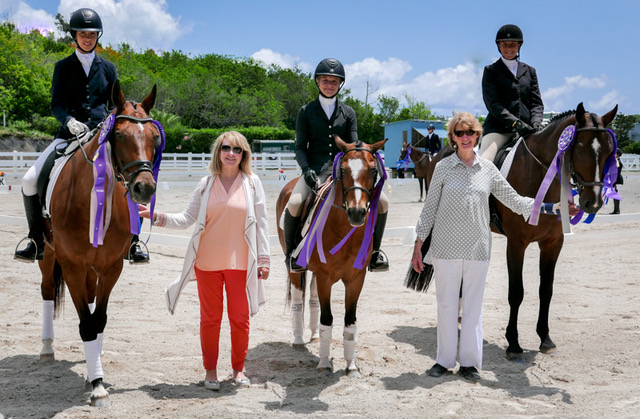 In addition to the commendable achievements of Bermuda's Dressage Teams, the following four Bermuda riders captured the Overall Highest Individual Score for their respective test categories:
Children's Training Test/Level 3
Kayla Bardgett & Causing Chaos
Adult 1st Level/Test 3
Abby Bardgett & Up Up & Away
Adult Fourth Level Test 1
Angela Halloran-Smith & Finnomenal AV
Prix St. George
The CEA Dressage Challenge enables riders from CEA member countries to compete against each other without the need to travel overseas, as a selected judge travels to each of the competing Islands.
This year's competition was judged by Canadian FEI 4* judge Brenda Minor. A FEI 4* is qualified to judge most international competitions, excluding Olympics and World Championships.
Other Caribbean countries competing in the 2018 CEA Dressage Challenge were Barbados, Cayman and Trinidad.

Read More About