The prize-giving ceremony for Mirrors' second annual Art and Digital Competition was hosted at The Masterworks Museum of Bermuda Art.
The focus of the competition was Bermuda's cultural symbols, its way of life, neighborhoods and its people. Over 100 pieces of art were displayed at the Masterworks Museum of Bermuda Art from July 6 – August 6th. The event was in partnership with the Mirrors Alumni & Friends Association, AXIS and Masterworks.
The winning categories were selected by three community judges for 1st, 2nd and 3rd place awards at the primary, middle and high school levels. The "People's Choice" awards for primary, middle and senior school levels were decided by the public vote during the exhibit.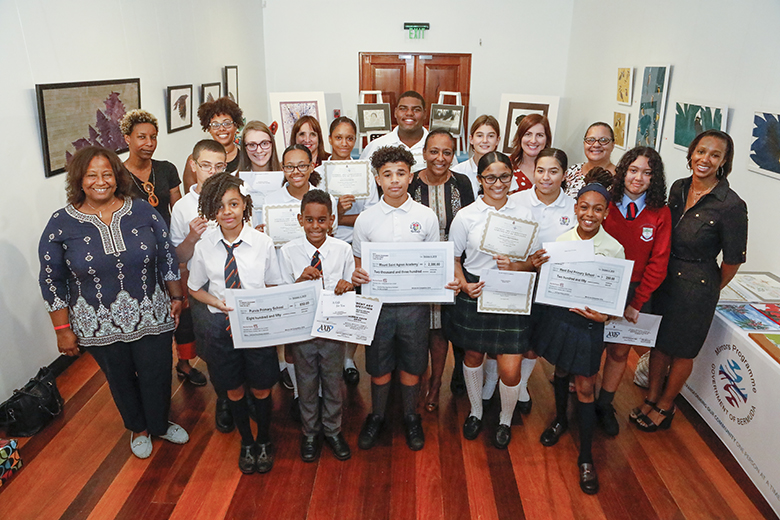 The Acting Minister of Social Development and Sports Lovitta Foggo was on hand today to present the awards and said a few words of congratulations to the young artists, telling them, "Congratulations to the winning students standing here today.
"Your work was recognized by the judges and the community as outstanding and noteworthy. Your vision and execution of the competition topic was creative, colorful and a unique reflection of Bermuda.
"Continue to communicate your vision through art. We look forward to your participation in future competitions. I urge you, as you move through your lives, to continue to explore what's possible for yourself and our community. Continue to express your creativity and love for art."
The 3rd Place winners were:
Primary – Legend Stevenson – West End
Middle – Christian Carrieiro – TN Tatem
High School – Aliyah Every – MSA
The 2nd Place winners were:
Primary – Aaliyah Muhammad – Purvis
Middle – Sterling Brown – TN Tatem
High School – Tomasina Pearman – BHS
The 1st Place winners were:
Primary – Aldwuin Aquin Arias – Purvis
Middle – Shania Haak
High School – Jehkio Bean-Lightbourne – MSA
The Digital Art winners were:
1st – Kayla Mahoney – MSA
2nd – Tatiana Butterfield – MSA
3rd – Kamryn Martins – MSA
The People's Choice winners were:
Primary – Aaliyah Muhammad- Purvis
Middle – Shania Haak – TN Tatem
High School – Aliyah Every – MSA

Read More About
Category: All, Entertainment, News