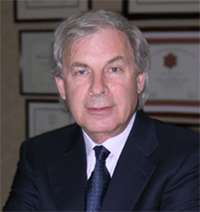 Cosmetic plastic surgeon Dr. Peter Schwartz has joined the Bermuda Medical Specialties Group [BMSG], the company announced today.
A spokesperson said, "Bermuda Medical Specialties Group announces cosmetic plastic surgeon Dr. Peter Schwartz has joined their team of Physicians.
"Board certified by the American Board of Plastic Surgery, he specializes in cosmetic plastic surgery of the face, breast and body.
"Dr. Schwartz is the Chief of Plastic Surgery at Syosset Hospital. He also has privileges at North Shore University Hospital, Plainview Hospital and Glen Clove Hospital.
"With more than 20 years' experience, Dr. Schwartz specializes in various types of cosmetic plastic surgery procedures: facelifts, mini-facelifts, eyelid surgery, endoscopic surgery with small incisions, nose reshaping, breast augmentation/lift/reduction, liposuction, tummy tucks and a host of minimally invasive procedures.
"His patients varies between women, men, teenagers and children. In the event communication is necessary, Dr. Schwartz speaks fluent Italian, French and German.
"Dr Schwartz is a member of both the American Society of Plastic and Reconstructive Surgeons and the American Society for Aesthetic Plastic Surgery. Membership in these organizations is reserved only for physicians who have completed a high level of training, including continuing education on the latest advances and techniques that will benefit patients. In addition to these organizations, Dr. Schwartz is a member of the Liposuction Society of North America, the New York State Medical Society and the Nassau County Medical Society."
Dr. Arlene Basden, Medical Director at BMSG, says, "In addition to improving one's appearance, cosmetic plastic surgery can be a medical solution for matters such as back and shoulder pain, loose skin & disfigurement due to accidents. Residents of Bermuda demand access to a very high standard of medical care that many go overseas to receive it. We are very fortunate that Dr Schwartz has made his talent available to us in Bermuda."
Dr Schwartz says, "The highest concern in my practice is the exceptional and individualized care of our patients, before, during and after cosmetic plastic surgery to improve their self-image and boost their self-esteem.
"Personalized excellence in cosmetic plastic surgery procedures is delivered through a continuous quest for outstanding medical knowledge with continuing education combined with an artistic sense and use of the latest proven technological advances in cosmetic plastic surgery".
Consultations are available with Dr Schwartz for the following:
Non-Surgical & Aesthetic Treatments
Skin Care
Laser Skin treatments
Injectables: Botox and Juvederm
Skin Care Products
Facial Procedures
Face Tightening
Brow lifts
Upper & lower eyelid
Facelift / Neck lift [Rhytidectomy]
Rhinoplasty [nose]
Lip Augmentation
Neck Lift
Breast Procedures
Augmentation
Lift [mastoplexy]
Reconstruction
Reductions
Reduction for men [gynecomastia]
Body Contour Procedures include:
Arm lift
Thigh Lift
Body Lift Contour
Body Contour after major weight loss
Mommy Makeovers
Dr. Schwartz is now available for private consultations. For appointments call Bermuda Medical Specialties Group at 541-2674.
Read More About