[Updated] According to the latest statement from Arbitrade, they claim they have received title to gold bullion "with a current market value in excess of $10 billion."
This follows after the company announced last month that they have "completed the acquisition of the Victoria Hall Building" which "will serve as Arbitrade Ltd. Bermuda World Headquarters."
The statement, which was linked to from their official website yesterday, said, "Confirmed today, Len Schutzman, Chairman and Chief Executive Officer of Arbitrade Ltd., on behalf of the Board of Directors, announced today via its Agency of Record for Traditional and Non-Traditional Media, Creative Management Partners LLC [CMP], that Arbitrade Ltd. has received title of gold bullion stored at independent security facilities in the amount of 395,000 kgs with a current market value in excess of $10 Billion U.S.
"Arbitrade has completed the required regulatory gold vaulting verification compliance: As mandated, an independent public accounting firm has verified the account in good standing, confirmed Safe Keeping Receipt "SKR" totaling 395,000 kgs of gold, by direct confirmation from the independent secure vaulting company."
Mr. Schutzman added: "Since most crypto-currencies are not backed by gold, this feature should make purchase of Arbitrade's coins and tokens more attractive to the blockchain community".
"Arbitrade, through its proprietary software and strategic partnerships, plans to be in all segments of the crypto-currency business, including currency mining, trading [The Arbitrade Exchange], gift cards, debit cards, money transfer, and Point of Sale processing."
Tweet sent from their account yesterday: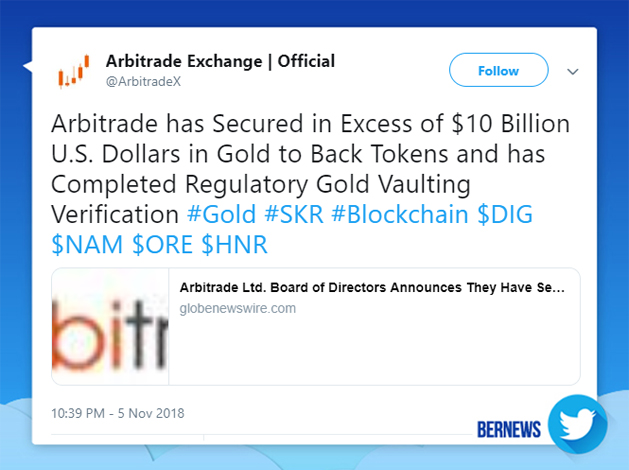 Back in July, the company stated they made a deal with Sion Trading FZE Dubai to acquire $10 billion in gold bullion, and when that appeared to be in question, the company posted a subsequent statement saying it was in Ras Al Khaimah, which is not Dubai, but is part of the United Arab Emirates.
"There has been a large amount of confusion as to why Arbitrade negotiated the initial deal for all gold, and there is a simple answer. The bullion vaults primarily hold gold for these types of transactions," the company said in July.
"As Arbitrade pays off the gold bullion debt to Sion, the gold can be traded for the appropriate metals backing each token before being shipped to the vault in Bermuda, where it will be audited once a year, again, as the reserves build up."
Tweet sent by Arbitrade in July: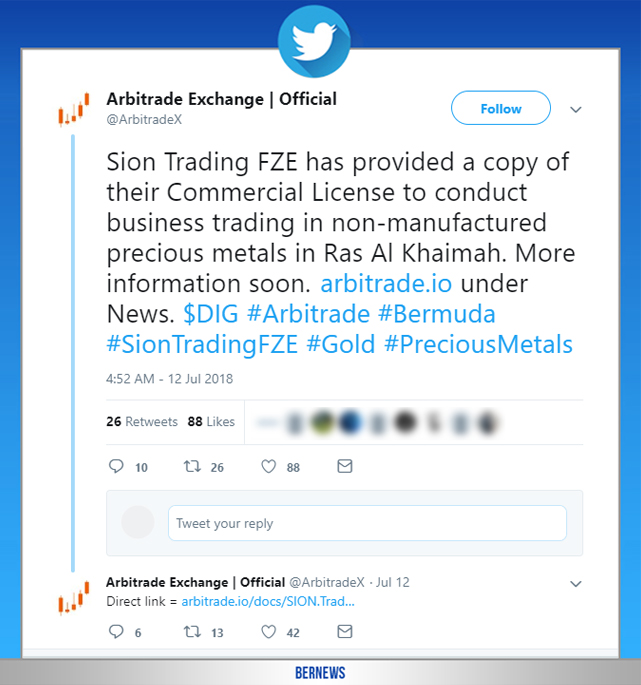 The document the company linked to on their website in July appears to no longer be available, with the page currently rendering as 'not found'.
Arbitrade did not specify who the accounting firm or vaulting company were, and yesterday Bernews attempted to contact both Arbitrade and their 'Agency of Record' to seek clarification and further information, and we will update if able.
Update 4.02pm: We followed up again today, seeking clarity, and the 'Agency of Record' did get back to us, just to say they passed our queries on to Arbitrade, so we will update if Arbitrade gets back to us about these claims.

Read More About
Category: All, Business, News, technology