The Government's Registrar of Companies Directory now shows a listing for Arbitrade, the start up technology firm which has been in the news lately.
The listed company directors are Leonard Schutzman, Lawrence Howard Meyer, Mohammed Amin Markatia, Brent Michael Longnecker, Charles Hamlin Woodworth Jr, Daniel Francis Sweet, Jason Douglas Springett and John Francis MacNeil; with the majority having US addresses and two having Canadian addresses.
Whilst the company is registered, there are additional processes involved with launching ICOs or digital exchanges.
Earlier today, Minister of National Security Wayne Caines explained that "all companies wishing to launch an ICO or run a digital exchange in Bermuda are subject to a stringent assessment and review process. This is consistent with the Digital Asset Business Act 2018 and the ICO Legislation of 2018.
"The regulatory framework crafted jointly by the BMA, the Bermuda Government and administered by the BMA, employs a robust programme of vetting and analysis that is built to affirm the quality of new applicants.
"The application requirements are structured to mitigate risks to consumers, investors and the reputation of Bermuda. To be clear, once the Acts fully come into effect, any company will need to follow the application process. Therefore any discussions about potential offerings or exchanges are premature."
Arbitrade attracted interest after making a number of ambitious and interesting statements, including saying they are buying the Victoria Hall property in Bermuda, plan to donate $1 million to the Government's co-working space, plan to donate to a programme in which they said gang members will be paid to work on chicken farms on the island, and are being granted title to $10 billion worth of gold bullion.
Their website states that, "Arbitrade is not just an ordinary trade exchange platform. It is the highest standard of an all-in-one merchant banking platform for the cryptocurrency sector.
"Together with several partnering countries, Arbitrade will deliver the easiest options to buy into cryptocurrencies, sell out of cryptocurrencies, trade cryptocurrencies, and use cryptocurrencies on a daily basis.
"The platform is the highest standard in existence and is 100% insured against all deposits, earns you interest for your deposits in accounts, and pays you for sharing it with others."
Screenshot from the official Government register of companies: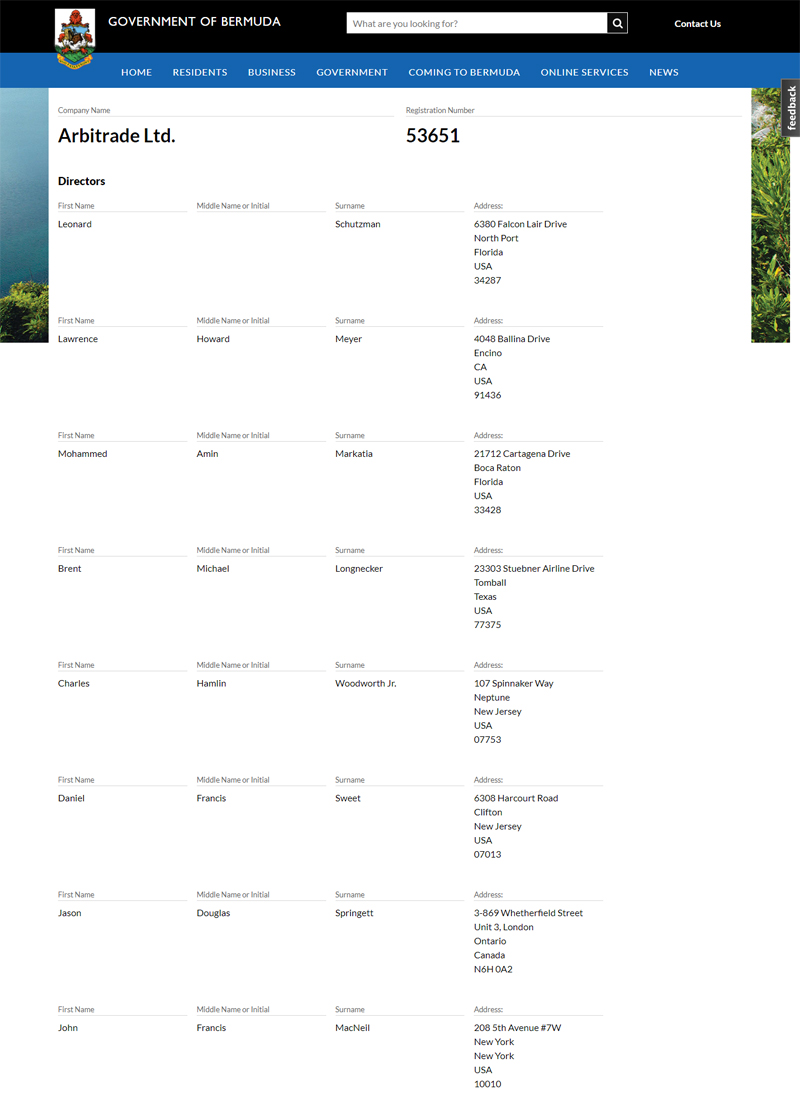 Read More About
Category: All, Business, News, technology