[Written by Don Burgess]
Is the Domestic Partnership Act a breach to the fundamental rights of LGBTQ Bermudians who want to be legally married?
Mark Pettingill, who represents Roderick Ferguson, addressed that issue before the Court of Appeals on Friday morning.
The other five defendants – OUTBermuda, Maryellen Jackson, Dr Gordon Campbell, Sylvia Hayward Harris, and The Parlour Tabernacle of the Vision Church of Bermuda – are represented by Rod Attride-Stirling.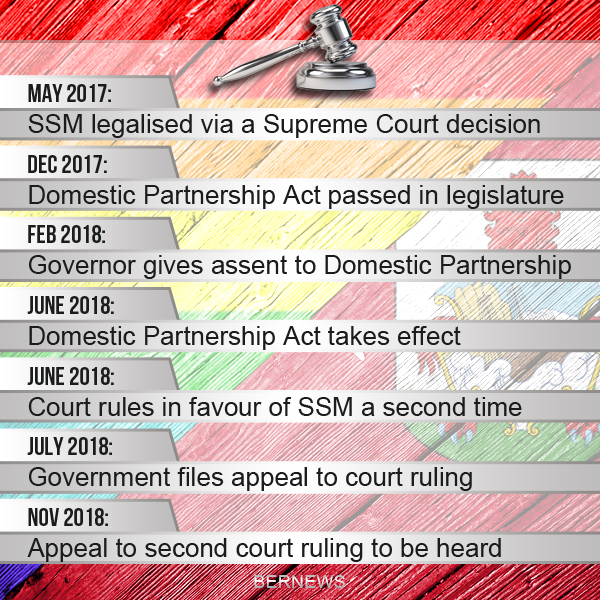 One of the critical issues before the court is Bermuda's Constitution "a living text?" And how do legal changes that happened after the Constitution came into force in 1968, affect that document? How does the passing of 1994 Stubbs Bill, which decriminalised sex between adults males, have an effect as in 1968 as gays would not have been allowed to be married as gay sex itself was illegal in that time.
Mr Pettingill quoted Lord Hoffmann who said parts of the Constitution are expressed in general abstract terms.
"The framers of the Constitution are fully aware they would be invoking concepts of liberty, such as free speech, fair trials, and freedom from cruel punishment, …they would have been aware that sometimes that the practical expressions of these concepts, and what limits of free speech are acceptable, what counts as fair trial, what is cruel punishment would have been different in the past, and by again, different in the future."
Mr Pettingill further argued future judges would give life to the abstract statements of fundamental rights.
He said judges would decide what is a "just society in their own time. In so doing they are not performing a legislative function, they are not doing the work of repair on obsolete text by bringing it up to date. On contrary, they are applying the language of these provisions of the Constitution according to their true meaning. The text is a living instrument."
He said the Constitution would require a periodic reexamination of its application in contemporary times and that is what has to happen in Bermuda.
Government is appealing the decision of former Chief Justice Dr Ian Kawaley who had ruled parts of the Domestic Partnership Act [DPA] were unconstitutional on June 6 of this year. The DPA barred same-sex marriage but allowed gay couples to have a civil union instead.
This followed after May 2017 ruling by Justice Charles Etta Simmons in favour of gay marriage in a case brought by Bermudian Winston Godwin and his then fiancé Greg DeRoche.
The Court of Appeal will hand down the ruling at a later date.

Read More About