[Updated + Written by Don Burgess]
Former US presidential candidate Howard Dean urged Americans to "find another vacation spot" after Parliament voted for the Domestic Partnerships Act, which will replace same-sex marriages with a domestic partnership.
Mr Dean, who is also a former six-term Governor of Vermont and former chair of the Democratic National Committee, on Friday tweeted "Progressive Labor Party in Bermuda just eliminated gay marriage. Americans who really are progressive should find another vacation spot."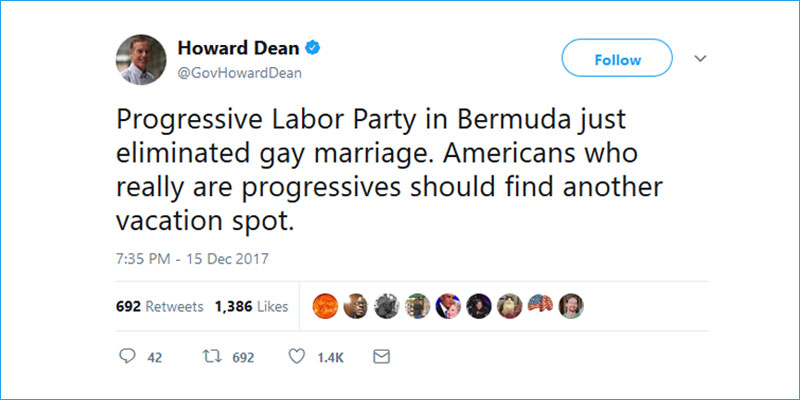 The tweet has sparked comments from people who say they will never vacation in Bermuda again, garnering over 650 retweets and more than 1,300 likes as of this writing.
Acnconi16 replied to Governor Dean's tweet by saying "Bermy is one of my favorite places in the world but my family is definitely going to reconsider our travels in light of this news."
She included the Bermuda Tourism Authority, the Elbow Beach Resort and the Hamilton Princess in her tweet, which also received three retweets and 22 likes.
Anastasia Barzee tweeted "You. Never Going there again," while Paul Lake and Quancy Clayborne said they have "crossed Bermuda off their bucket lists."
Another person replied to Governor Dean's tweet saying, "Why don't you ever say anything about Saudi Arabia? I find this omission in your selective outrage very very curious."
Also, a #BoycottBermuda hashtag has started over the issue.
Phishygirl62 tweeted "What the heck?!?! Bermuda has chosen to go backwards instead of forward into the future? Since Bermuda relies on the tourist trade it is time for people to #BoycottBermuda & not give them your tourist $$ until the laws/rules are equal for all their citizens.
Another Twitter user said "My family will not be returning to Bermuda until the hateful, bigoted, unnecessary anti-LGBT legislation is overturned. We believe everyone should be treated equally. Dignity for all. #BoycottBermuda."
Foxy G replied to the BTA account saying, "Your beaches are pink, but your politics aren't. #BoycottBermuda," and Patrick Schiller tweeted "Well unfortunately there are consequences to people's actions. Sometimes the only way to get people to wake up from their bigotry is through their wallets, i.e. tourist dollars. #BoycottBermuda."
Update Sun Dec 17, 9.45am: Governor Dean's tweet continues to circulate, and has over 1300 retweets and more than 3,000 likes as of this writing.
One reply said "Getting rid of my Bermuda shorts as well," while another person has tweeted this, "Out of 195 countries only 26 support ssm, Bermuda offers domestic partnerships, we welcome everyone, how can you encourage the punishment of good ppl? What other countries will you ask Americans to boycott? Bermuda is more progressive towards the gay community than most places!"
"That's rank hypocrisy, Gov. Dean. Voters had rejected same-sex marriage. The new bill gives 'all the benefits of marriage, but without the name.' Much like the civil unions Vermont adopted when you were Governor, b/c you said you would veto any bill that used the term marriage," said one tweet.
"What the heck is wrong with them? Good grief, preventing people who love each other from marrying. No more Bermuda for me," tweeted another person, while another said, "I won't go there again, just on principle."

Read More About