[Written by Don Burgess]
Government's opening salvos were fired yesterday [Nov 7] in the Court of Appeals in hopes of overturning the same-sex marriage ruling.
Soft-spoken QC James Guthrie made his arguments for the Government against the case brought by Roderick Ferguson, and for the Government against five others; OUTBermuda, Maryellen Jackson, Dr Gordon Campbell, Sylvia Hayward Harris, and Vision Church of Bermuda.
The QC had to be asked several times to speak up by the justices so he could be heard.
Former Chief Justice Dr Ian Kawaley had ruled parts of the Domestic Partnership Act [DPA] were unconstitutional on June 6 of this year. The DPA came into effect on May 1 which barred same-sex marriage but allowed gay couples to have a civil union instead.
This was in response to a May 5, 2017 ruling by Judge Charles Etta Simmons in favour of gay marriage in a case brought by Bermudian Winston Godwin and his then fiancé Greg DeRoche.
Mr Guthrie said there is a big difference between the Human Rights Act and the Bermuda Constitution in that the HRA prevents discrimination on sex and orientation whereas the Constitution does not.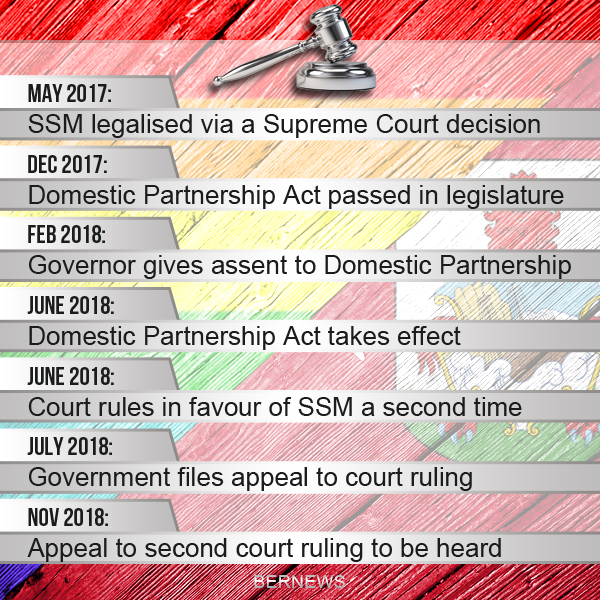 He said the respondents could not rely on the HRA to make their case, and they have to rely on the Constitution. When asked by one of the justices what the difference was between a domestic partnership and a marriage, he replied "virtually nothing at all."
Mr Guthrie also stated that the argument that domestic partnerships do not have the same recognition in other jurisdictions and could cause problems for same-sex married couples is not relevant. He said just because the United States had a law, or any other country had a law, did not mean that Bermuda had to follow suit.
"We have to follow the Constitution of Bermuda," Mr Guthrie said. He added, "We do not shrink from submitting that the Chief Justice interpretation of the Constitution was seriously flawed and he went far too far."
Mr Guthrie called the Chief Justice's decision a form of "judicial activism."
Mr Guthrie relied heavily on the Canadian case of R v Big M Drug Mart Ltd where the Supreme Court of Canada ruled the Lord's Day Act violated the Canadian Charter of Rights and Freedoms.
In that case, Big M Drug Mart was charged with doing business on a Sunday. The big question was did the Lord's Day Act restrict the right to freedom of conscience and religion. The court ruled there was no secular basis for the law and its only purpose was, in effect, to establish a state religious-based requirement.
Mr Guthrie said people were being compelled on religious grounds to a universal day of rest. He said same-sex couples are not being compelled to have a domestic partnership. One of the justices said concerning the Big M Drug Mart case and freedom of conscience, "Marriage has a better claim than working on Sundays."
The Government is expected to continue to present its case today [Nov 8] with the respondents replying on Friday.

Read More About