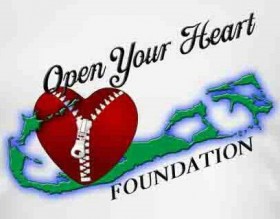 [Written by Patrick Bean]
They are the troupe that keeps on giving in the spirit of promoting community relationships and helpful, sincere and loving bonds among the varied area demographics and also fostering a general wellness in body, mind and soul through the provision of diverse initiatives.
Open Your Heart Foundation [OYHF], a group based in the west end but catering to any and all throughout the Island has demonstrated a determined will to bring a sense of togetherness through events that have long included an annual Good Friday Community Festival as well as Boxing Day gift giving and festive event, an annual Back-To-School supplies give-away in conjunction with the Anchor Boys of Mangrove Bay.
Earlier this month OYHF partnered with like-minded group Local Legends to host young boys from all across the Island — and many considered at risk — at Paget Island to be instructed in various life skills relationship building exercises to open them to a mind-set of togetherness and empowerment regardless of the community they hail from
Thursday witnessed OYHF serving Thanksgiving lunches and dinners at Leopard's Club and Somerset Cricket Club — as well as delivery — to an overwhelming response that left organisers sleepless in that they were not able to accommodate some of those that had RSVPed for lunch-time service at Somerset, where food did not get served until late afternoon.
However, on Friday, the group hosted a Black Friday Special of bulk plates and containers of scrumptious morsels including fresh Bermuda fish, jumbo shrimp, fries and all the trimmings, which they employed a team of delivery riders and driver to deliver to their sponsoring supporters, those that missed out, and all supporters in general that might need a meal.
"We had a lot of good reviews, a lot of people support us in what we do regardless and yesterday we were overwhelmed because we had a lot of support, but we did have some problems getting the orders out in a timely fashion at both points at one stage, " said one of the organisers, the group does not provide individual names, preferring to allow OYHF works to speak instead of the collective.
"We appreciate everybody and their patience, their patronism and all round support.
"Today is all about Black Friday I tell you we could not even sleep last night because of the thought of those that did not get or did not get it at the quality we are known to promote and produce. We take responsibility for everything we do, we're realists and we are not into games and no gimmicks out here.
"So a lot of the places that made big orders we're blessing them and thanking them for helping us to make this event possible in doing business with us and look forward to doing so in the future."

Read More About