Staff from Ariel Re provided a Thanksgiving Day lunch today [Nov 24] for seven mothers and their children at the Transformational Living Centre [TLC] for Families.
A spokesperson said, "Charity Committee members from Ariel Re helped deliver the traditional Thanksgiving turkey lunch at the surprise event today.
"The Transformational Living Centre opened its doors February 2022 and is a non-profit organization that provides a nurturing and supportive home for mothers and their families experiencing housing uncertainty.
"They aim to empower, transform, and support women to move beyond shortage and provide safe and secure homes for these women and their children in Phase 1 for up to one year. The TLC states that they are a first step in addressing the growing but largely hidden problem of homelessness in Bermuda."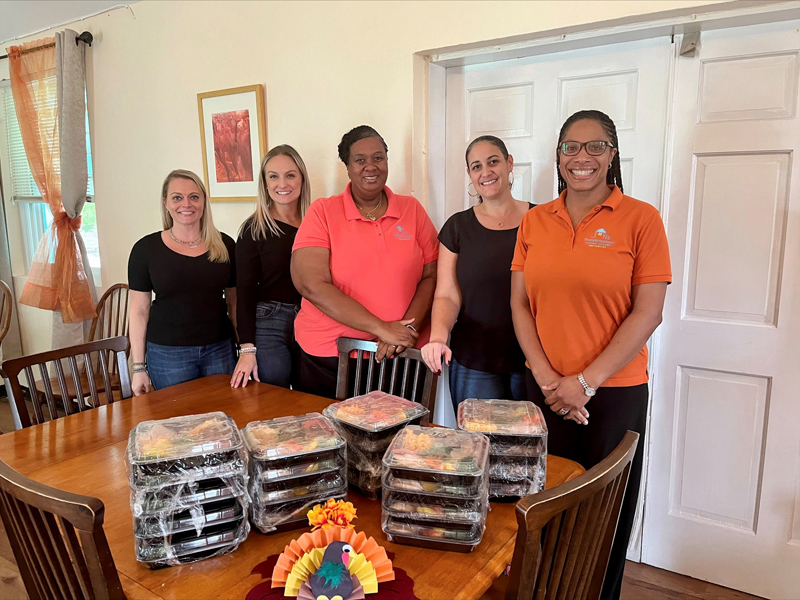 "The Transformational Living Centre does a fantastic job in providing help for many families who find themselves without a home through no fault of their own," said Veronica King, Vice-President, Property Reinsurance at Ariel Re.
"Thanksgiving Day is a time to reflect on our own good fortune, and we felt honoured to be able to help the TLC Guest Families by sharing some good food and cheer with them today."
Ariel Re previously helped the TLC in late 2021 when it donated $4,000 towards the charity.
"We are honoured that Ariel Re has decided to gift our Guest Families with a delicious Thanksgiving Day lunch," said Edonna Bean of the TLC. "Everyone at the TLC really enjoyed being able to participate in the holiday festivities.
"Having such generosity and genuine care and concern for our Guest Families has helped to uplift and restore some hope in many of our mothers that have a difficult time being able to fully embrace some of the different holidays such as Thanksgiving. We would like to take this opportunity to thank Ariel Re for their kindness and support of the TLC."
Read More About