CedarBridge Academy is getting set to host a Health Fair on January 31 from 1.30pm to 5.00pm at the Upper Floor of the Administration Building.
A spokesperson said, "Becoming healthy has become a major focus for everyone these days. Changing habits is challenging, a major learning process. In an effort to encourage a healthy lifestyle, School Nurse Genny Williams-Hart, and the School Safety Committee are hosting a Health and Wellness Fair for the staff, students and their families."
"Nurse Genny said that she chose to do the Health Fair as she observed students and teachers at CBA and realized that everyone needs to understand the importance of taking care of self."
Ms. Williams-Hart said, "The main objective is to teach everyone about a healthy lifestyle, so there will be different agencies present to offer advice. These agencies include The DOH [Dental, CDC, to name a few], Core – Jump Rope, Argus Insurance, Health Nutritionist, Police – Action Group, and Asthma Nurse.
"Some of the checks will include blood pressure checks, blood sugar checks, weights and body fat.
"We all need to eat better, exercise more, and with the recent incidents in the high school we need to focus on assisting students with grief counseling, peer pressure and the impact it has on the young.
"For further information, contact Nurse Genny by email at gawilliams-hart@cedarbridge.doe.bm or call 332-8923 or Melanie Burrows by email at maburrows@cedarbridge.doe.bm."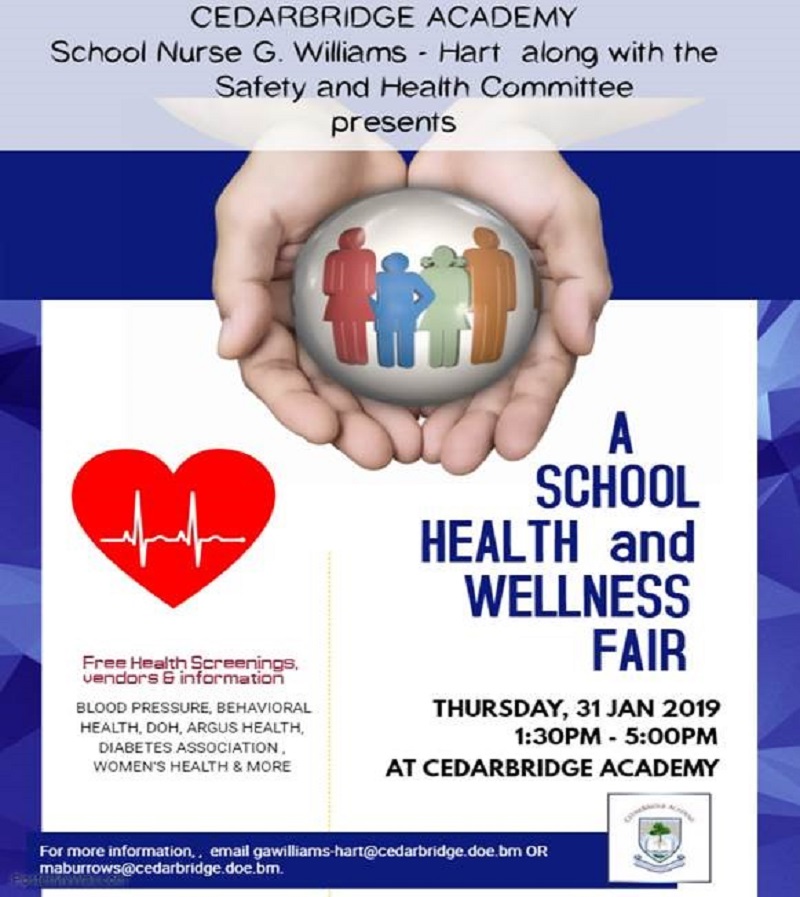 Read More About
Category: All