The members of the Devonshire Parish Council Scholarship Committee have selected four outstanding individuals to receive their Spring 2019 Scholarship.
"The four recipients distinguished themselves through their passion, commitment and determination to excel in their chosen area of study. This year's awardees are Davina Cannonier, Kyesja Hypolite, De-Aun Lodge and Kiara Rogers," the Council said.
Davina Cannonier, Kyesja Hypolite, De-Aun Lodge, and Kiara Rogers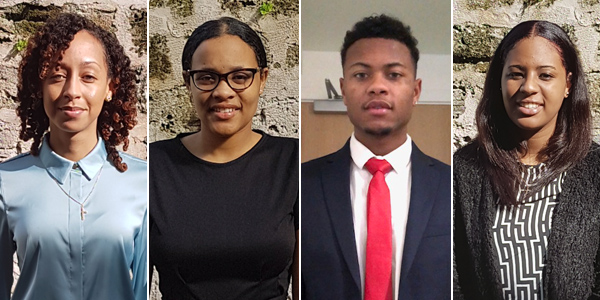 "Davina Cannonier graduated with a Bachelor of Social Work from Dalhousie University and is currently pursuing a Master of Science in Human and Social Services at Walden University [online]. Davina is passionate about human services and aspires to become a Social and Community Service manager.
"Kyesja Hypolite is currently pursuing a Bachelor of Arts in Accounting at Mount Saint Vincent University. Her short-term goals include studying for and attaining her Certified Public Accounting designation.
"De-Aun Lodge is preparing to start his Graduate Diploma in Law at the University of Law. Having already received his Bachelor of Arts in Management Studies with Second Class Honors from the University of Leicester, De-Aun would like to pass the bar and qualify as a lawyer to become a role model and mentor figure to young Bermudian men.
"Kiara Rogers is a 2018 graduate of Bermuda College who is currently studying at Georgia State University's J. Mack Robinson College of Business. Kiara would like to eventually give back to Bermuda's youth through teaching or through her own Tutoring company.
"The Devonshire Parish Council would like to thank all the applicants and wish them continued success in their academic and extra-curricular endeavors. For more information about the Devonshire Parish Council Scholarship, email the Committee at dpcscholarship@gmail.com."

Read More About