More than 40 Bermuda restaurants are celebrating the island's cuisine with local-inspired menus, a commitment that keeps Bermuda's food culture at the heart of Restaurant Weeks.
The promotion, which will run until February 3, 2019, showcases the highest number of Bermuda-focused dishes in Restaurant Weeks history. Those accepting the challenge has grown from 37 in 2018 to 41 – a significant jump from just 23 when the category was introduced in 2015.
"Having never done Restaurant Weeks before we were a little hesitant to throw our hat in the ring, but the Bermuda themed menu was too good to pass up," said Tempest manager Mark Turner.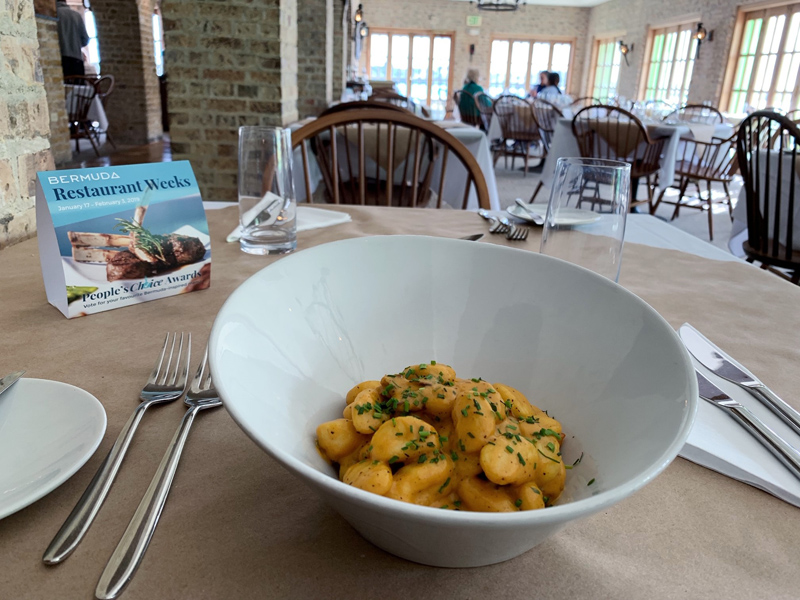 "The chance to let the chefs step out of the box and to use as much local produce as possible we felt was a win-win for everybody."
Tempest is one of three restaurants fresh on the scene. Stryz Bowling Longue in St. David's is making its debut in the lunch category and Blu is back for the first time in a while, offering a different dinner menu each week of the promotion between January 17 and February 3. Impressively, all three new spots – including all three menus at Blu – have Bermuda inspiration at their source.
Three-course dinners and two-course lunches with local ingredients, offered at reduced prices, delights visitors and inspires locals to eat out. This year's Restaurant Weeks promotional launch was held in the east end at Tempest to encourage diners to visit the charming town of St. George.
Mr. Turner said: "When we were asked to host the launch, we were somewhat apprehensive, we had no doubts about the food and service, but this event sets the tone for the whole event. With all the industry professionals and social influencers present we hopefully set the standard and left everybody with a favorable opinion of Tempest, Restaurant Weeks and St. George's."
Three-course menus are tiered in three price categories – $32, $42 or $52 and are available online.
Back this year is the People's Choice Award, allowing diners to vote for the restaurant they feel best incorporates local food culture in their menus. Voting will take place online. In 2018, Lost in the Triangle [LITT] was the People's Choice Award-winner, a position that is rewarded with local and overseas media coverage and marketing through Bermuda Tourism-related social channels, guides and promotional materials.
Diners are also encouraged to Share and Win by posting their culinary experiences on social media using #BermudaRW for the chance to win their next meal on us.

Read More About
Category: All, Entertainment, News