There was a change at the top of the Premier Division, with Robin Hood now on top of former leaders PHC based on superior goal average after a drawn match with Devonshire Cougars, while PHC were idle after their scheduled match against Boulevard.
Meanwhile, the First Division top three positions remained unchanged as top club Southampton Rangers won handily over Ireland Rangers, with second placed Somerset Eagles having a bye for the weekend and third placed Hamilton Parish losing 3-0 on Saturday to fourth placed Wolves.
Premier Division
Dandy Town 3 BAA 2
Dandy Town made several changes to the team that lost to PHC in the New Year's Day final of the Friendship Trophy and their fortunes correspondingly were altered as they downed BAA 3-2 at St. John's Field and thus leap-frogged the Greens into fourth place, taking them further away from any relegation concerns.
Hornets twice trailed to the visitors as Keishen Bean tallied a first half brace featuring quality finishing at the 18th and 31st minute marks. However, the home side showed character as they responded each time as Nizigh Spence first equalized in the 26th minute and veteran forward Kwame Steede did likewise three minutes following the interval.
It was then left to captain and leading goalscorer Angelo Simmons to settle matters, and he did so in the 81st minute in awesome fashion, curling in a free-kick from all of 25 yards out past a two-man wall set in front and into the top left corner, pigeon hole, beyond the flailing fingertips of the goal-keeper
BAA responded by forcing two goalmouth scrambles in the dying stage, but were denied when their final touches failed them and the Town defence were able to avert the danger, while preserving victory.
"We knew before the game and had talked about the points situation before the game, with a loss and a draw away keeping us away from relegation," explained Hornets assistant coach Aaron Denkins after he match. "We jut stressed to the guys to work hard and play simple football and not make the game emotional and difficult and I think at times we did make the game emotional and difficult for ourselves, but I don't think the result was ever in question for us, it was just a matter of containing ourselves and handling the task.
"We had a few players that were a bit tired coming off the workload we had playing over the Christmas break and there were a few players not playing because of that, where we wanted to manage their legs because it is a long season."
Conversely, BAA gaffer Andrew Bascome figured his unit to perhaps have indulged themselves more in the festivities of the period than concerning themselves with maintaining fitness levels ahead of their return to the pitch.
Aside from goalscorer Bean, BAA's posture was semi-lethargic and they ultimately paid the price for their apparent overindulgence.
"I thought it was a pretty good game being the first game coming back from the first half, our players are not in good shape because nothing was done over the holiday," said Bascome, the former Bermuda national team head man, highlighted the recent inactivity of his players. "Dandy Town were the better team in the end and you could see where they have played over Christmas, they kept their shape, were organised and they had a belief.
"For us it means just staying focused, working hard and more work should have been done over the holiday."
The dropped points by BAA, combined with a win by North Village over Paget, has placed both teams on 13 points, with BAA falling to sixth behind Village via goal inferior difference. Nevertheless, according to Bascome, the Greens remain on course to achieve their main goal of staying within the ranks of the Premier Division.
"The main objective for us is to stay up and a point would have been very good psychologically considering the situation," he said, baffled by what appears a trend, of modern footballers' refusal to engage good fitness practices."We have nobody to blame but ourselves for not being disciplined and responsible to bring home the result, but we have to remain focused going forward."
Devonshire Cougars 0 Robin Hood 0
Robin Hood retook the leadership of the Premier Division based on a scoreless draw against Devonshire Cougars at The Den on Sunday afternoon.
Neither team were in a goal scoring mood on this day, with Hood's prime strike-force unexpectedly silenced by a normally suspect Cougars defence.
The draw moved Hood to the top of the tables, level with the Zebras on 22 points, but with a better goal average. The have now however played a game more than their chief rivals for the division title, as PHC were idle as the Bermuda Football Association postponed their scheduled match at St. David's, presumably to allow for Blazers' players to mourn and grieve following the Saturday funeral of murder victim Ronniko Burchall, one of their squad goalkeepers.
Paget Lions 0 North Village Rams 4
North Village jumped to the fifth spot as they finally found their high-scoring boots, thumping a jaded Paget by four goals at Southampton Oval.
Rams have a superior goal difference to BAA, as the pair stand on 13 points, each a point behind fourth placed Dandy Town.
First Division
St. George's Colts 4 Flanagan's Onions 1
St. George's moved to fourth in the league standings after this battering of Flanagan's at Wellington Oval, overtaking Wolves, who only a day previous had assumed the spot after their own mauling of Hamilton Parish.
Onions dutifully retained their position third from the bottom, with only Vasco and Ireland Rangers trailing.
St. David's 3 Young Men Social Club 1
The Islanders moved to sixth after a convincing win over Social Club at Lord's, St. David's, while the Bluebirds remained eighth.
Southampton Rangers 8 Ireland Rangers 0
Rampant league leaders Southampton returned to more free-scoring ways with Ireland Rangers as their target, plundering eight between the opposing 'sticks' at the cosy confines of Southampton Oval.
Rangers stretched their points lead over second place to eight points after the dust was settled, however chief rivals Somerset eagles yet can close that as they now hold a game in hand over the leaders.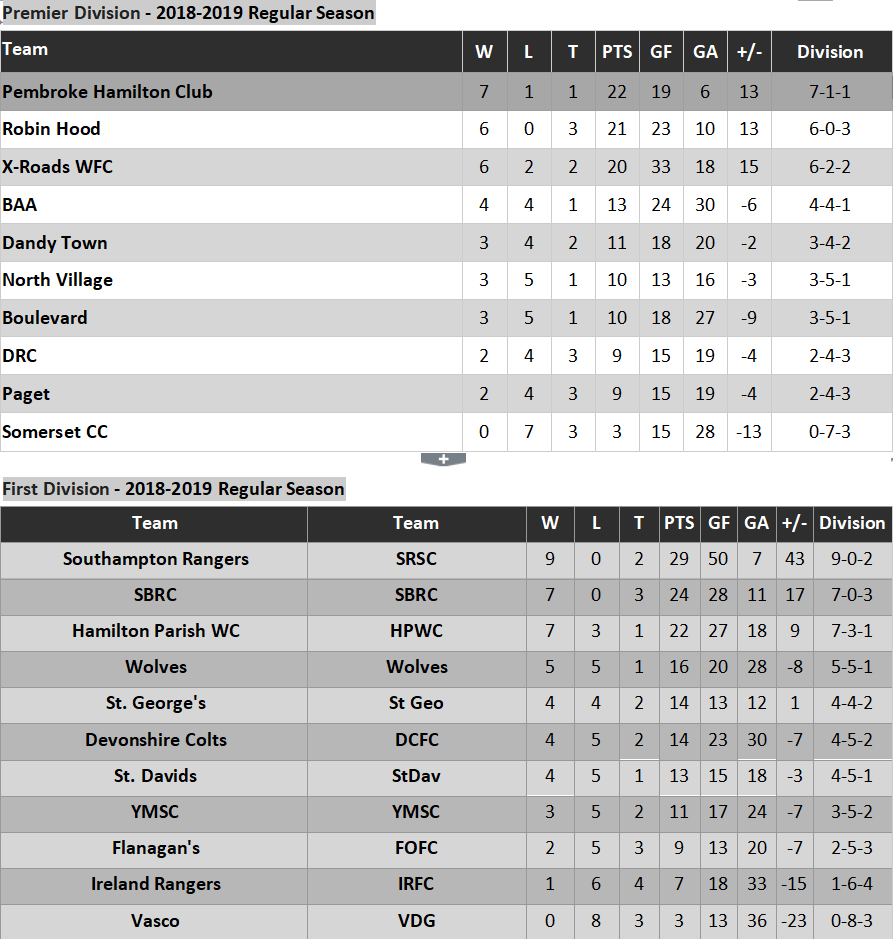 Read More About