The BNAA will be hosting a "Laps for Health" fundraiser in aid of the Carifta Team this coming Sunday, March 17th from 3.30pm to 5.00pm at the National Sports Centre on the North Field.
Bermuda National Athletics Association President Donna Raynor said, "The BNAA will be having 'Laps for Health' fundraiser for the Carifta Team this coming Sunday March 17th from 3:30 – 5:00pm. It will be held at the National Sports Centre on the Northern Field.
"We attempted to have it last year but the weather didn't cooperate. Hopefully this year the weather will cooperate but we will have it rain blow or shine. Participants can run or walk laps. This is a fun event and not a race.
"The cost to send this team to Carifta is around $40,000, as we don't want to leave any of our athletes behind because of cost.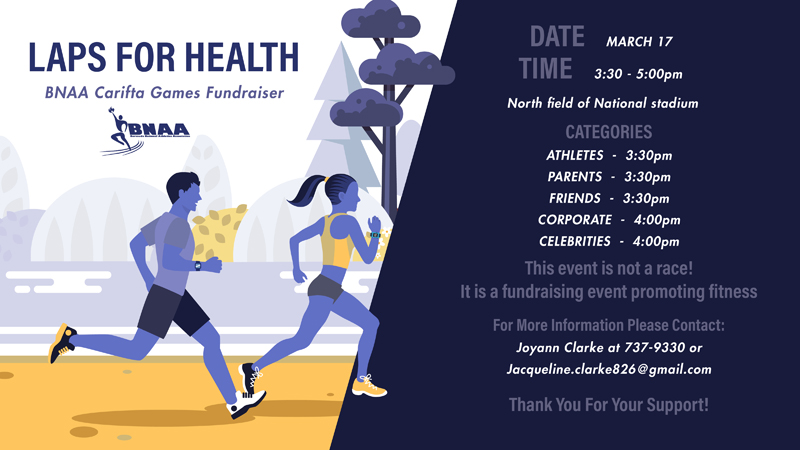 "We will have different categories, Athletes [minimum of 5 laps], parents, friends of track and field, celebrities and corporate [all others a minimum of 2 laps]. The athletes, parents and friends begin at 3:30pm and the Corporate and Celebrities begin at 4:00pm. If you don't want to walk or run you can come and watch and donate. Challenge yourself and see how many laps you can complete.
"This event is in line with our Women In Sport Event as we are promoting health and fitness but not only for women this time but men as well. As we know diabetes is on the rise in Bermuda and we need to get our people moving.
"We are going to have this fun atmosphere as we raise funds for our Carifta team. We will have bouncy castles and snacks as well from Castle Masters.
"As you know our numbers are steadily increasing and these athletes are giving their all and I feel they will represent Bermuda very well at these games.
"We are are urging the public to come out and support the event and walk/run some laps for health. Bring your children, they can walk or run or just play while you participate."

Read More About