Vasco da Gama Club's U11 select team is busy preparing for the 13th International U11 Football Tournament of the Azores, to be held next week on 18, 19 and 20 April.
The Club's participation follows an invitation which was extended in November 2018 by officials of Clube União Micaelense, the Azorean Club hosting the Tournament. Featuring 7-a-side football, the tournament comprises 20 teams organized into four groups. After the group stage, there will be elimination stages to determine the winner.
Vasco da Gama's select team is part of Group C, which also includes ACF Pauleta, CD Oliveirenses, FC Porto and SC Lusitânia. Other teams are visiting from as far afield as the Netherlands, Germany, Cabo Verde and the USA.
From left to right: [Back Row] Germano Botelho , Logan Chadwick, Kennahz Fray, Preston Bang, Sami Carolo, Elias Carpol, Matthew Troake, Joe Carolo; [Front Row] Conor Redcliffe, Mateus Amaral, Tomas Mello, Allesio Ferigo, Logan Viera, Masaki Kitade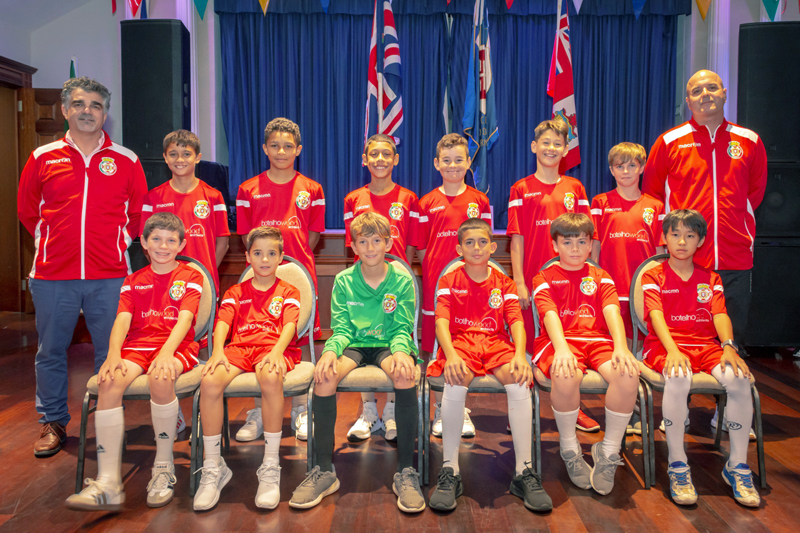 The Select team travelling to the Azores waving the Bermuda and Vasco flags comprise of: Elias Carpol; Logan Chadwick; Preston Bang; Matthew Troake; Alessio Ferigo; Masaki Kitade; Sami Carolo; Mateus Amaral; Logan Viera; Kennahz Fray; Connor Redcliffe; and Tomas Mello.
Mr. Germano Botelho and Mr. Joe Carolo will coach the young athletes and chaperone them throughout the trip. Dr. Sylvanus Nawab, MD will serve as team medic. Former Treasurer, Mr. Edward Correia, who helped spearhead the Club's participation in the tournament will be also attending with the team. Richard Ambrosio, Vice President of Vasco da Gama, will formally represent the Club.
According to Mr. Botelho: "We have put together an enthusiastic select team to represent Vasco and Bermuda. This is a great opportunity for our players to hone their football skills in a competitive environment overseas. They are also getting very excited to visit the Azores, which will be the first time for many of them.
"We could not have put together this programme without the enthusiastic support of our sponsors. On behalf of the young players, I want to thank them."
Club President, Mr Paul Franco added: "Vasco is very pleased for the team to be going to the Azores. This is a prestigious tournament which has been put together by a prestigious Club. On behalf of the Vasco Board, I thank Clube União Micaelense for the invite. I also thank our dedicated coaching and support staff who are traveling with the youngsters to the Azores. Best of luck as they take part in the tournament."
Outside of the football pitch, the Team will get to explore the Azorean capital Ponta Delgada, visit the picturesque Lagoa das Sete Cidades and take in the sights of the still volcanically active village of Furnas.

Read More About