[Written by Dale Butler]
On Friday, April 5, The Heartbeat of Hamilton came to life at PYC in a free concert that started at 8.30pm after sound and instrument checks and warm lights were installed.
The hall was lit in traditional reggae fashion, exactly the way staunch reggae fans love to dance alone, or in small groups. I had heard the band earlier in the year at the Devonshire Rec, where the Department of Culture had developed free concerts in an effort to promote and highlight local artists.
Mitchell "Arijajknow" Allers Trott and Band were electrifying then and on Friday night, when the band included:
Michael Payne – saxophone
Wency Woolridge – bass and lead guitar
Jerome Flood – bass
Jules Roberts – guitar
Stefan Furbert drums [also plays with the MRD Band Saturday nights at "Bulldogs" a mere 100 yards away]
A former Anglican Church and Hall, PYC is best known for producing Bermuda Olympic bronze medalist Clarence Hill and youth leader for 38 years Harold Minors. Its most famous leader, the late Samuel Elsworth Wilson [1930-2009], takes precedence with his beautiful portrait, drawn by Leonard G.E. Ming, high above the entrance door. Mr. Wilson had the perfect seat as Jerome's bass shook every occupied seat and those standing.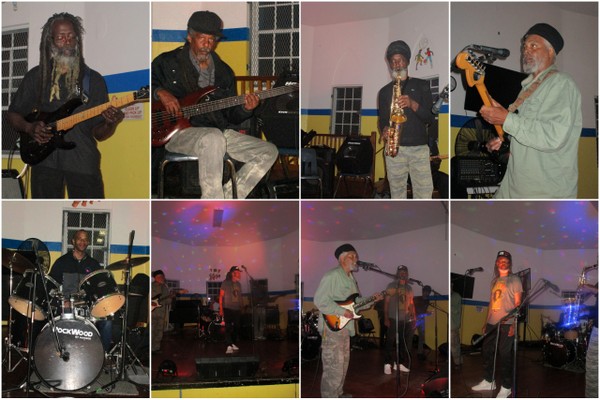 While the audience was not big, it was clear that the event had attracted many die-hard followers of reggae music and the band. I was not familiar with the names of the songs but I did enjoy the beat as Jerome Flood made no mistake with his opening statement and closing notes that the band was going to fly to new heights with saxophone player Payne following close by. Wency Woolridge, an experienced multi-universal player of music, had to do that scratchy guitar sound that reggae music is known for and cannot go without. Jules Roberts is a veteran player who can be outstanding as a soloist. This was a reggae team second to none.
From the opening song the band kept its promise to "bless up great day kings, queens and princes and princesses, all Bermuda royalty" as it headed down the road with Stefan Furbert dropping those drums beats at the right moment, one song after another, in a warm lit hall specifically designed for dancing on a moonless night. But it needed more people to get that good reggae jump and while some tried to do it to that pounding bass and strong drum beat, the numbers were clearly missing to develop the heat and passion among the crowd who were widely spread.
The friends, family and fans, however, loved the music, with all of their favourites coming through loud and clear. It was good to see two senior PYC officials present and they must have been pleasantly surprised and awe struck when 7 year old Harrington Sound student Philando Hill III stepped on the stage and confidently sang "Burning" by Koffee. The crowd loved him and I have no doubt that, with such a mature band, they were delighted to have a young fan step forward and perform without missing a beat.
PYC has played a key role in the development of youth over the years and is still very busy today with a variety of activities. Having this free performance was greatly appreciated and it lived up to the many key words on its walls:
trustworthiness
respect
responsibility
fairness
caring
citizenship
I salute the band for entertaining us. Mitchell "Live Wires" has been able to add to his repertoire a trip to Cuba to take tap lessons with a veteran Cuban performer, the saxophone and a CD and can now be celebrated as band leader and lead singer for this great community concert in The Heartbeat of Hamilton PYC on Angle Street.

Read More About
Category: All, Entertainment, Music