Today marks 100 years since the first airplane took-off and flew over the island of Bermuda, a momentous occasion that paved the way for the daily flights that come into and out of the island.
To celebrate this milestone the Bermuda Civil Aviation Authority, who are responsible for the regulation and safety oversight of aviation in Bermuda spoke to Tom Singfield, the author of "Wings Over Bermuda" to share the story of Bermuda's first flight.
May 22nd, 1919 was an exciting day with people lining the street and cramming onto balconies along the Hamilton waterfront to watch the first airplane to ever take flight in Bermuda, Mr. Singfield explained.
He continued, "Ensigns G L Richard and W H Cushing from the US Navy flew Curtiss N-9H "Jenny" floatplane number A2646, which had arrived aboard the "SS Elinor". The vessel's trip to Bermuda was unplanned, but after suffering engine trouble and encountering poor weather it was forced to visit the island.
Image of the Curtiss N-9H "Jenny" provided by the National Museum of Bermuda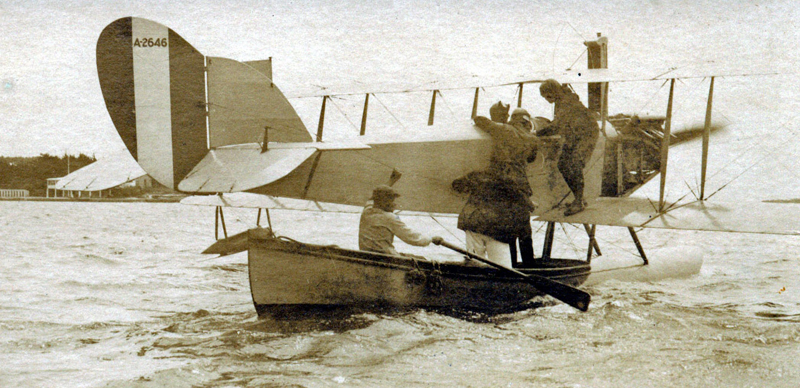 "Bermuda Governor-General Sir James Wilcocks, persuaded the aircrew to take him for a flight to give Bermudians their first sight of an aircraft. In front of a huge crowd he was rowed out to the aircraft waiting near to the Royal Bermuda Yacht Club.
"Piloted by Richard, they were airborne at 12.45pm flying towards Dockyard and returned safely to alight in the Harbour at 1.30pm. A proposed further trip with his wife was abandoned after the engine began to play up."
Thomas Dunstan, Director General of Bermuda Civil Aviation Authority, commented: "The aviation industry has come a long way over the last 100 years, but it is important to remember where it all began. Everyone at BCAA is excited for Bermuda to celebrate this historic aviation milestone."
Following the "Jenny", the next flight over Bermuda was made in December 1919, when "Hal" Kitchener and "Rowe" Spurling flew their Avro 504 floatplane from the new "airbase" on Hinson's Island. Their company "The Bermuda, West Indies and West Atlantic Avro Company Ltd." [later Bermuda and West Atlantic Aviation Company Ltd.] went on to provide a couple of season's successful scenic flying over the islands.
Read More About