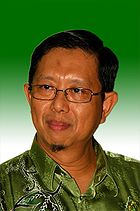 Malaysian politician Mohammad Nizar Jamaluddin [pictured] has been accused of insensitive behaviour due to his suggestion that there is a "new Bermuda Triangle" when commenting on the missing Malaysia Airlines flight.
The airplane — carrying 239 people — disappeared while traveling from Malaysia to China, with air traffic controllers losing contact with the plane on Friday [Mar 7] afternoon.
The Boeing 777-200 departed Kuala Lumpur International Airport and was expected to land in Beijing, a 2,300-mile [3,700 kilometer] trip.
"At the moment we have no idea where this aircraft is right now," Malaysia Airlines Vice President of Operations Control Fuad Sharuji told CNN.
Mr Nizar tweeted, "New Bermuda triangle detected in Vietnam waters, well equipped sophisticated devices are of no use," which quickly generated a slew of negative tweets sent back to the politician.
One person said, "You are supposed represent the people. You are a disgrace to the people," while another tweet said, "I'd expect a person of your stature to be more sensitive to the families & friends in distress." Malaysian media have reported on his tweet,  and the resulting negative reactions.
According to today's update on the airline's website, search and rescue teams from Malaysia, Singapore and Vietnam have not yet found any evidence of the plane or its wreckage.
At the time of its disappearance, the Malaysia Airlines plane was carrying about 7.5 hours of fuel.
Read More About
Category: All