Aecon and Skyport announced the winners of a kite design competition of Bermudian kites to display in the new terminal of the LF Wade International Airport.
The contest was open to the entire Bermuda community, and kite designs were sought from residents of any age – from school children, professionals, artists, senior citizens, and any Bermudian with a creative idea to decorate the new terminal. There were 155 entries and more than 200 designs.
Ten winning designs were selected and will be incorporated into actual kites that will be suspended from the ceilings in the new terminal, which Skyport said will add a "Bermudian sense of place to the new building."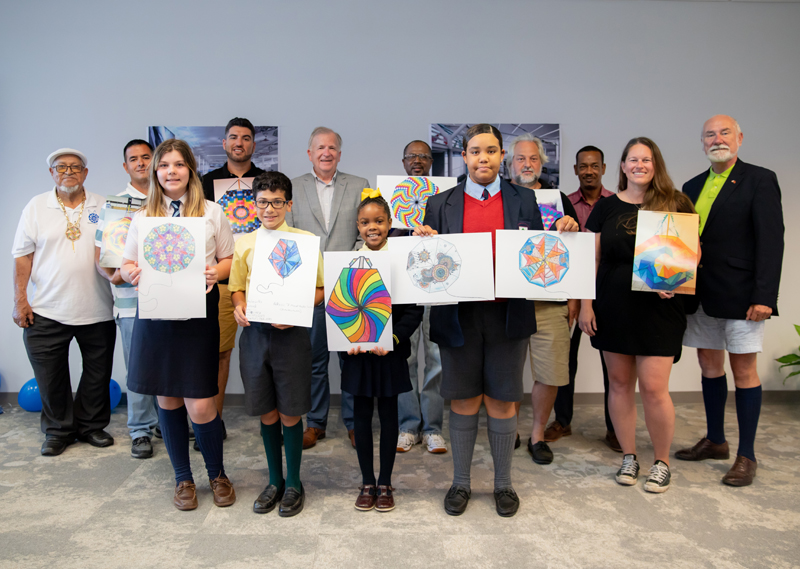 For the 12 and under category, the judges selected three winners: Lily Mulder-Powell, Mikale Willis and Kiera Wales.
For the 13 to 18-year-old category, the judges were impressed by Priel Minors' two entries and selected both as winners.
And in the adult category, winners include Brian Lightbourne, Matthew Tumbridge, Abigail Kempe, Steven Harvey and Jordan Every.
Each winner was presented with a cheque for $250 at a special reception and will see their design hanging in the new airport terminal once it opens.
Mikaela Pearman, Marketing and Communications Officer, Skyport, said, "Our winners include children from both public and private school and a diverse group of adults. We were overwhelmed by the large amount of entries we received in the contest and would like to thank the public for its engagement."
The judges for the contest were Colin Campbell of OBM International; Jakai Franks of the BTA; Dr. Kim Dismont-Robinson, Government's Folklife Officer; kite master Eugene O'Connor and Alan Daniels of Kite Warriors.
Frank Ross, Executive Advisor, Infrastructure, Aecon Construction, says: "We were so pleased with the creativity, use of colours and uniqueness in each kite. The installation is going to be visually stunning and we are excited to share it with the public once the terminal opens next year."

Read More About