The Prizegiving for the 2019 Antigua Bermuda Race was held at the Royal Bermuda Yacht Club on May 16th.
Honoured guests at the ceremony included Premier David Burt, Bermuda Tourism's Daniel Johnson, and Goslings Rum Brand Director Andrew Holmes. Vice Commodore David Benevides, and Rear Commodore Charles Penruddocke represented the RBYC. Past Commodore and Antigua Bermuda Race Chairman, Les Crane was assisted by Margaret Crane.
Hand-made customised plaques, fired by John Faulkner in the Royal Naval Dockyard Bermuda, were awarded to every competing yacht, and Gosling's Rum and Bermuda Tourism provided drinks and sandwiches for the competitors.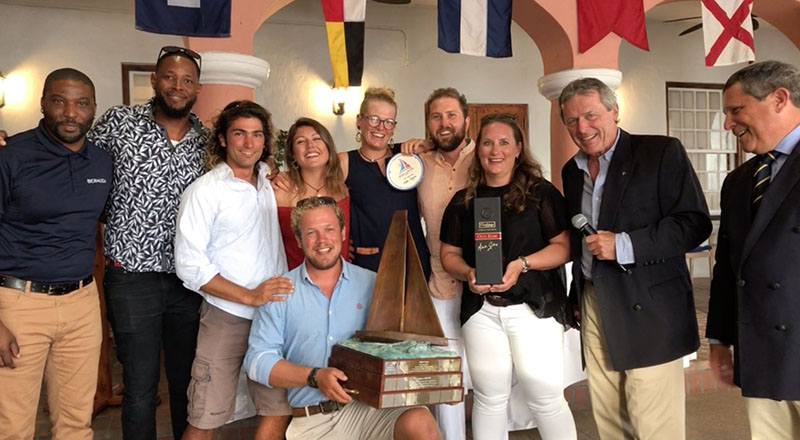 Giles Redpath's Lombard 46 Pata Negra [GBR], skippered by Andy Lis, was awarded the Warrior Trophy, as the overall winner of the 2019 Antigua Bermuda Race.
"This was just a fabulous race, Scallywag was in a world of its own but all the rest of the IRC fleet finished with 24 hours of each other on a 1000 mile course. There was really tight competition for the overall win, and second place was won by just 21 minutes," commented Les Crane.
"Stories, friendships and opportunities have come about because of this race, which makes it even more special. Many competitors have told us they will be back next year, and we hope to have more teams joining us in the IRC Racing, Double Handed and CSA Cruising classes."
The fourth edition of the Antigua Bermuda Race will start from Antigua May 6th, 2020.

Read More About