Three Bermuda artists are featured at the Havana Biennial, taking part in the public art program entitled 'Behind the Wall' or 'Detrás del Muro', with the exhibition to continue until May 12.
A spokesperson said, "The Havana Biennial is a globally recognized visual art exhibition that speaks to the exceptional creative output in Cuba, while also including the talents of select international artists.
"For the first time in the history of the Havana Biennial, three artists who call Bermuda home were featured in the public art program entitled 'Behind the Wall' or 'Detrás del Muro', which runs the length of the Malécon [Havana's seawall]. The exhibition is on until May 12, 2019.
Havana Biennial engineer Randy Rodriguez, curator Lisa Howie, and artist Peter Lapsley: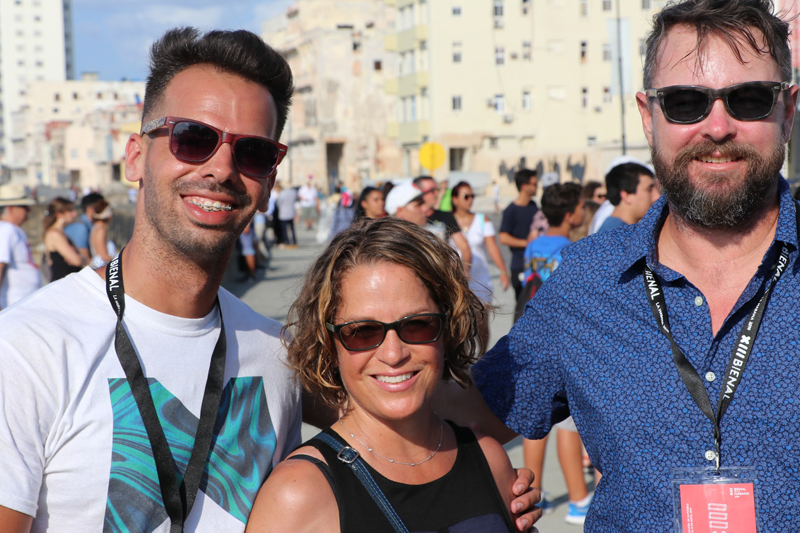 "Artists Peter Lapsley, Jon Legere, and Andrea Sundt were selected to participate. The assigned locations for each artist posed certain challenges that are specific to the context of Havana: gritty street areas, fragile and crumbling edifices, a searing sun for the duration of the day. Into this, Jon and Peter [neither of whom speak Spanish] found creative solutions to their various unforeseen dilemmas while working with volunteers who spoke little English.
"Peter installed both his and Andrea's [his wife], who was not able to attend."
Art by Andrea Sundt: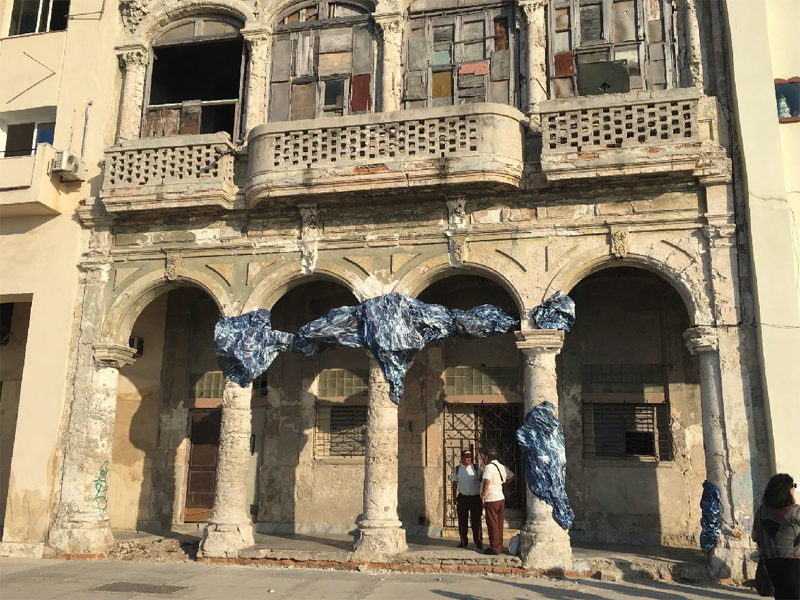 "Most importantly, the three public art installations were complete for the opening date of April 14th and each installation was a successful rendering, even if slightly different from what they had planned to install. The artists had to 'let it go', Cuba style, and really work with what they had on hand.
"As a result of this success, Bermuda has been asked to return for the 'Behind the Wall' or 'Detrás del Muro' project in the next Havana Biennial. This is excellent news for the artists in Bermuda who aspire to create large scale public art installations within an internationally recognized exhibition.
"Bigger picture: Go for a collateral space, meaning a specific gallery space, to showcase Bermuda artists in the next Havana Biennial. A larger footprint in the Havana Biennial will help to build Bermuda's reputation as an important emerging context in the Caribbean contemporary art arena.
Art by Jon Legere: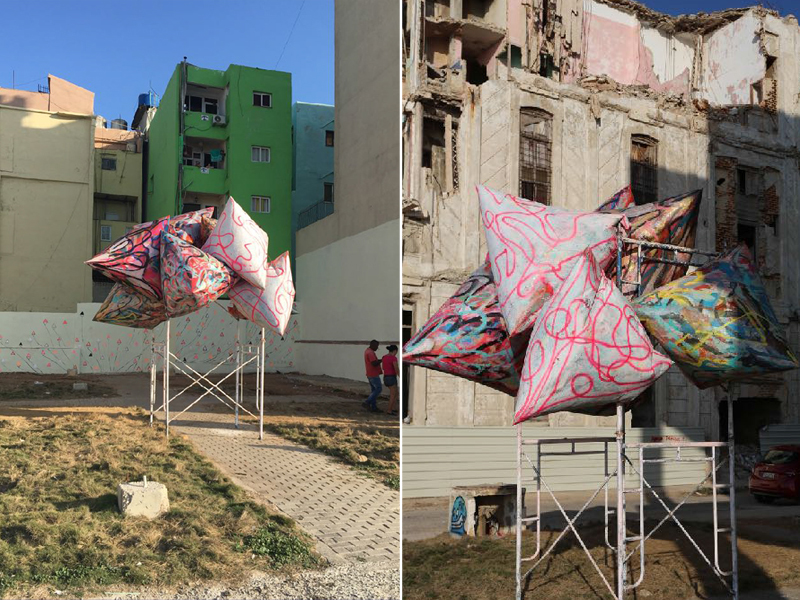 Curator Lisa Howie said, "I'm grateful for the opportunity to work as an associate curator on this public art project. I learned so much— about Cuban people who are so willing to assist, about Cuban bureaucracy that demands so much patience, and about the very nature of the public art arena which is so different from working in the safety of a museum.
"It's all thanks to Cuban curator Juanito Delgado who expressed an interest in the artwork featured in the 2016 Bermuda Biennial. He took a risk in selecting artwork that was displayed in the Bermuda National Gallery, which is such a completely different context than the Malécon.
"The artists, Peter and Jon, deserve a resounding applause. I'm very proud of what of they accomplished under such difficult circumstances. They have crossed the threshold of the Havana Biennial thereby opening the door for more Bermuda artists. That's terrific."
Art by Peter Lapsley: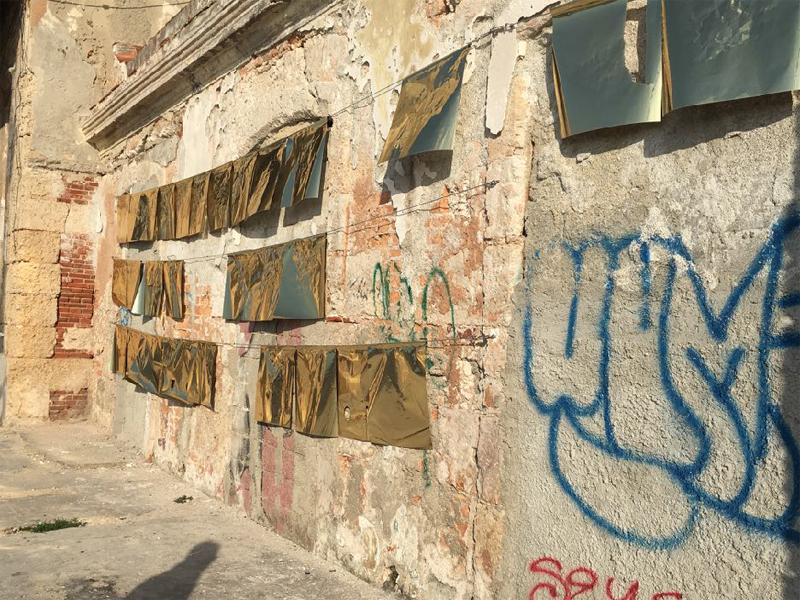 Peter Lapsley said, "It was an incredible opportunity to be included as an exhibiting artist on the Malécon as part of the Havana Biennial, and even more so to get meet and work with such interesting, generous people, both Cuban and international."
Jon Legere said, "In Cuba, chaos is king. Once you accept that and let go, everything opens up and becomes possible."
Andrea Sundt said, "I'm thrilled to have been offered the opportunity to install my work on one of the buildings on the Malécon for the Havana Biennial. As the Malécon stretches along the water's edge it provided the perfect backdrop and context for my site-specific installation and hopefully helps to draw awareness to our relationship with the ocean and the importance of ocean conservation."
Art by Peter Lapsley: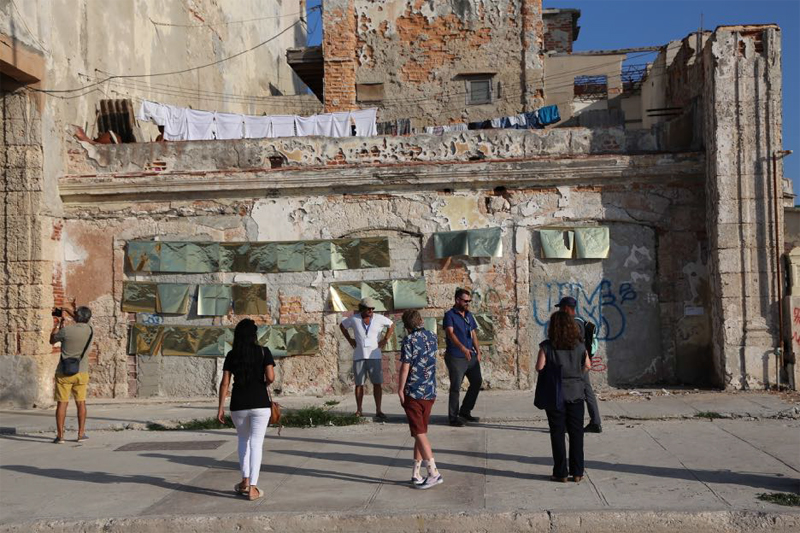 Read More About
Category: All, Entertainment