The Mid Ocean Golf Club [MOC] has been awarded Investors in People [IIP], Gold accreditation under Generation VI, which is the latest and most exacting IIP Assessment Standard.
"MOC is also proud to say that not only is it the first organization in Bermuda to achieve Gold accreditation under the IIP Generation VI Standard, but it is the first golf and country club West of the Atlantic to earn the prestigious IIP endorsement," a spokesperson said.
"This achievement demonstrates MOC's commitment to high performance through good people management, the belief that learning and development is paramount, and that business strategies and values align with how strategies and priorities are communicated with the staff."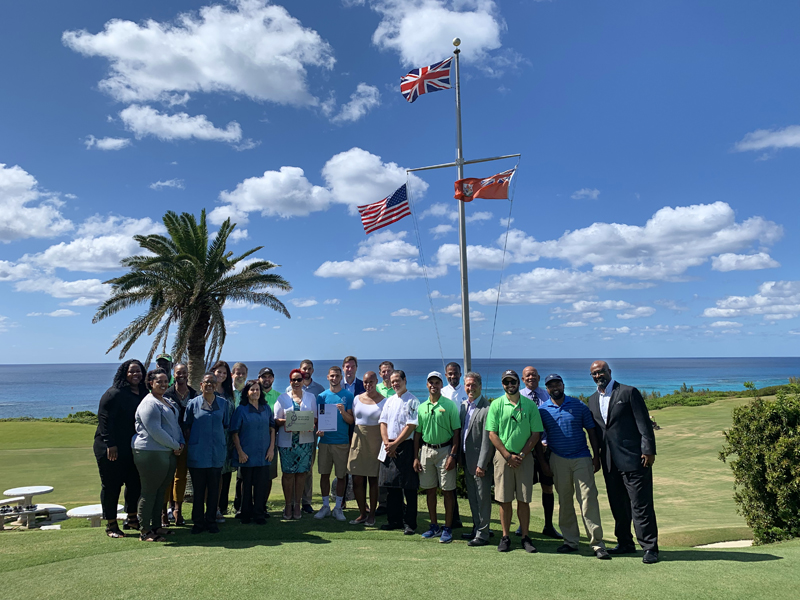 Eric Jenkinson, Principal, Management Solutions and Quality Manager IIP Bermuda said: "This is a massive achievement by Mid Ocean Club. To achieve Gold level Accreditation on their first assessment is a very rare event and shows just how good they are at managing their people to deliver excellence in all aspects of their business.
"To be benchmarked against the world's leading People Management Framework and Standard and to achieve this outcome speaks volumes about how dedicated the team at Mid Ocean Club are to pushing the boundaries on service delivery."
MOC's formal IIP assessment process began in January 2019 and involved an online assessment for all employees, which was completed by 80% of the staff, onsite interviews with staff randomly selected by the IIP Practitioner, documentation reviews, direct observation of MOC's culture, policies and practices that evidence application of the IIP framework.
MOC General Manager, Austen Gravestock stated that, "The framework of IIP has allowed Mid Ocean to measure the performance of our team from a people management viewpoint, which has seen tangible improvements in our service offering. This in turn has led to sustainable improvements in our results.
"We are proud to have achieved this pinnacle at our first time of trying, but more importantly we are delighted with how as an organization we have embraced the change in culture over what has been a relatively short period of time. MOC has an enviable reputation within the Club Industry, being IIP Gold accredited can only further solidify its position."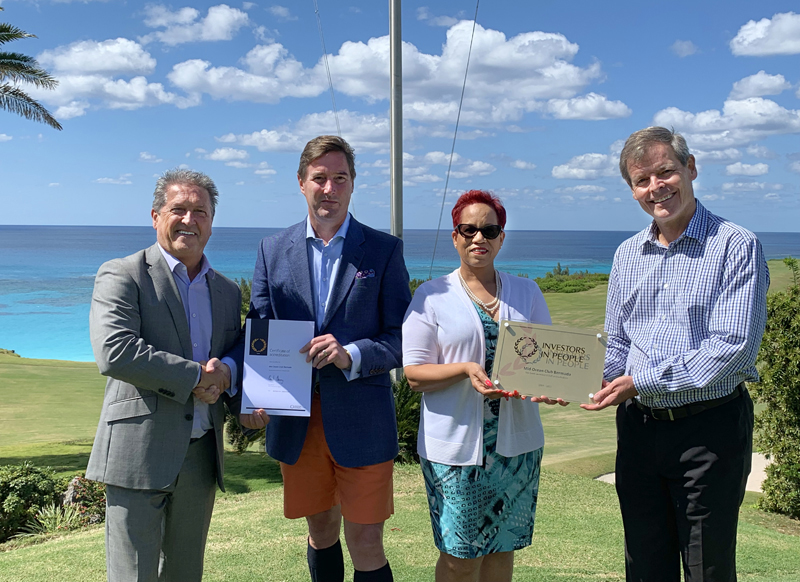 IIP is the international standard for people management with a global community of 14,000 organizations in 75 countries. IIP defines what it takes to lead, support and manage people effectively to achieve sustainable results. Investors in People enables organisations to benchmark against the best in the business on an international scale.
When benchmarked against other organizations in MOC's online assessment category, MOC achieved 755/900 placing it 5th in the category of arts, recreation and leisure, the average IIP benchmark for the category is 724 and average industry benchmark is 698.
There are 4 levels of IIP award – Standard, Silver, Gold and Platinum. Within each of these there 4 levels of "maturity" [Developed, Established, Advanced and High Performing]. Accreditation outcomes are assessed according to 27 themes, scored by maturity level. Having achieved Advanced level on 21/27 themes Mid Ocean were awarded Gold standard, which is an accomplishment that less than 7 % of accredited organizations around the world have achieved.
IIP Assessor, Gill Brown highlighted, "What has made MOC so special in the context of Investors in People is how the organization has used the framework as a transformational tool; one of the best examples the Assessor has seen, this Gold Accreditation is an accolade to the strength of the leadership that starts with the Board and cascades down to people at the grass-roots level; the support of the policies and procedures in ensuring consistency of practices; and last, but definitely not least, to the pride and belief that MOC is a great place to work".
In closing remarks Mr Jenkinson stated, "I am honoured to have assisted the team at Mid Ocean Club to implement the Investors in People Framework and knowing their commitment to being a leading organisation. I am not surprised that they have already set out their stall to achieve Platinum. I have no doubt that they will get there."
Read More About