"For months, we have been asking for answers to multiple questions" about Arbitrade, Deputy OBA Leader Leah Scott said, adding that "we deserve answers and we should have answers."
This follows after the most recent statement from Arbitrade which said they never closed on the purchase of Cryptobontix, which they said will now be sold to Sion Trading FZE, who will then "move the company to another cryptocurrency friendly country where they can move ahead with the plans," with Arbitrade claiming that "the original agreement for the gold shall be transferred to Cryptobontix."
The statement from Arbitrade follows below [PDF here]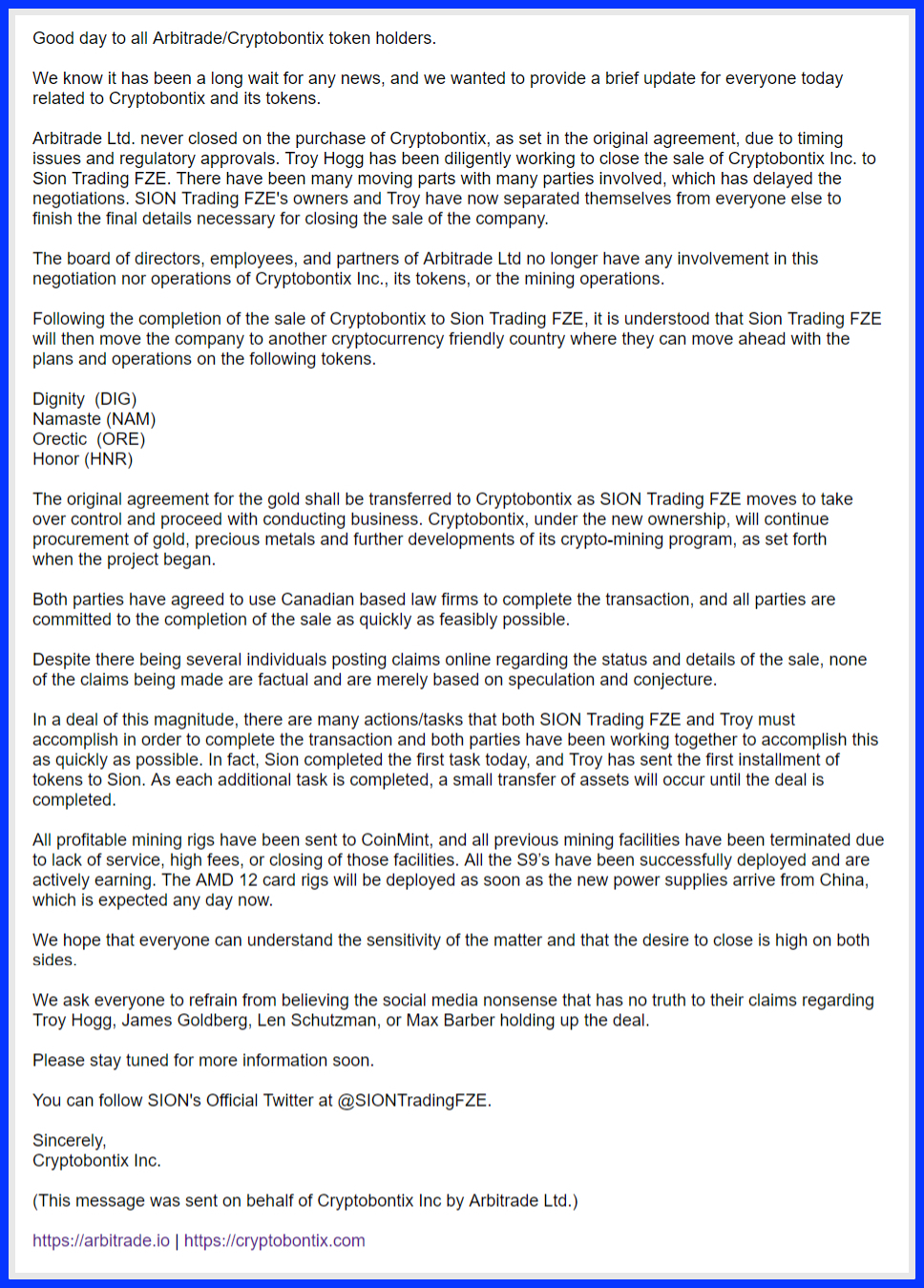 Ms. Scott said, "Arbitrade – things that make you go hmmmm. For months, we have been asking for answers to multiple questions such as, the name of the independent accounting firm who verified the existence of the gold bullion, worth approximately $16.2 billion? What is the status of the chicken farm?
"Premier Burt informed the Bermudian public that Arbitrade had been put through enhanced due diligence. Was there really even basic due diligence performed?
"Arbitrade promised the Government that they would create hundreds of jobs. Where are those jobs?
"A prime piece of Bermuda real estate is now in the hands of a beneficial owners that barely pass the smell test.
"What was the source of funds for this acquisition? An acquisition, which, by the way, proceeded before the company was even incorporated.
"We learned recently that a civil servant made a written request to Arbitrade to make good on the $1 million pledge to Bermuda. Will that pledge ever materialize? Or do we count it as a loss, together with the, most likely, never to be seen $25 million from the defunct MoUs?
"The former OBA Minister of Finance, Bob Richards, was unmercifully bombarded with questions about the very successful, job providing, economy sustaining airport project, despite providing a plethora of documentation that addressed those questions, to the then Opposition.
"This Government talks the talk of transparency but does not walk the walk. Ironic it is that the cryptocurrency coins have names such as dignity and honour, while the very dignity, honour and intelligence of Bermudians, is being assaulted and insulted. We want answers. We deserve answers and we should have answers," Ms Scott added.
We asked the Government for a response, and will update as able.

Read More About
Category: All, Business, News, Politics, technology