Bounce for Autism is back and Tomorrow's Voices is encouraging everyone to come out to North Village Field on Saturday, June 8 from 2 p.m. – 7 p.m. This marks the eighth year for this exciting family fun day where children of all abilities are able to play and bounce together in fun and safe environment.
The annual event, which helps to raise awareness and funds for Bermuda's only Autism Centre, will feature up to 13 fun castles and waterslides, bouncy races and dance competitions throughout the day that is sure to keep the whole family entertained, while also raising awareness of Autism Spectrum Disorders and Developmental Disabilities.
This year's event will include special guests MC Qianemon from Bermemes, DanceSations, Gombey Warriors, LiveWires, DJ B. Roc as well as face painting.
There will also be exciting prizes up for grabs. Tomorrow's Voices information booth will be set up throughout the day, all in the name of raising Autism Awareness and support in Bermuda. Admission is $12 per person, which includes all-day fun castle access and one [1] entrance raffle per person. All proceeds benefit the Tomorrow's Voices Autism Centre and the families it supports.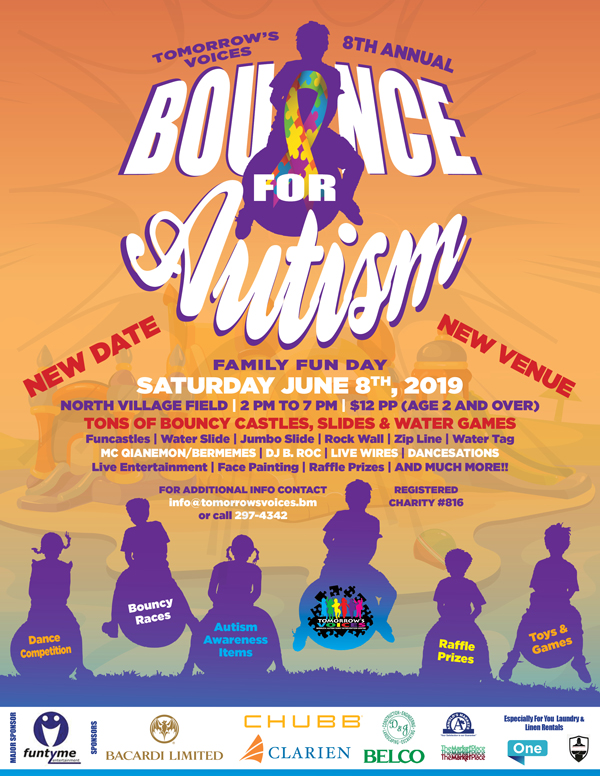 Bounce for Autism was designed to help Tomorrow's Voices raise awareness of Autism while celebrating those young people and adults who live successfully with the disorders every day.
The event helps to raise funds for Tomorrow's Voices' much-needed Centre and services, as well as broaden awareness of the autism spectrum and other developmental challenges that are increasingly affecting families in Bermuda. Bouncing is also an incredibly fun and therapeutic activity for those on the autism spectrum and something that they are able to enjoy with their typically developing peers.
For the eighth year in a row, major sponsors Funtyme Entertainment have generously donated all of their bouncy castles in support of Bounce for Autism. The day would not be a success without the help of supporting sponsors Bacardi Limited, D&J Construction, BELCO, Clarien Bank Limited, Chubb, MS Amlin, The Market Place, Arnolds Markets, EFY Laundry & Linen, One Communication, KJ&K Security, Xtreme Sports, Play Games Entertainment and Hotdog Delights, as well as raffle sponsors.
The charity is looking for volunteers to assist throughout the Fun Day. Anyone who is interested in helping is encouraged to call or email the Centre.
For further information about Bounce for Autism, volunteering or Tomorrow's Voices, contact Thea Furbert at 297-4342 or email info@tomorrowsvoices.bm.
Read More About
Category: All, Entertainment