Footy Promotions will be hosting a "Head of Football Coaches" workshop on Sunday [June 30] from 10.00am to 2.00pm at Cedarbridge Academy.
A spokesperson said, "Footy Promotions is hosting a 'Head of Football Coaches' workshop endorsed by The Bermuda Football Coaches Association.
"This workshop will take place on Sunday June 30, 2019 from 10:00am -2:00pm in the Kalmar Richards Room [The Cedarbridge Academy]. There will be a presentation and Q&A by Kenny Brown – UEFA Pro License Coach [Millwall FC's Director of Coaching]. Kenny is an ex-premier league player, who played with Norwich, West Ham, Crystal Palace, Reading and Millwall. His coaching experience spans over 15 years.
"The event is open to all local football coaches especially technical directors and coaches in charge of their club programs. Coaches in attendance will also be given the opportunity during the week after the workshop to observe Footy Promotions 'Master Your Position' sessions which involves training local players in relation to their positions on the field.
Richard Todd President of the Bermuda Football Coaches Association says " The Bermuda Football Coaches Association is pleased to endorse the coaches workshop featuring Kenny Brown. The workshop will provide Continuing Professional Development credit hours for participating coaches, and provide insight into the role and responsibilities of a head coach. Establishing professional standards within our domestic club programs will help to improve the overall delivery of player development on island."
"Registration is available on our website: footypromo.com or by emailing footypromotions@gmail.com."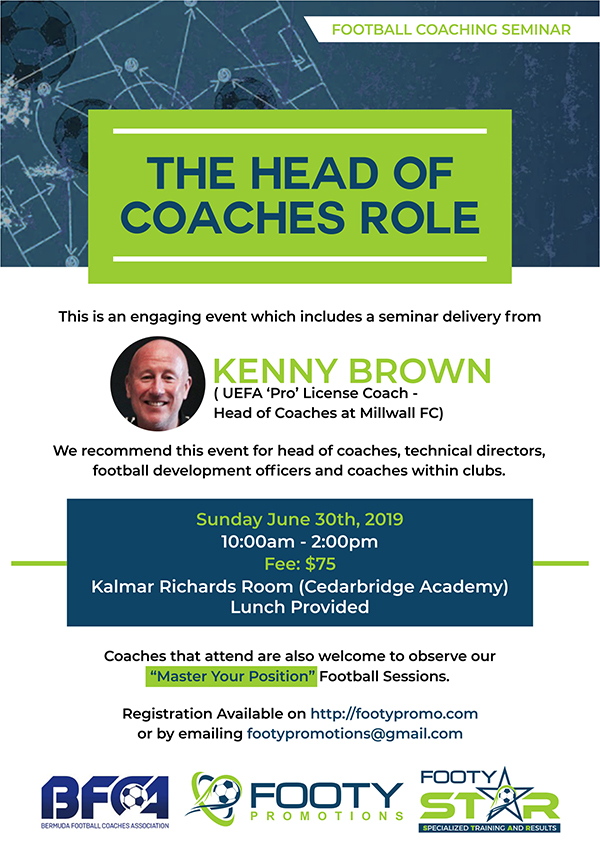 Read More About