[Updating] The Bermuda Football Team is set to play against Nicaragua in New Jersey tonight [June 24], marking their final game of the 2019 Concacaf Gold Cup.
The Gombey Warriors have already played Haiti and Costa Rica, with both games ending with Bermuda being narrowly defeated by a score of 2-1, and while Bermuda will not advance in this tournament, the football team has impressed on the world stage by holding the regional powerhouse teams to tight scores.
Bermuda's team is expected to continue their strong showing tonight against Nicaragua, who have also lost both games, but by higher margins than Bermuda, playing to a 4-0 defeat to Costa Rica and losing 2-0 to Haiti.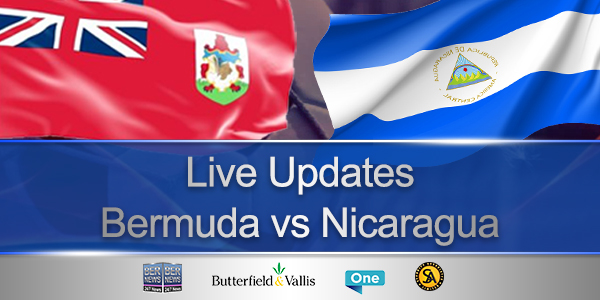 "In the Nicaragua game we know we're going to have big support and that's going to push us to play even better," football Jonte Smith told Bernews. "We may not be able to progress from the group, but that doesn't mean we're not taking the next game seriously. We're going to give it our all."
Goalkeeper Dale Eve, who has impressed many with his strong performances in the first two games, told Bernews they will be looking for a clean sheet tonight, saying "we don't want any more goals in our net."
Bermuda's team will include Nahki Wells, Dante Leverock, Jonte Smith, Reggie Lambe, Dale Eve, Oliver Jalen Harvey, Calon Minors, Roger Lee, Kacy Milan Butterfield, Jaylon Bather, Lejaun Simmons, Donte Brangman, Chikosi Basden, Zeiko Lewis, Willie Clemons, Jahquil Hill, Osagi Bascome, Cecoy Robinson, Justin Donawa, Wendell Tre Ming, Liam Evans, Marco Warren, and Quinaceo Hunt.
This is a major international sporting event with video restrictions, so we are unable to do any video, however the match will be broadcast worldwide, and it is scheduled to be on Fox Sports 2, Univision and also available via pay per view streaming.
We will provide live updates below, and if you want to follow along on social media or are a traveling fan and have photos to post, please feel free to join Bernews new Sports Facebook group , and for match updates you can also follow Bernews sports Twitter feed @BernewsSports.
The match is scheduled to start at 7.30pm Bermuda time, and we do recommend you try and watch a broadcast of the match, and we will provide updates before, after and during the game!
Your screen will automatically refresh with the latest updates

Read More About