Bermuda took to the court against Trinidad in a pivotal tie at the Costa Rica County Club yesterday.
The first match saw Gavin Manders play in the #2 position against Akiel Duke. Manders would begin quickly, hitting unreturnable serves and clean ground strokes. The players would hold their serves until the sixth game, when Manders would break his opponent's serve to take a 4-2 lead. He would continue to serve well, closing out the set 6-3.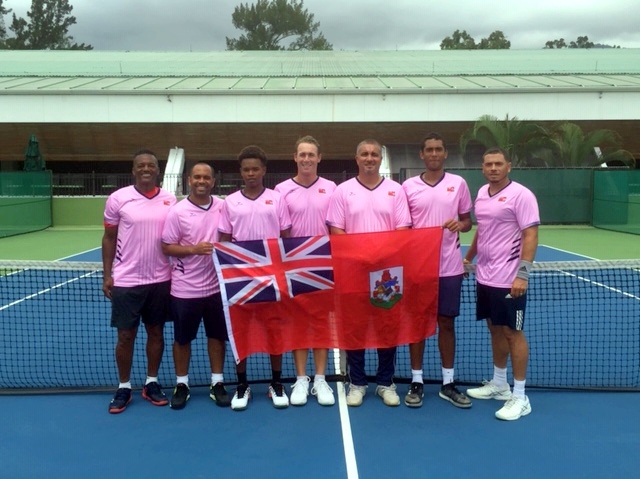 Manders would break Duke's serve in the first game of the second set, hold his own serve and then break his opponent's serve again to take a commanding 5-1 lead. Manders took advantage of some unforced errors by Duke, and would close out the set 6-3, getting Bermuda off to another winning start 6-3, 6-3.
The stage was set for Neal Towlson, playing at #1. His Trinidadian opposition was Richard Chung, who is seeded as the top player for Trinidad and Tobago. Towlson would start well, with thunderous serves and powerful but controlled ground strokes. He would break Chung's serve in the second game of the match and not look back, taking the first set 6-3.
The second set was evenly contested, with Towlson making the breakthrough in the fifth game to take a 3-2 lead. Although Chung was serving well, Towlson returned just as well and broke Chung's serve with some blistering forehands and backhands. With Towlson serving so well, his opponent had limited opportunities to get back into the match. In fact, Towlson lost only 4 points on his serve on the second set. He would close the set out serving, winning it 6-4. This victory gave Bermuda her first fixture win of the week, and the team celebrated the success together.
The doubles match was a formality, however Bermuda was keen on getting another win. The doubles team of Manders and Tariq Simons would take to the court against Duke and Nabeel Mohammed. This was Simons' debut in doubles at the Davis Cup level.
Trinidad started quickly, with the Bermuda team struggling to find rhythm, losing the set 6-1. Both Manders and Simons picked up their level in the second set, making more service returns and forcing errors by their opponents. They would win the second set 6-3, setting up a final set. Bermuda would race to a 4-2 lead, however the Trinidadian duo would take the last 4 games to win the match 6-1, 3-6, 6-4.
Despite the loss, the Bermuda team won the fixture 2 matches to 1. The team is to play Cuba on Friday.

Read More About