Bermuda was not only fielding excellent athletes on the field for the Gold Cup football game in Costa Rica, we also had top athletes in the stands, with the island's Davis Cup tennis contingent attending the match in support of their fellow Bermudian athletes.
As the tennis team — who defeated Trinidad & Tobago yesterday — happened to be in Costa Rica to compete in the Davis Cup, they took the opportunity to show support to the football team as they played their first ever Gold Cup game.
The tennis players, wearing Bermuda's pink uniforms and carrying Bermuda flags, attracted the attention of Concacaf, who posted the photo below on their Twitter feed.
Front row from left to right: Tariq Simons [Davis Cup Player], Janea Mallory, Jenson Bascome [Assistant Coach], Gavin Manders [Davis Cup Player], and Trey Mallory [Davis Cup Player]; Back row from left to right: Ricky Mallory [Davis Cup Coach], Tyler Mallory, Steve Bean, Mike Wolfe [BLTA President], Paul Towlson, and Neal Towlson [Davis Cup Player]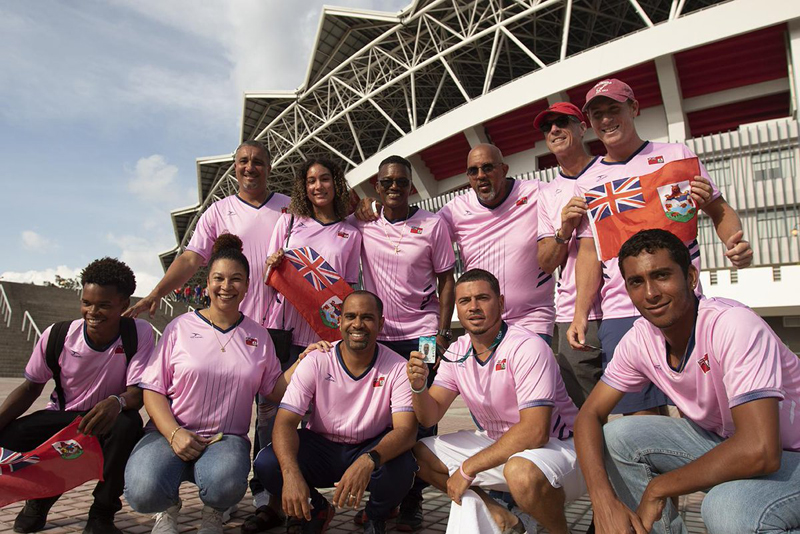 "It just so happened that Bermuda was competing in two international events in Costa Rica at the same time," Coach Mallory told Bernews.
"With Paul Towlson and myself having played football for the Bermuda National squad in the past we thought it would be a great idea to show our support for the team," he said.
"I reached out to Scott Morton [my son Trey's godfather], who is one of the football coaches, to let him know that the tennis team would be in Costa Rica at the same time and that we were coming to the football match to show our support.
"The entire tennis contingent was excited to have the opportunity to go and watch Bermuda vs Haiti in Costa Rica," he added.
The Gombey Warriors have already played Haiti and Costa Rica, and play their final match in this Gold Cup against Nicaragua on June 24th in New Jersey, where a contingent of Bermudians are expected to be in attendance, including us, as Bernews has a dedicated reporter traveling with the team, with the special coverage thanks to the support of Butterfield & Vallis, One Communications, and Security Associates.
If you would like additional coverage, please feel free to join Bernews new Sports Facebook group, where our traveling reporter is providing daily updates and some 'behind the scenes' coverage.

Read More About