Bermuda High School [BHS] has announced the results of its 2019 International Baccalaureate Diploma cohort.
Head of School Linda Parker said, "We are very proud of our IB graduates and that, as a small community school, we continue to score well above the IB world average of 29 points. 38 of our 39 graduates chose to sit the full IB Diploma, and achieved an average Diploma score of 31 points.
"The academic rigour and the skills gained from the full IB Diploma programme, the Theory of Knowledge and the Extended Essay are invaluable preparation for these young students who are university bound."
Madison Quig, Léa Grandisson, Celia Harris, Lizzie Luckashvili, Nyla Maharaj, and Chrysda Smith: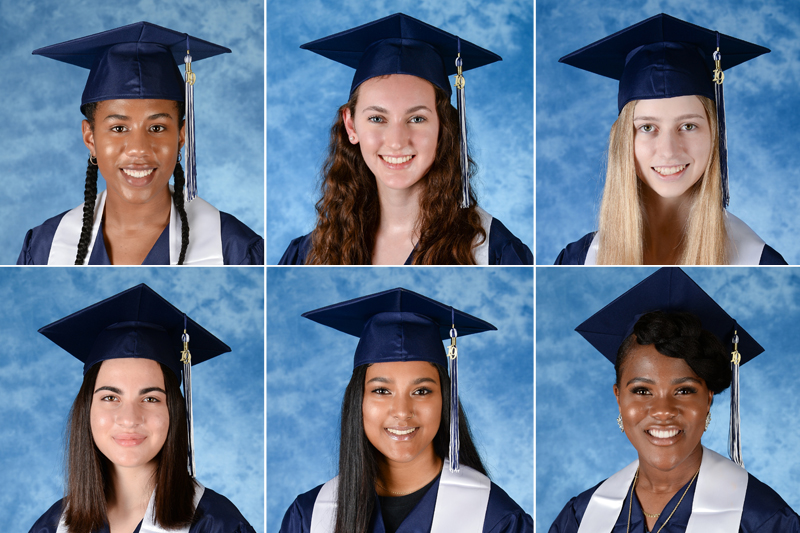 A spokesperson said, "Madison Quig achieved the top score with 42 out of 45 points and will be attending Stanford University where she will be taking a Bachelor's degree in Arts and Sciences in Human Biology and Mathematics. Most IB Diploma Students complete 3 Higher Level courses but Madison took on the added challenge of completing 4 Higher Level courses. Madison was named the 2019 Outstanding Teen for Bermuda and was the recipient of the Robert Clements Scholarship.
"Other high scores achieved by the 2019 IB Diploma cohort ranged between 40 and 34 points. Léa Grandisson earned 39 points and plans to take a Bachelor's degree in Arts and Sciences with a focus on Economics, Mathematics and Chemistry at Northwestern University.
"Celia Harris received 35 points and plans to complete a Bachelor's degree in Arts and Sciences, majoring in Chemical Engineering and minoring in Economics and Mathematics at Northeastern University. With 34 points, Lizzie Luckashvili will be attending David Tvildiani Medical University in Georgia to study Medicine; Nyla Maharaj will be completing a Bachelor's degree in Computer Science at York University and Chrysda Smith will be studying a Bachelor of Arts in Criminology at York University."
Amanda McDonald, Head of IB, said, "I would like to offer my congratulations to all the members of the BHS Class of 2019. These fine students have grown into strong minded, independent learners with a wealth of skills to support them as they depart from BHS and embark on their next adventure.
"Many of our graduates will be leaving for universities around the world in a couple of months. I also know that we have several students who have decided to take a Gap year and explore new opportunities in the world, broadening their own horizons before returning to education. Whichever route our graduates have chosen, we know that their IB education will stand them on solid ground to embrace and enjoy whatever comes their way."
"This year's graduates have a diverse range of interests and career plans for the future, and they are heading off to universities in Canada, the USA, the UK and Europe. Some of the disciplines to be studied include Art and Design, Business, Biomedical Sciences, Mechatronics, Engineering, Computer Science, Education, Economics, Global Politics, Law, Liberal Arts, Environmental Science, Theatre Performance, Musical Performance, Chemistry, Medicine, Psychology and Social Sciences.
"In Canada, students were offered places at Acadia University, Brock University, Concordia University, Dalhousie University, Guelph University, McGill University, McMaster University, Mount Saint Vincent University, Ontario Tech University, Queen's University, Trent University, University of British Columbia, University of Toronto, Western University, Wilfrid Laurier University and York University.
"Graduates going to the USA were offered places at Brown University, Florida Institute of Technology, Johns Hopkins University, Northeastern University, Northwestern University, Stanford University, Southern Methodist University, The Catholic University of America and UCLA.
"In the UK and Europe, the offers came from David Tvildiani Medical University, Exeter University, Leeds University, Manchester University, Norwich University of the Arts, Nottingham University, Oxford Brookes, University of the West of England and the University of Hertfordshire."
Mrs. Parker said, "Almost two-thirds of our IB graduates have been with us since Primary, and it has been rewarding to see the girls complete their BHS journey. For the other students who joined us along the way, we are delighted that their BHS experience has prepared them for success. We thank our supportive and hard-working teachers for their unwavering commitment and subject expertise in helping these students achieve their highest potential.
"We are very proud of all of our IB students for their focus and determination over the past two years, and we wish them continued success."

Read More About