The Bermuda Motorcycle Racing Club [BMRC] saw action on Sunday, July 7, with racers competing for their respective divisions.
Minibike Advanced
A spokesperson said, "As the flag dropped on the first race of the day, youth racers Sheun Simmons, Daente Burgess and Kymaree Pitt secured clean starts. Pitt made his 2019 return to the grid this week while Jediah Cumbermack worked to overcome some setbacks throughout the day.
"Cumbermack was slow off the line on the first race when his bike stalled at the green flag. Simmons meanwhile took an early lead as he pulled away from Pitt and Burgess."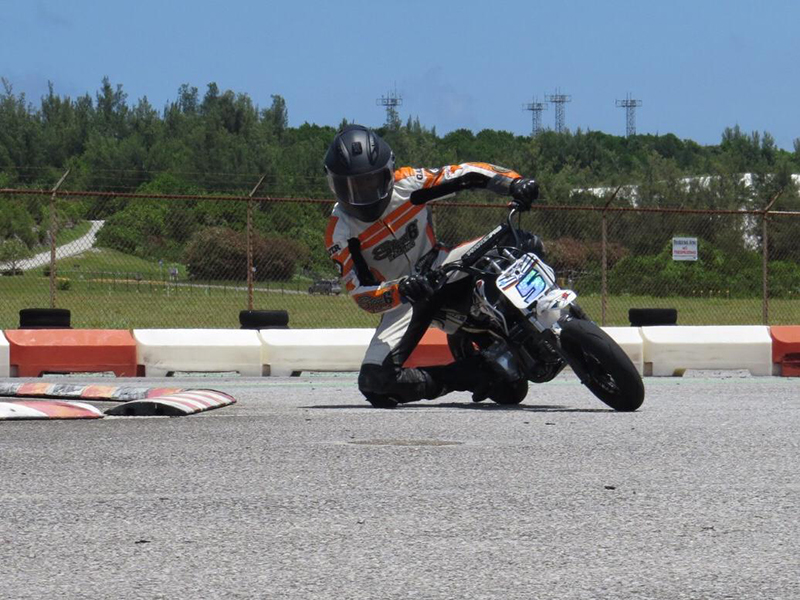 "By lap 4, Cumbermack had made up ground and passed both Burgess and Pitt. Simmons cruised to the checkered flag taking first place for Heat 1, Cumbermack finished in second place while Pitt held off the progressing Burgess for third and fourth respectively.
"Heat 2 was almost identical to Heat 1 with a stall at the line for Cumbermack, however, he was quick to return to the front of the group, just behind Simmons who took a second win for the day.
"Heat 3 had all eyes on Cumbermack to see if he could overcome his recurring error at the flag drop. Unfortunately, he again stalled on the line; however, his toughest competitor also stalled, giving Cumbermack the opportunity to make a final push for the top position. Bar to bar racing took over Heat 3 with Cumbermack eventually holding off Simmons and taking his first win for the day after a challenging start."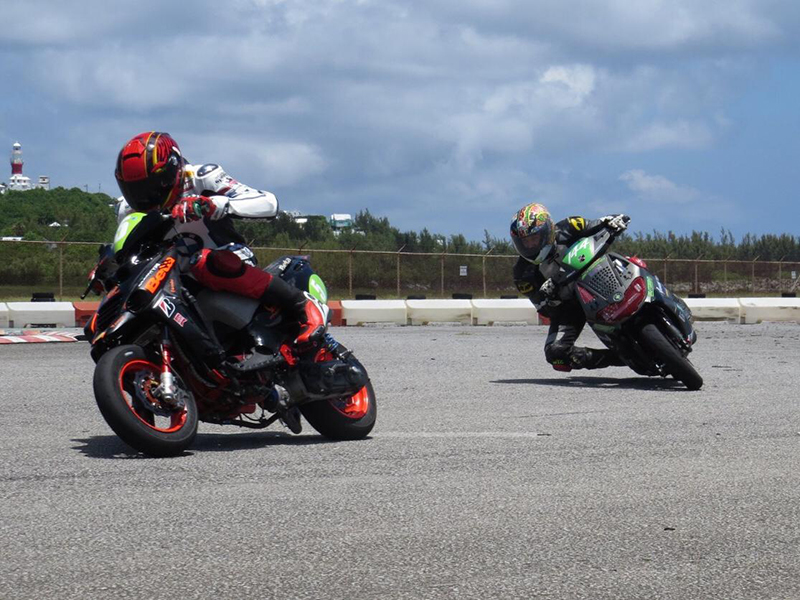 Scooter Class
"Marcus Pimentel was the lone Scooter 70 rider for the day while the 4-Stroke class presented the Adams brothers, Brandon and Bradley. Scooter Open class boasted Kenny DeSilva, Ricky Wade, and Devon "Red" Bailey where DeSilva has dominated the class throughout the beginning of the season.
"After his bike died a month ago, Bailey returned to the grid with his old Beta Ark that he had previously raced in Spain over a decade ago. Also joining the line-up was veteran rider, Philip Woolridge, racing on his white Gilera Runner.
Heat 1
"Bailey took the early lead going into the first corner of Heat 1, followed closely by DeSilva then Woolridge. DeSilva and Bailey left no room for error, overtaking on the inside and outside, leaving no part of the track unused. Meanwhile, Woolridge pulled away from Brandon Adams as Pimentel passed Bradley Adams, who made an almost day-ending mistake but managed to maintain control and proceed. Wade followed suit to get ahead of Bradley Adams.
"DeSilva attempted a pass on Bailey during lap six as they exited Casuarina Corner, tragically losing the front end of his motorcycle, causing it to stall out. By the time it was restarted, he was a lap down, giving Bailey the easy win for Heat 1. Woolridge placed second and Brandon Adams third."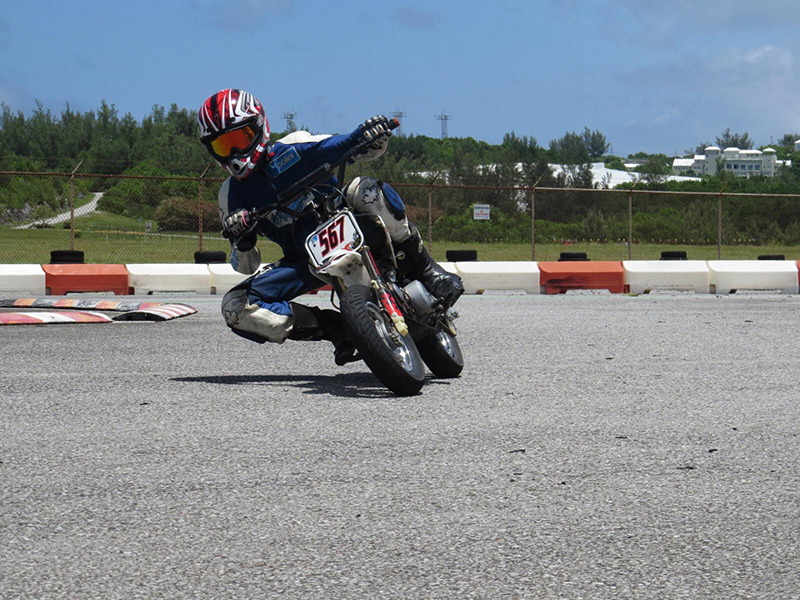 Heat 2
"As the green flag dropped, Bailey charged to the front once again followed by DeSilva, Pimentel, Woolridge, Bradley Adams and Wade respectively. Bailey and DeSilva quickly pulled away from the pack as anticipated. Pimentel found a resurgence of speed and confidence, resulting in him obtaining a position just behind Woolridge.
"Bailey led the heat with DeSilva unable to challenge him like Heat 1. Pimentel and Woolridge became the battle to watch with Pimentel riding with newfound vigour. He was clocked with the fastest speed of the day at 118kph. Despite his best efforts, a few small mistakes kept him from catching rival, Woolridge. The heat ended with Bailey taking a second win, followed by DeSilva then Woolridge."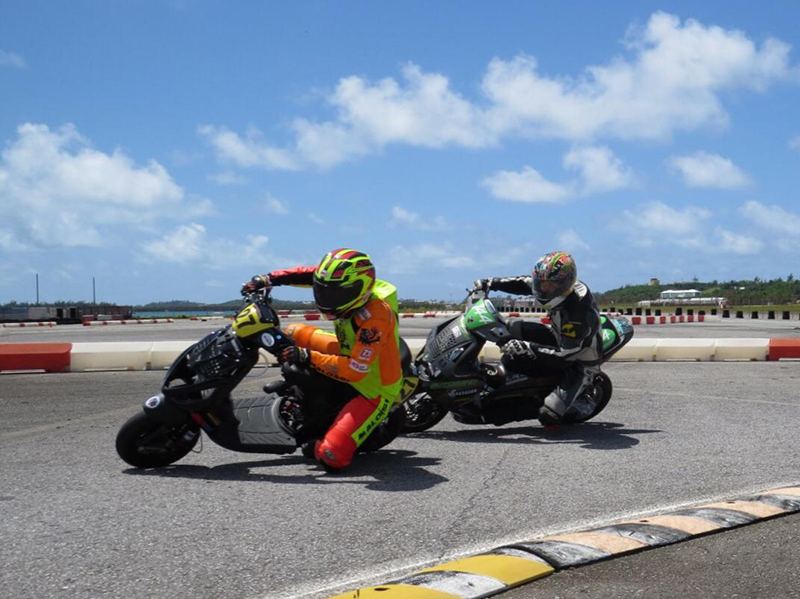 Heat 3
"At the flag drop, Bailey again flew to the front going into corner one, this time followed by Pimentel, then DeSilva, Woolridge, Bradley Adams and Wade. Pimentel managed to hold off DeSilva for lap one but was eventually passed. DeSilva pushed to close the gap with Bailey. Within two laps, another intense bar to bar race resumed.
"A second battle arose as Pimentel found his comfort zone, taking the heat to Woolridge. Pimentel held off Woolridge for most of the race. Casuarina Corner stole DeSilva's chance of winning a second time as he again lost the front end at the day's most difficult corner. DeSilva managed to keep the bike running and promptly resumed to claim second place."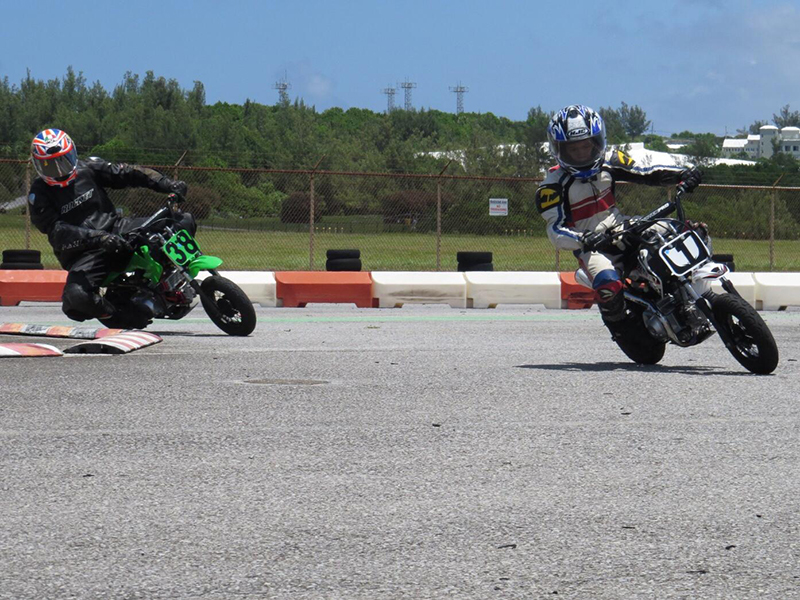 "Meanwhile, Pimentel and Woolridge raced bar to bar and, like DeSilva, Pimentel also lost the front end going into Casuarina Corner on the final lap. This caused him to miss the podium but was by far his best ride of the season. Woolridge secured his third top three finish of the day.
"After the races, Pimentel was questioned about his visible edge and determination, responding "I owe it to my sponsors and would like to thank them for allowing me to participate in this sport that I love. Thank you to HA Racing, Stolzfus Exports and AMSOIL Lubricants for your continued support."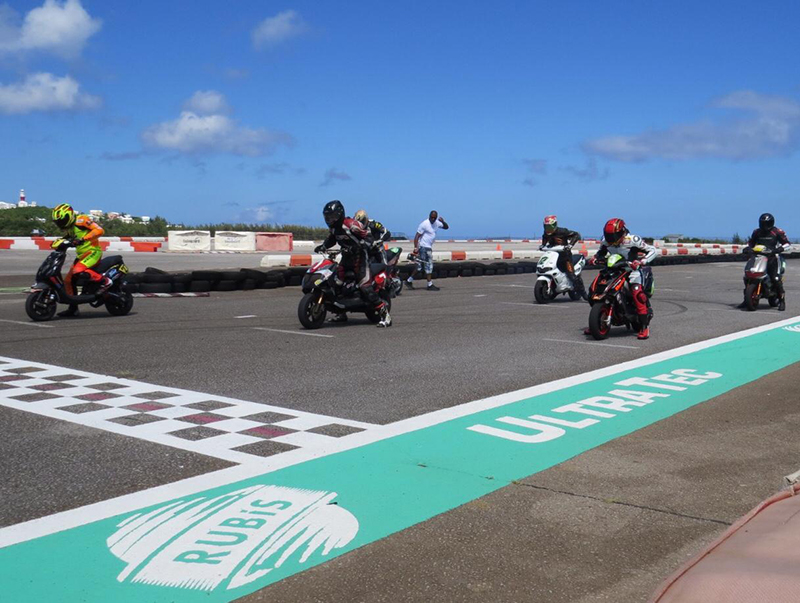 "A special thanks is given to Troy Hill and SubZero Air Conditioning and Refrigeration for their generous donation of a shade tent for the spectator grandstands. The donation is a welcome addition to the overall public experience at the facility. The next race day is Sunday, July 21st at the RUBiS Southside Raceway."
Results:
Minibike Advanced: Heat 1

1. Sheun Simmons
2. Jediah Cumbermack
3. Kymaree Pitt
4. Daente Burgess
Minibike Advanced: Heat 2
1. Sheun Simmons
2. Jediah Cumbermack
3. Kymaree Pitt
4. Daente Burgess
Minibike Advanced: Heat 3
1. Jediah Cumbermack
2. Sheun Simmons
3. Kymaree Pitt
4. Daente Burgess
Scooter 70: Heat 1:
Scooter 70: Heat 2
Scooter 70: Heat 3
Scooter Open: Heat 1
1. Devon "Red" Bailey
2. Philip Woolridge
3. Ricky Wade
4. Kenny DeSilva
Scooter Open: Heat 2
1. Devon "Red" Bailey
2. Kenny DeSilva
3. Philip Woolridge
4. Ricky Wade
Scooter Open: Heat 3
1. Devon "Red" Bailey
2. Kenny DeSilva
3. Philip Woolridge
4. Ricky Wade
Scooter 4-Stroke: Heat 1
1. Brandon Adams
2. Bradley Adams
Scooter 4-Stroke: Heat 2
Scooter 4-Stroke: Heat 3:
Point Standings to Date:
Minibike Advanced:
Sheun Simmons: 220
Daente Burgess: 217
Jediah Cumbermack: 170
Kymaree Pitt: 48
Scooter 70:
Blair Jones: 225
Marcus Pimentel: 135
Aiden Lopes: 60
Matthew Chinapoo-Simons: 52
Jacari Renfroe: 52
Scooter Open:
Kenny DeSilva: 203
Ricky Wade: 173
Devon "Red" Bailey: 95
Philip Woolridge: 52
Scooter 4-Stroke:
Brandon Adams: 151
Aiden Lopes: 140
Bradley Adams: 140
Jason Pacheco: 61
Sheun Simmons: 48
- Photos above courtesy of Carlos Lopes

Read More About