The City of Hamilton will host a new culinary weekend — dubbed the Taste of Bermuda –  from Friday, October 11th to Sunday, October 13th.
A spokesperson said, "The City of Hamilton is pleased to announce a new culinary weekend, Taste of Bermuda, this fall. On the weekend starting Friday, October 11th, Bermuda will have a chance to munch through a newly formatted Taste of Bermuda weekend [formerly City Food Festival]. Taste of Bermuda will run from October 11th – 13th with an array of new experiences curated by the City of Hamilton in partnership with the Bermuda Tourism Authority.
"The Taste of Bermuda weekend will consist of its annual bartender competition presented by Bacardi, a sensory awareness experience with a Dining in the Dark pop-up, a luxury harbourside picnic event and a flair bartending masterclass. The weekend's activities will culminate with a celebration of Bermuda's mouthwatering delights in grand fashion on Front Street for a street festival.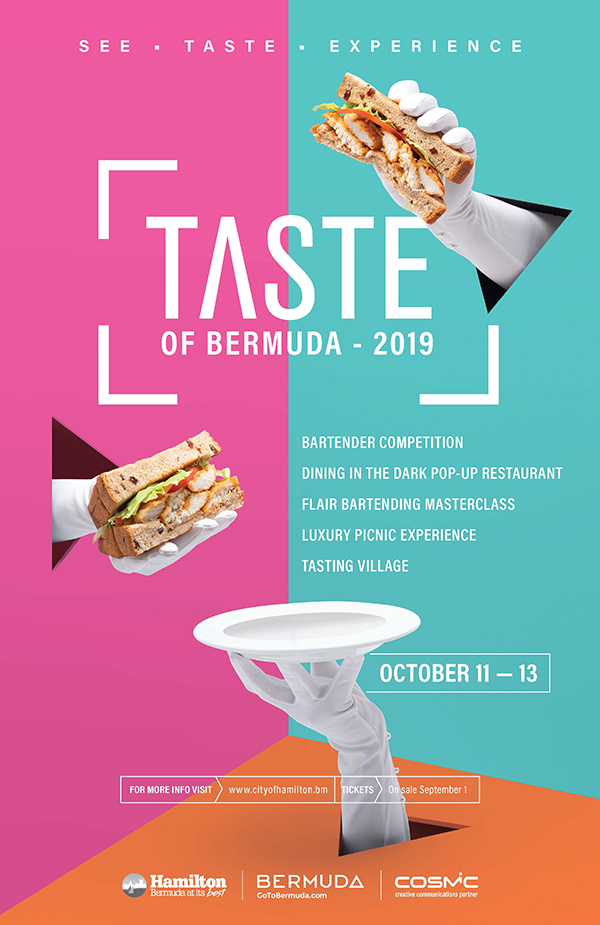 "These events will be a time for Bermuda to celebrate staple dishes as well as step outside of the typical comfort zone and participate in one-of-a-kind culinary experiences. Whether you're a self-proclaimed 'foodie' or a 'go with what you know' type.
"During the festival weekend there will be opportunities for local chefs to show off their skills and a heap of specialty food stalls. Local restaurants and retailers will be encouraged to partake in the festivities by providing special offerings. The City will post a call for vendors and chefs in the coming weeks.
City of Hamilton Event Project Manager, Jessica Astwood, said of the event, "We are especially thrilled that through our partnership with the Bermuda Tourism Authority, we have pulled out all the stops to ensure that we are providing Bermuda and her visitors with the latest in culinary trends as well as condensing the best of our Island's gastronomy in one weekend. We've even timed the street festival event to coincide with a ship in port on Front Street to allow our food vendors to get the most out of their time."
"The City of Hamilton has also joined forces with Cosmic as Creative Communications Partner for Taste of Bermuda. With Cosmic's cutting edge design aesthetic as well as turnkey creative communications, it seems a great pairing for our graphics to take the same direction for one of the fastest growing events the City produces," said Mrs. Astwood.
"Organizations the world over combine efforts in creating their nations' food festivals into a peak source of pride and we at the City intend on doing just that" she added.
"Anyone who eats food is encouraged to explore the Taste of Bermuda event schedule at the City of Hamilton webpage, purchase some stretchy pants and prepare your taste buds for a palatable weekend not to be missed. Be on the lookout for fun campaign images as well as a few other surprise announcements in the following weeks.
"Tickets to Taste of Bermuda events will be launched on PTIX on September 1st."
Read More About
Category: All