The BAC Group of Companies [BAC] has announced that Jamel Easton, an apprentice working in Bermuda Air Conditioning's Heating, Ventilation & Air Conditioning [HVAC] Service Department, has graduated from Bermuda College as part of the BAC Apprenticeship Programme.
After graduating from the Home School of Excellence in 2011, Mr. Easton worked during the summer at BAC, where he discovered his career path lay in this air-conditioning and mechanical industry.
From there he went to Brightwood College in Philadelphia, where he completed his Associates Degree in HVAC within 10 months, obtaining the universally recognised certification. Upon returning to BAC, he joined the five-year Apprenticeship Programme, which gave him the opportunity to gain experience under supervision along with a regular salary.
Jamel Easton with Vance Hollis, HVAC Service Supervisor: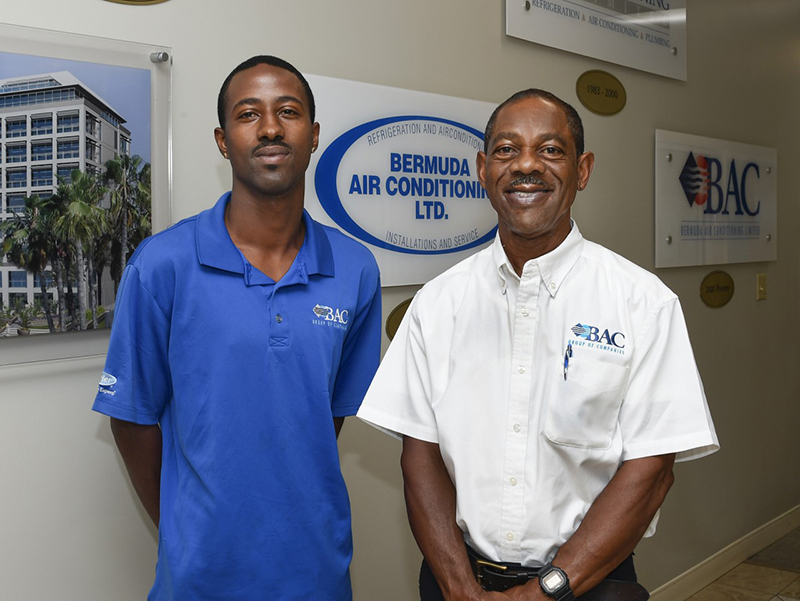 While Mr. Easton works primarily in the Air-Conditioning Service Department, he has rotated through the various other divisions, such as plumbing, mechanical and commercial services. "I felt the Apprenticeship Programme would serve me best, as it was the most efficient way for me to achieve my goals and grow with the Company", says Mr. Easton. "However, I found that I enjoy the Service side the most and feel that this is where I'd like to stay."
Asked what he felt were the highlights of his Apprenticeship, Mr. Easton said, "I really enjoyed going out on site with the other technicians, as I learned so many tips and tricks on what you can do in any given situation. I found that very helpful."
Jamel Easton: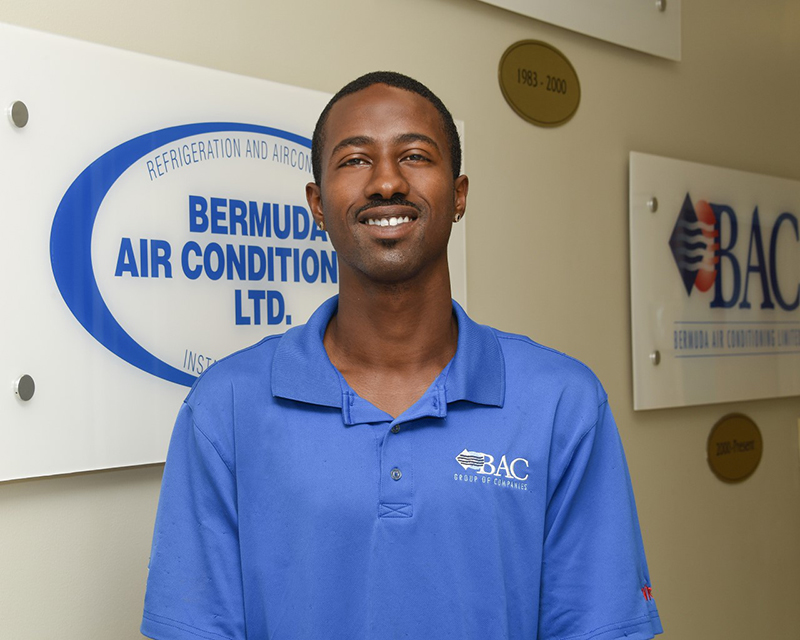 In congratulating Mr. Easton upon his graduation from Bermuda College, HVAC Service Supervisor, Vance Hollis, said, "It's important to us at BAC that we help the younger generation to get their foot in the door in an industry where there's opportunity for growth. As an apprentice you have the security of a job and the benefit of further education by getting your degree as well."
The BAC Apprenticeship Programme takes five years to complete and includes two years participating in a Trade programme at Bermuda College or any other recognised/accredited educational establishment. Apprentices can work at BAC with a regular salary while attending Bermuda College for two to three days a week, or they can complete their education overseas and complete their apprenticeship at BAC afterwards.
BAC also supports the students with tuitions as they successfully complete authorised courses as Mr. Easton has done. Upon graduation and successful completion of the Apprenticeship Programme, BAC offers them full-time employment at the Company.
The BAC Group encourages anyone interested in joining an Apprenticeship Programme in any of the Group's divisions to contact us via our website www.bac.bm.
Read More About