Bermuda's MS Amlin World Triathlon Series event in 2020 is already off to a great start with more than 100 residents already signed up to volunteer.
World Triathlon Bermuda ran a promotion inviting the community to sign up as volunteers early for the April 18, 2020 race, offering great prizes from the event's volunteer sponsor, PwC Bermuda. Those who signed up during the promotion were entered to win an Apple watch, one of two Garmin watches or one of three stainless steel water bottles from PwC.
The winners were Yasala Simmons, Meishka Zuill, Gordon Johnson, Adwina Ming, Anthony Francis and Tanya Esdaille.
Arthur Wightman, PwC Bermuda leader, said, "We were delighted by the success of this year's ITU World Triathlon in Bermuda. As is the case with so many of these events, it is the altruistic efforts of so many members of the community that end up making the difference.
"PwC applied its sponsorship this year in direct support of the volunteers and we look forward to doing so in the years to come. We offer our sincere thanks to all of the volunteers for the impact they made for the benefit of the event and Bermuda as a whole. We are delighted to provide these prizes to show our appreciation to those who have already signed up to volunteer for the next ITU World Triathlon Bermuda, taking place on April 18, 2020."
For this year's event, PwC Bermuda recruited the most number of volunteers from any single company and they had the most race participants in the amateur age-group events, of any other company.
Mr Wightman said, "Volunteerism is an important expectation we have of our people and it is with that in mind that I express our deep gratitude to them specifically. And of course to the more than a dozen PwC triathletes – very many congratulations on your achievements, not least in winning the overall corporate prize."
PwC Bermuda leader Arthur Wightman, winners Yasala Simmons, Meishka Zuill, Adwina Ming, Gordon Johnson, WTS Bermuda project lead Alec Shepherd with his aspiring triathlete children, Rory and Ella. Absent from photo: Anthony Francis and Tanya Esdaille.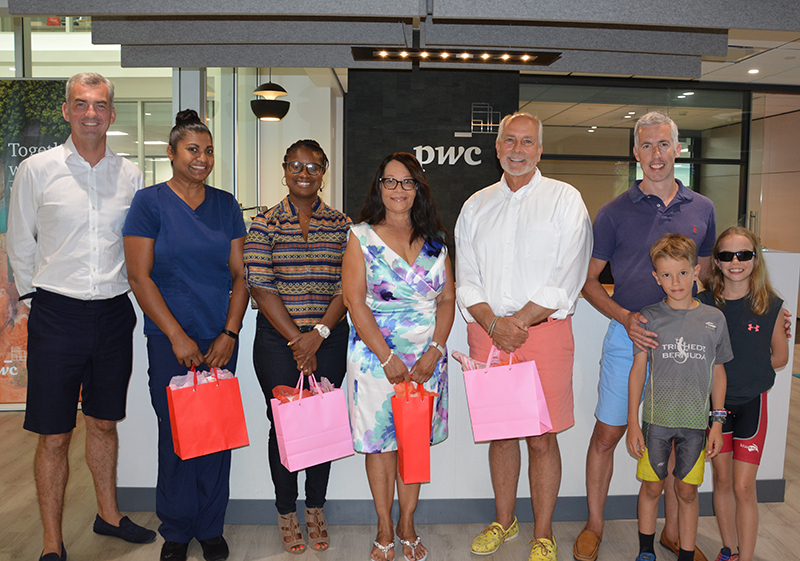 The international sporting spectacle first thrilled residents in 2018 when Bermuda's world champion and Commonwealth Games gold medallist Flora Duffy flew past her competitors for a resounding win. Since then the event has continued to attract the world's top professional triathletes including Olympic hopefuls this year. The MS Amlin World Triathlon is again set for Hamilton in April 2020.
The World Triathlon Series amateur race is the same day as the elite professionals race and hundreds of amateur athletes are drawn to the island to compete in what has been described as the best course on the circuit, with a signature cycling course that challenges athletes to ride up Corkscrew Hill.

Read More About