The You Go Girl Relay Committee donated $9.500 to the Women's Resource Centre.
A WRC spokesperson said, "The You Go Girl Relay Committee was absolutely delighted to be able to present a cheque today to the Women's Resource Centre in the amount of $9,500. These funds were the proceeds of the women's relay race that took place earlier this year on June 2nd in Hamilton.
Cheryl Minors – WRC executive assistant, Elaine Butterfield – WRC executive director, Terri Durrant- YGG committee, Natalie Dyrli- YGG race director and Gail Miller – OIL Insurance. Not pictured: Christine DeSilva-YGG race director Beverly Adams-YGG committee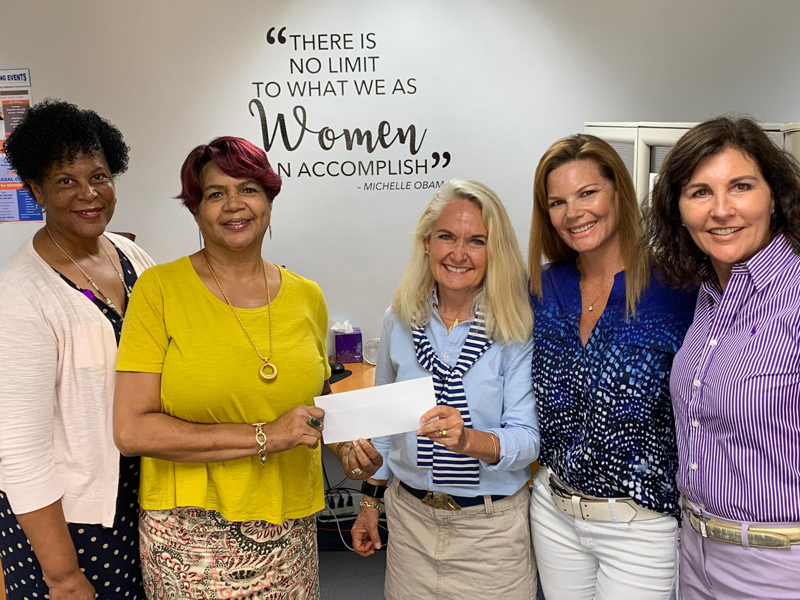 "We would like to thank our generous sponsors OIL Insurance, U by KOTEX, Beyond Fitness and Meyer Group of Companies for their continued support of this event. Thank you also to all our fabulously enthusiastic race participants, our wonderful volunteers, vendors that donated prizes, Bermuda Timing, and MAAC Running club for making this donation possible.
"In the past 8 years of holding this event, we have raised just over $77,500 for the Women's Resource Centre. It feels great to be able to give back to the community in this manner! We look forward to seeing you all at next year's You Go Girl Relay taking place in June 2020."
Elaine Butterfield, Executive Director, said, "The Women's Resource Centre is honored to be associated with the 'You Go Girl Relay' for 8 years consecutively now. The race is incredible fun while fiercely competitive as far as the costumes of the teams.
"It truly is something to behold. Our entire Board and Staff are grateful for this wonderful donation that will greatly contribute to the support services that we provide to the women in the community and their families.
"Thank you also to every woman and every team for your most valued support and for sacrificing your time and talent."
Read More About
Category: All