KPMG in Bermuda announced that Ashley Farrington and Imani Smith are their 2019 Scholarship Recipients.
The Scholarships are awarded annually, by the firm's Managing Directors, to two high-performing Bermudian university students who are pursuing a professional accounting designation or another business-related field, and they have a value of BD$20,000 per annum and are renewable for up to three years.
"This marks an exciting continuation to Ashley's and Imani's academic studies and careers with us, and they also have the opportunity to attend KPMG's Global Advantage Program next year," the company said.
Back row from left to right – Steve Woodward, Managing Director, Sector Lead, KPMG Enterprise and Chair of the Graduate & Scholarship Committee; Craig Bridgewater, Managing Director and Sector Lead, Asset Management & Banking. Front row from left to right – Brianna Buchanan, Audit Senior; Ashley Farrington, Accounting Scholarship Recipient; Imani Smith, Non-Accounting Scholarship Recipient, and Wanda Armstrong, Senior Manager, Human Resources and Deputy Chair of the Graduate & Scholarship Committee.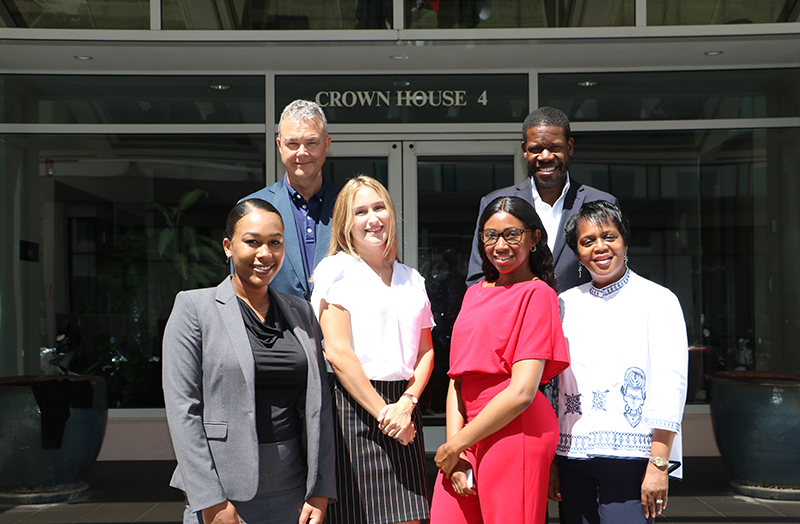 Ashley Farrington
Ms. Farrington is a graduate from Bermuda High School [2017] and she is commencing her junior year at McGill University in Montréal, Quebec. She is majoring in Accounting and Strategic Management and when she graduates in 2020, Ms. Farrington plans to pursue her Chartered Professional Accountant designation [CPA CA].
"After I received the news that I was awarded the 2019 KPMG Accounting Scholarship, I felt a combination of thrill and excitement. When I read about past recipients of this scholarship, I found myself admiring and looking up to these individuals as they mirrored the kind of person I have always wanted to be: determined, driven and committed," she said.
"Through hard work and perseverance, I am pleased to have the opportunity to be in this position and also grateful to KPMG for awarding me this scholarship. I look forward to building on the relationships that I have already formed with colleagues while being a 2019 KPMG Summer Intern in Financial Services, as well as forming new bonds with other professionals as my journey progresses."
Imani Smith
Ms. Smith is a graduate of The Berkeley Institute [2016], Summa Cum Laude with Advanced Honors, and she was the first person to attain an Associate's Degree in General Insurance [AINS ®] professional designation at such a young age, as a result of simultaneous independent studies.
A recent graduate of Kingston University in London [July 2019], Ms. Smith received her Bachelor of Science degree in Actuarial Mathematics and Statistics with First Class Honors. Ms. Smith is now pursuing a Master of Science degree in Actuarial Science at City University, London, and upon successful completion of her studies, she will return to Bermuda and begin her career with KPMG.
She said, "Embarking on this professional journey with such a reputable company is truly an honor and a quest that I eagerly await to participate in. I was floating above the clouds and at a loss for words upon receiving the news about the scholarship just before attaining my degree in July.
"I am indebted to KPMG for taking a keen interest and investing in me when there were many [just as] qualified applicants. The exposure I will receive and the experience I will gain will lay the foundation to become a positive and influential contributor in both the professional arena and my community in Bermuda."
KPMG Comment
"We have had such incredible interest in our scholarships, and it is great to recognise Ashley and Imani for their academic success," said Steve Woodward, Managing Director, KPMG in Bermuda and Chair, KPMG Graduate Program.
:While they are completing their studies, they will have internship roles along the way before they officially join our Lift Off Graduate Program which, along with financial assistance, includes mentoring and personalised development plans. We can't wait to see what comes next for these inspiring and bright young women, and all of us look forward to working with and learning from them."

Read More About