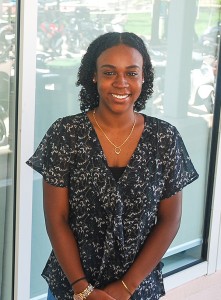 Sihlé Sharrieff-Hayward has been named as the recipient of the 2020 KPMG Accounting Scholarship.
A spokesperson said, "The Managing Directors of KPMG in Bermuda are pleased to announce this year's 2020 KPMG Accounting Scholarship recipient as Sihlé Sharrieff-Hayward.
"Sihlé Sharrieff-Hayward, a 2016 graduate of CedarBridge Academy, is pursuing a Bachelor of Science degree in Accounting and Elementary/Special Education at Washington Adventist University in Maryland, US.
"Upon Sihlé's graduation in 2022, she plans to pursue a Master's degree in Accounting and obtain her Certified Public Accountant designation [CPA US]."
Ms Sharrieff-Hayward said, "I felt a huge sense of relief and security after I received the news that I was awarded the 2020 KPMG Accounting Scholarship. This award helped to restore my belief that hard work does pay.
"My last four years of university have not been the smoothest or most stable and I am very grateful to KPMG for listening to and understanding my career journey and seeing my potential."
"Personally, I view Accounting as my entry ticket into the world of business. My education, combined with the experience I will gain while working at KPMG, will prepare me to take on a wide range of roles within a business, whether it be in management, administration, or accounting.
"I have a passion for learning new things and achieving success. I look forward to starting my internship with KPMG in 2021; where I can acquire new knowledge and create lasting relationships."
The spokesperson said, "Sihlé impressed KPMG's Scholarship Committee and demonstrated the firm's core values of Excellence and Courage, across all facets of our selection criteria [academic achievement, personality, leadership, career focus and community involvement] and in the face of strong competition from other very talented applicants.
"The KPMG Scholarship is an important aspect of KPMG's Lift-Off Graduate Program and provides Bermudian university students with financial assistance towards the completion of an undergraduate or postgraduate degree in an Accounting or business-related subject.
"The scholarship also provides guaranteed internships with KPMG and an invitation to join the firm on graduation for a career and a future full of possibilities.
"The scholarship has a value of $20,000 per annum and is renewable for a total of three years, providing the recipient meets the required conditions. Recipients are placed in the firm's mentor-driven Lift-Off Graduate Program which ensures that every professional step taken is well-planned, supported, and coupled with a personalised development plan tailored to meet the individual needs of each graduate.
"Since its inception in 2002, KPMG in Bermuda has provided 25 Bermudians with the scholarship and has paid out over $1 million in awards.
"In addition, it is planned for Sihlé to take part in KPMG's Global Advantage Program [GAP] which is scheduled to take place in Copenhagen in 2021 subject to travel restrictions. The GAP is an exciting interactive 4-day leadership development program for top University students seeking a career with KPMG.
"During the program, students will experience development training, a leadership skills workshop led by KPMG's partners and recruiting leaders, networking with 80-100 international students from many different countries, experience historical/cultural activities and interaction with a selection of KPMG's clients."
Steve Woodward, Managing Director, KPMG in Bermuda and Chair of the Graduate Program and Scholarship Committee, said, "We are delighted to aware Sihlé Sharrieff-Hayward with the 2020 KPMG Accounting Scholarship. Sihlé is a deserving recipient of the award and we are looking forward to supporting her throughout her studies and welcoming her to KPMG's Lift-Off Graduate Program when she completes her Master's degree in 2021.
"Sihlé really impressed our committee with her keen interest in accounting, an excellent academic record, as well as her passion for volunteering and active community involvement. She can look forward to a great future and an exciting career with KPMG."
For more information about KPMG's Lift-Off Program, visit the website.

Read More About