Kathryn Mason has been awarded the 2021 KPMG Scholarship and Owenea Roberts was selected as the recipient of Frontier's 2021 Scholarship.
The KPMG Scholarship is valued at $20,000 per annum, and the Frontier Scholarship is valued at $15,000 per annum, for a total of up to three years.
Ms Mason graduated from Warwick Academy in 2020 and is commencing her sophomore year at the University of Edinburgh in the UK. She is pursuing a Bachelor's degree, majoring in Accounting and Finance, and aims to obtain her Associate Chartered Accountant [ACA] designation upon graduation.
She said, "I feel extremely thankful and lucky to have been awarded the 2021 KPMG Scholarship. I'm especially excited about being able to work at the firm in my future years and thankful for the support and mentoring KPMG will offer me while I attain my ACA. With this scholarship, I am able to learn from business professionals at a world-renowned firm that supports my success and growth. It is an honour to be given this opportunity."
Ms Roberts is a 2021 graduate from The Berkeley Institute and will be commencing her freshman year at Quinnipiac University in Connecticut, US. She is pursuing a Bachelor of Science in Accounting with a minor in Finance. Owenea aims to obtain her Certified Public Accountant designation upon completion of her Master's degree in Accounting.
She commented: "I am honored and beyond grateful to be selected as the first recipient of the Frontier Scholarship. When I heard that I had received the award, I was overcome with happiness. I was speechless because I could not believe I was the recipient of this scholarship. Receiving this award means that I am one step closer to achieving my goals and it also shows that with a strong work ethic, one can achieve anything. I would like to thank Frontier for introducing their new scholarship and investing in my future, and KPMG for the opportunity to start my career with a leading accounting firm."
Photo: Kathryn Mason [2021 KPMG Scholarship Recipient]; and Owenea Roberts [2021 Frontier Scholarship Recipient] Second row: Garita Coddington [Senior Manager, Learning & Development, KPMG]; and Wanda Armstrong [Senior Manager, HR & Graduate Program, KPMG] Third row: Adam Smith [Managing Director and Head of People, KPMG]; Derek Winch [CEO, Frontier]; Peter Brodsky [CFO, Frontier]; and Hugh Vickers [Manager, KPMG]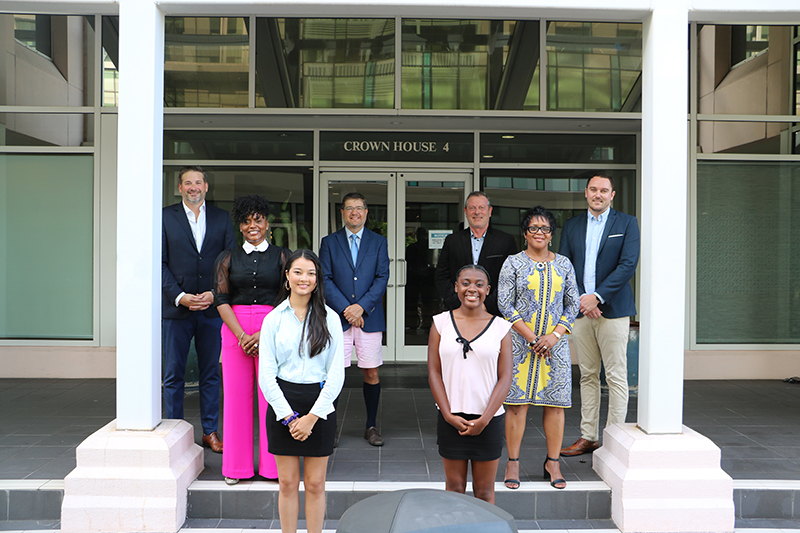 The KPMG Scholarship, together with the newly created Frontier Scholarship, are awarded annually by KPMG in Bermuda and the Management Team of Frontier, to Bermudian students committed to a career as a Chartered Professional Accountant [CPA-Canada], Certified Public Accountant [CPA-US] or Associate Chartered Accountant [ACA-UK].
The scholarships provide financial assistance for Bermudian undergraduates and postgraduates, and include guaranteed internships, co-op placements and an invitation to an exciting and rewarding career, full-time employment and a future full of opportunities.
The KPMG's Scholarship Committee designated by the Managing Directors of the firm, selects the recipients and all candidates are assessed on academic achievement, personality, leadership, career focus and community involvement.
Steve Woodward, Managing Director, KPMG in Bermuda commented: "We are really excited to be able to collaborate with Frontier this year to support the newly-created Frontier Scholarship, in addition to our annual KPMG Scholarship.
"We are looking forward to working with Kathryn and Owenea over the next few years as they continue their university studies, and to welcoming them into KPMG's Lift Off Program. They can both look forward to a great future and an exciting career with KPMG."
Peter Brodsky, CFO of Frontier Financial Services Limited, commented: "We are delighted to have someone as deserving as Owenea to be the first ever recipient of The Frontier Scholarship. Frontier is proud to be supporting the next generation of Bermudian talent, in achieving their professional goals and continuing to grow our island's world-class accounting industry.
"We also want to thank KPMG in Bermuda for giving us the opportunity to join them, making it possible for Frontier Scholarship recipients to be part of their already highly successful Lift Off program as they work toward their accounting designation and beyond.
"On behalf of the entire Frontier Team, I would like to congratulate Owenea on all her success to date and wish her the very best in her first year at university. "
To find out more about the KPMG and Frontier Scholarships visit here and click "Scholarship".

Read More About