Charlie Jackson earned the 2022 KPMG Scholarship and Makeda Bridgewater earned the Frontier Scholarship, with KPMG noting they "impressed the firm's Scholarship Committee and demonstrated their values of Excellence and Courage capabilities across all facets of our selection criteria and in the face of strong competition from other very talented applicants."
A spokesperson said, "The KPMG Scholarships are an important aspect of KPMG's Lift-Off Program and provide Bermudian university students with financial assistance towards the completion of an undergraduate or postgraduate degree in an accounting or business-related subject.
"The KPMG Scholarship is valued at $20,000.00 per annum, and the Frontier Scholarship is valued at $15,000.00 per annum, for a total of up to three years.
Front row from left to right: Makeda Bridgewater, 2022 Frontier Schoarlship recipient and Charlie Jackson, 2022 KPMG in Bermuda Scholarship Recipient. Second row from left to right: Sarah Miller, Recruitment Consultant, Frontier and Wanda Armstrong, Senior Manager, Co-Chair Graduate Committee, Learning and Development. Back row from left to right: Peter Brodski, CFO, Frontier; Brianna Buchanan, Manager, KPMG; Hugh Vickers, Senior Manager, KPMG; and Steve Woodward, Managing Director and Co-Chair of the Graduate Committee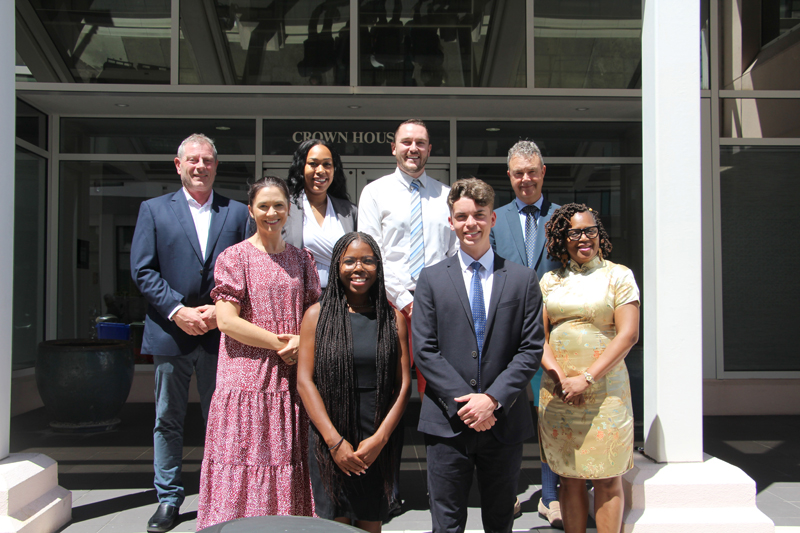 "Charlie Jackson, earning the KPMG Scholarship is a 2020 graduate of Oundle School, UK who is pursuing a Bachelors' degree in Accounting and Finance at the University of Edinburgh in Scotland. Upon Charlie's graduation in 2024, he plans to pursue a Masters' degree in Accounting and obtain his Associate Chartered Accounting designation [ACA UK]."
Mr Jackson commented, "Finding out that I am the KPMG 2022 Scholarship recipient was one of the best moments of my life. I am honoured and incredibly grateful to the scholarship committee for giving me this opportunity and cannot wait to make the most of it.
"At school, I learnt that business decisions are based on financial information and that accountants have a crucial role in providing it. I have always enjoyed problem solving and working with numbers. Both of my parents work in financial services and my father is an accountant. These are all factors that led to me studying Accounting and Finance at the University of Edinburgh, where I am currently in my third year. This scholarship and the KPMG Graduate Program will enable me to achieve my goals of obtaining my ACA- UK accounting designation and enter the industry at one of the world's leading accounting firms [KPMG]."
The company noted, "Makeda Bridgewater, earning the Frontier Scholarship is a 2018 graduate of Framingham High School, US who is pursuing a Bachelors' degree in Business Management. Upon Makeda's graduation in 2024, she plans to pursue a Masters' degree in Accounting and obtain her Certified Public Accounting designation [CPA US]."
Ms Bridgewater commented, "I am so honored and humbled to be chosen as the 2022 Frontier Scholarship recipient. I would like to extend my gratitude for this generous contribution towards my academic success. After interning at KPMG for the past three summers, I know for sure that obtaining my CPA and becoming a certified accountant is the path that I am most passionate about.
"The Frontier scholarship not only provides me with the resources to do so, but allows me the opportunity to return to a world renowned company [KPMG] with the guidance procedures set in place that will allow me to excel in my professional career. To me, receiving this scholarship symbolises what can be done through hard work, perseverance and an incredible support system both personally and professionally. Thanks to both the help of Frontier and the support of KPMG, I am able to finish my education and begin on a path that will propel me into a prosperous career in the accounting industry."
A spokesperson said, "The scholarships also provide guaranteed internships with KPMG and an invitation to join the firm on graduation for a career and a future full of possibilities. Recipients are placed in the firm's mentor-driven Lift-Off Program which ensures that every professional step taken is well-planned, supported and coupled with a personalised development plan tailored to meet the individual needs of each graduate.
"In addition, Charlie and Makeda will both take part in KPMG's Global Advantage Program [GAP]. The GAP is an exciting interactive 4-day leadership development program for top University students seeking a career with KPMG. During the program, students will experience development training, a leadership skills workshop led by KPMG's Managing Directors and recruiting leaders, networking with 100-120 international students from many different countries, experience historical/cultural activities and interaction with a selection of KPMG's clients. This year's event took place in Copenhagen, Denmark and was attended by over 120 interns from five [5] different countries."
Steve Woodward, Managing Director, KPMG in Bermuda commented: "Congratulations to Charlie and Makeda. We are excited to be working with them over the next few years and to welcoming them into KPMG's Lift Off Program. They can both look forward to a great future and a fantastic career with KPMG when they graduate from university. We also really appreciate the support from Frontier in funding their scholarship and in continuing to promote the development of the accounting profession in Bermuda."
Derek Winch, CEO Frontier Financial Services Limited commented: "Congratulations to Makeda on being selected as the recipient of the 2022 Frontier Scholarship. We were impressed with her academic strength, leadership, her well-directed sense of community, and philanthropic responsibility making Makeda a well deserving recipient of this award. We are proud to do our part to help talented Bermudians, like Makeda, to continue their education and achieve their professional goals and we remain grateful in working with KPMG in this endeavor."

Read More About