The "Free to be me: Expressing LGBTQI+ identities against a legacy of Colonialism" forum is being held this evening [Aug 30] at the Hamilton Princess, and you can tune in and watch live below.
The event is expected to be well attended, with the organisers having stated that all 300 free tickets for the event were fully booked.
The organizers previously said, "Sodomy laws were not unique to Bermuda, but a mainstay of British colonial order. This seminar will explore how colonial era laws have impacted the expression of LGBTQI+ identities in the British Commonwealth Caribbean, in particular Jamaica, Guyana, Barbados and Trinidad and Tobago [four Caribbean countries that have now held Pride parades].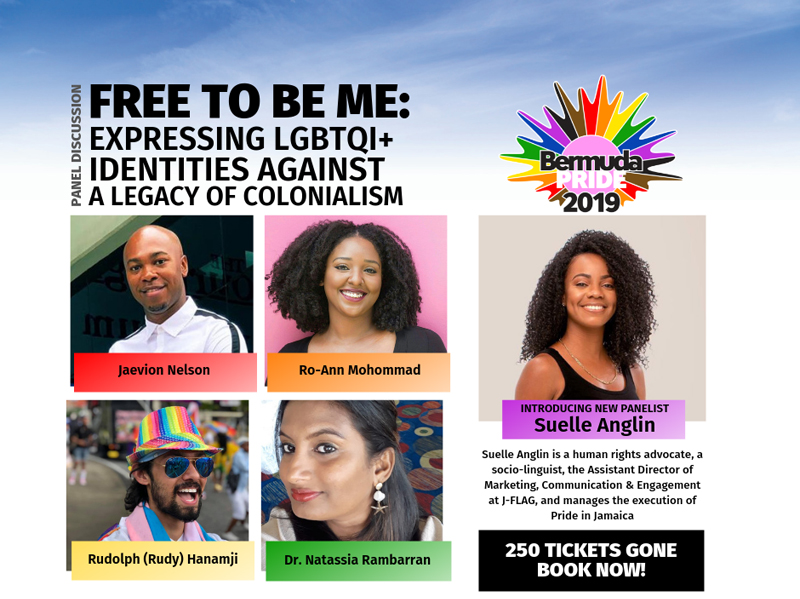 "Presenters from these four countries are coming to speak:
Jaevion Nelson, Executive Director of J-FLAG, the Jamaica Forum for Lesbians, All-Sexuals and Gays;
Suelle Anglin, Assistant Director of Marketing, Communication & Engagement at J-FLAG, and manages the execution of Pride in Jamaica
Ro-Ann Mohommad, Founder of SHE Barbados and Organizer of Barbados' LGBTQI Pride;
Rudolph [Rudy] Hanamji, Chair of Pride Trinidad & Tobago; and
Dr. Nastassia Rambarran, Public Health Advocate at SASOD, the Society Against Sexual Orientation Discrimination in Guyana.
The 1 hour and 48-minute live video replay is below:

Read More About